Prices for Brent crude oil have been surging since the E.U. imposed economic sanctions against Iran. Reuters reported on February 23 that Brent crude prices passed their nine month high of $124 per barrel and set a new record when measured in euros. The prices surpassed the previous all-time high in euro terms, which was set during the massive oil price run-up in 2008.
It seems as though every day we see an article in the financial press predicting $5/gal gasoline in the United States by the summer. I am not going to make any such predictions. I will, however, highlight a way that investors can profit from the rise in Brent crude prices and that is by buying stock in well-selected oil companies.
One company that is likely to benefit here is Norwegian oil giant Statoil ASA (NYSE:STO). Statoil is the largest company in the Nordic region, boasting a market cap of $89.7 billion. Statoil reported record operating income of NOK 211.8 billion earlier this month for the 2011 fiscal year. This was due at least in part to the high Brent crude prices that were present throughout last year. This year looks like it could have even higher prices and this could increase Statoil's profits further.
The current situation in Iran is widely considered to be one of the reasons for the increasing price of Brent crude. The recent economic sanctions that the E.U. imposed against the nation have failed to convince the Iranian leaders to alter their nuclear policies and this is heightening the possibility for future trouble in that major oil-exporting nation. There have also been output disruptions in the South Sudan, Syria, and Yemen. Violence in Iraq also seems to be showing little sign of abating anytime soon - the war-torn country recently experienced one of its bloodiest days since mid-December. All of this points toward potential problems for companies that have a significant percentage of their production coming from the Persian Gulf region.
Fortunately, Statoil has very little exposure to the region. The company was originally created by the Norwegian government to develop the nation's oil reserves on the Norwegian Continental Shelf and in the North Sea. Today the NCS and North Sea are still the company's main area of production (Norway accounts for 67.6% of Statoil's total production) but they have since expanded into other areas. Statoil has a presence in the Canadian oil sands through their Kai Kos Dehseh project. The company has also been actively expanding their presence in the rapidly growing Brazilian market and won licenses for promising pre-salt plays off of the coast of Angola in western Africa. I discussed this oil play in my last article on Statoil. Statoil also became a major player in the Bakken shale of North Dakota and Montana through their purchase of Brigham Exploration late last year.
Statoil currently has no operations in Iran. The company was active in the country beginning in 2002 but the National Iranian Oil Company has been the operator of all of the former Statoil-operated fields since 2009. Statoil provided technical services to the NOIC until April of last year, but this contract has since ended. Statoil also formerly worked on developing the Anaran field in Iran but work on this project has also since been stopped. The company also holds a license to explore the Khorram Adad block in central Iran but does not plan to do anything with this license.
Statoil does have a field in Iraq, but it is not currently producing. Statoil has an 18.75% interest in the West Qurna 2 field in southern Iraq. This field contains recoverable reserves of about 13 billion barrels. Production is expected to begin around the end of this year and full production is expected to be reached in 2017. It is a good thing that this field is not operational, considering the continuing violence in the country - if the situation gets bad enough that the project has to be shut down, then it will not negatively impact Statoil's current production. This is probably a remote risk, but I do want to point it out because it is something that I would want to know about when considering an investment in this company.
Statoil's ADR shares have been climbing over the past month, along with the price of Brent, but they remain below their 52-week highs.
STO 1-Month Chart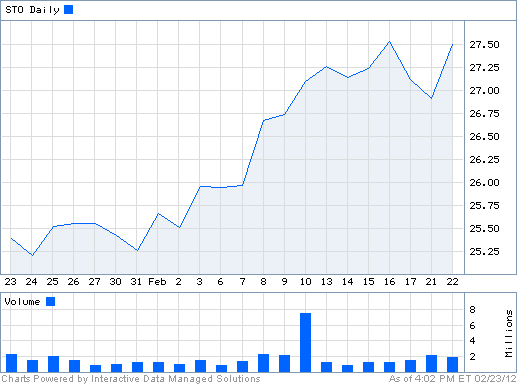 Source: Fidelity Investments.
STO 52-Week Chart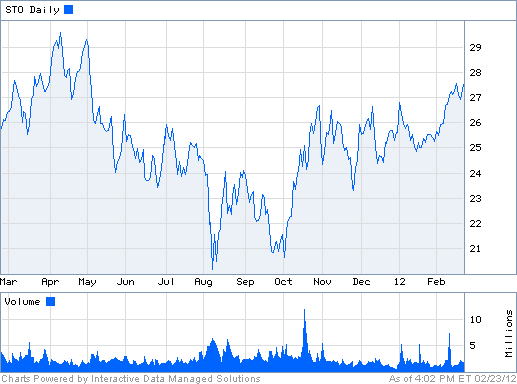 Source: Fidelity Investments.
The ADR clearly has room to run on the upside. If Brent crude continues up, then Statoil could deliver solid gains from this level. As the price of Brent crude goes up, the company will likely see their profits increase. Many analysts believe that Brent crude is likely to continue up over the next couple of months at a minimum. Statoil looks poised to help investors cash in on the trend.
Disclosure: I am long STO.