Bristow Group, Inc. (NYSE:BRS) provides helicopter transportation services for energy companies and other industries. It also provides search and rescue services in a number of regions and countries. Bristow also owns and operates the Bristow Academy which is the world's largest commercial helicopter training provider and the only helicopter flight school that is approved to provide commercial pilot level training by the U.S. Federal Aviation Administration and the European Joint Aviation Authority. Bristow Group is an industry leader and EnergyPoint Research ranked it first in helicopter services in the oilfield segment in its 2015 Oilfield Products & Services Satisfaction Survey.
This stock has a 52-week high of about $64 per share and now trades near the 52-week low of around $11. Obviously, this company has been impacted by the decline in oil prices. Many energy companies have reduced capital expenditures and this has led to a drop in revenues for Bristow Group. However, the pullback in the share price seems excessive and it appears to be an opportunity for long-term investors.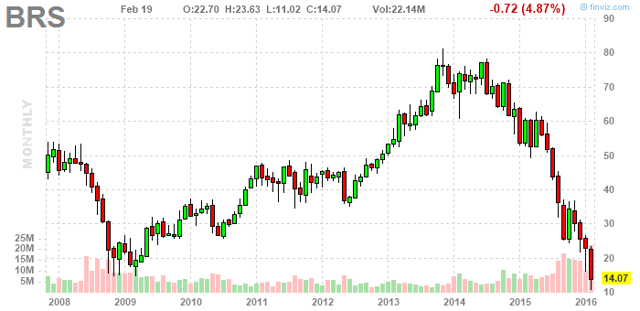 Click to enlarge
As the chart above shows, this stock bottomed out at about $14 per share in 2009 (during the Financial Crisis). It is also right around the same level today which could mean this is a very strong, long-term support level. It is a little too early to say if this level will hold but so far, so good, and if it does hold, it will create a bullish double bottom on the chart. The chart also shows that Bristow Group shares went up to around $80 in 2013. This shows quite a range and that serious upside potential exists, when the energy sector rebounds.
Insiders at Bristow Group are taking advantage of the pullback and recently bought shares: On February, 12, 2016, Jonathan Baliff (an officer) bought 7,500 shares in a transaction valued at nearly $100,000. On the same day, David C. Gompert (a director) bought 2,400 shares in a transaction worth over $31,000. It was also recently announced in a 13D filing that Caledonia Investments, PLC. purchased an additional 600,000 shares of Bristow Group in the past few days, which brings their total position up to more than 2.8 million shares. This represents a stake of about 8% in the company which is very significant. I like seeing insider buying and hedge funds buying, especially when stocks are at or near 52-week lows.
On February 8, 2016, Bristow Group reported fiscal third quarter income of 9 cents per share, although it was 67 cents per share after being adjusted for nonrecurring costs. Revenues for the quarter came in at nearly $420 million and the company said it expects full-year earnings of between $1.80 to $2.40 per share. That means the price to earnings ratio is just about 7 times earnings, which is cheap especially considering that earnings are currently depressed by the downturn in the oil industry. This company has about $132 million in cash and around $1.22 billion in debt on the balance sheet. Because of this debt load, I will not take a big position in the stock, especially since debt creates more risk when times get tough. Still, the risk to reward ratio is compelling and this stock really does look cheap if the oil industry improves in the coming years.
Aside from its current lines of business, Bristow Group also seems to be embracing technology. In early February, Bristow Group announced it would invest $4.2 million in a company called Sky-Futures which is a start up company that uses drones to conduct engineering surveys of offshore oil and gas rigs. Sky-Futures currently works with about 36 large oil and gas companies around the world.
In summary, Bristow Group remains profitable and the shares look cheap right now. This company is an industry leader and additional downside might be limited at these levels, especially since this company is still making money. I think it makes sense to start averaging into this stock and build a position, before investor sentiment improves and oil prices rebound. Please consider following me for future updates on Bristow Group and other deep value stocks.
Data is sourced from Yahoo Finance. No guarantees or representations are made. Hawkinvest is not a registered investment advisor and does not provide specific investment advice. The information is for informational purposes only. You should always consult a financial advisor.
Disclosure: I am/we are long BRS.
I wrote this article myself, and it expresses my own opinions. I am not receiving compensation for it (other than from Seeking Alpha). I have no business relationship with any company whose stock is mentioned in this article.