I want to preface this by saying I, like many I know, view Teck Resources (TCK) as a path to early retirement. It is a well-managed multi-billion dollar company in a cyclical market that trades with the volatility of a junior miner. If timed right, it could be a dream. I still remember sitting in a bar discussing TCK the last time it was trading at $4 in 2009. Unfortunately I had no money back then, but that single-digit price is still seared into my brain as a time to buy. This view is shared by many people here in Vancouver. I say this because I believe it goes a long way to explaining the psychology behind the stock price.
So far in 2016 the stock has jumped from a low of $3.65 on January 13 to a high of $9.75 on February 22. That is 167% in just over a month. An increase in zinc prices coincided with this upswing -- in fact both stock and metal turned around on the same day: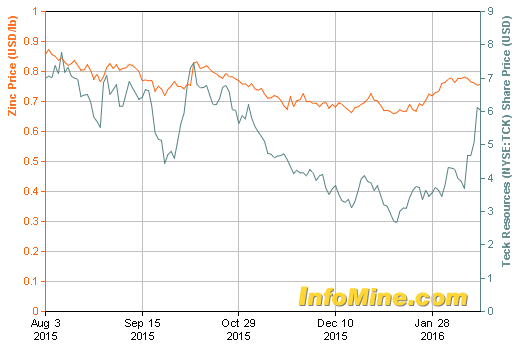 Meanwhile copper and coal prices have stayed fairly level.
On February 11, Teck released their earnings report and the stock skyrocketed the following week. This was a big earnings surprise as management was able to slash production costs and eke out a profit in the abysmal commodity market we are currently in.
While I am obviously kicking myself for not jumping in a month ago, Teck is one of the most volatile stocks out there. Since 2008 it has gone from the mid-$40s to a low of under $4 in 2009, to a high of $62 in 2010 and back down to where it is today. This article attempts to answer whether the recent price jump signals a turnaround for the company or is just another blip like we saw in January, April or October of 2015.
Operations
First a breakdown of their key products and operations in coking coal, copper and zinc.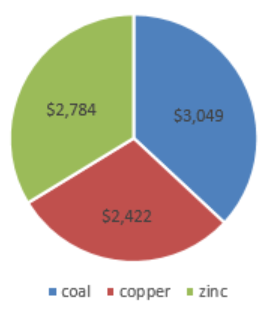 *2015 revenue in millions
Teck is currently slightly more exposed to metallurgic coal but considering commodity price fluctuations, the company is essentially split equally between the three revenue streams. Their operations are detailed below: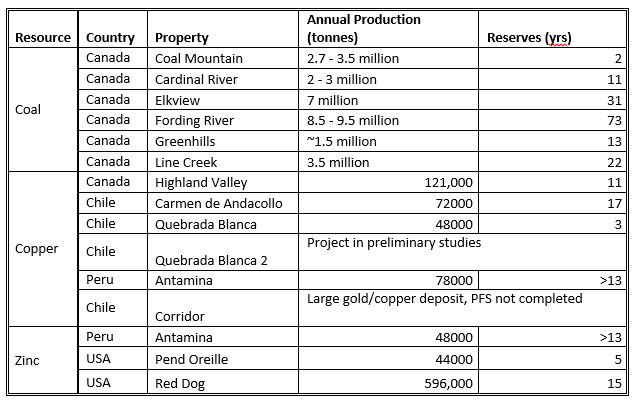 The table information is based on the 2014 values on the operations page at www.teck.com. Comparatively, 2015 copper production was up 7.5%, zinc concentrate was down 2.3%, refined zinc was up 10.8% and coal production was down 5.2%. The following is based on statements made in Teck's 2015 Q4 statement:
Copper
Quebrada Blanca production is already reducing due to ore availability and pit stability issues.
Highland Valley had a 40% production increase over Q4 2014 -- better-than-average ore is expected to continue for the first half of 2016, then decline "significantly" for two years.
Antamina copper ore is expected to remain steady for several years.
Carmen de Andacollo ore grades are expected to drop steadily.
Zinc
Red Dog is expected to sell 115,000 tonnes of concentrate in Q1 2016, as opposed to 220,000 tonnes last quarter. Grade is expected to continually decline, and Teck will be attempting to increase mill throughput to combat this. Teck is also currently fighting a new Alaskan tax which would increase annual payment by $20 million-$30 million.
Trail refinery costs were cut by $14 million over 2014 Q4 using "cost reduction activities."
Pend Oreille was reopened in December 2014 to take advantage of improving zinc fundamentals. Unfortunately, the zinc price has fallen 27% since then. Guidance is for production to remain flat.
Antamina zinc grade is expected to increase.
The Duck Pond copper and zinc mine in Newfoundland was closed in June 2015.
Coal
Decreased use of contractors, reduced diesel prices and a low Canadian dollar have offset falling coal prices. 2014 and 2015 sales were equal, and they cut production and sold 700,000 tonnes of stockpile off throughout the year. Teck expects coal unit operating costs to increase slightly in 2016. A planned expansion to extend mine life at Coal Mountain was shelved last fall, however, $38 million is still slated for mine life extensions.
Currency and Profit Margins
Teck has managed to maintain their profit margins in a large part due to the falling Canadian dollar. Their coal operations are in Canada, as well as their largest copper mine and the Trail, BC zinc/lead refining complex. The Canadian dollar is heavily linked to the commodity markets -- in this way Teck is hedged to currency fluctuations. The chart below shows their quarterly reported gross profit margins before depreciation for the last two years: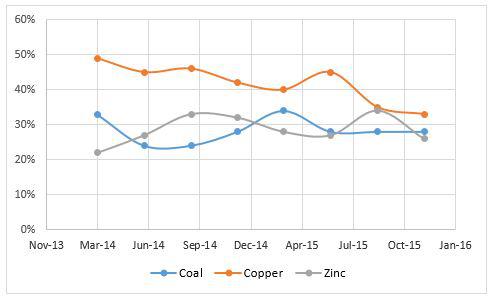 While coking coal contract prices have dropped 24% over the time period, they only dropped 7% in realized Canadian dollars. The largest drop was in copper, at 30%, or just under 16% in CAD.
Currently the Canadian dollar is 10% weaker than it was during the height of the 2009 financial crisis. While the weak Canadian dollar has worked to preserve Teck's margins, it is also likely to limit upside if commodity markets turn around.
Cost Cutting and Financial Wizardry
Mining companies have a few options when looking at slashing production costs. First on the chopping block are permitting and environmental concerns. These involve long-term planning and waste management issues, which can often be deferred for years. Next comes exploration expenses. This will come back to bite a company if they let it run too long -- if they do not spend money figuring out where to dig next, they may end up making poor decisions and lead to mining lower quality ore. Finally spending on equipment purchases and maintenance is cut. Without proper equipment, production grinds to a halt. Teck was able to slash costs. It can be inferred that they would have done so earlier if they did not view the slashed expenses as important to future operations. The question is what did they do?
Teck has cut roughly 2000 jobs, or around 15% of their work force over the last 18 months. The largest cut came last November.
"Our cost reduction initiatives continue to produce significant results and remain focused on improvements in equipment and labour productivity, reduced use of contractors, reduced consumable usage and limiting the use of higher cost equipment."

-2015 Q4 report, pg 9
The quote is in regards to their coal operations. Besides their workforce layoffs, the reduced use of contractors is the teller here. This means environmental and exploration. They have already shelved a Coal Mountain expansion program, which would have kept operations going past 2016. 2.7 million-3.5 million tons of coal per year will soon be offline. Additionally, Teck is facing declining ore grades at Quebrada Blanca, Highland Valley, Carmen de Andacollo and Red Dog. They planned on combating this by increasing mill throughput, however, this would require large capital spending, which is unlikely to happen.
They go on to say:
"Unit cash costs of product sold in the fourth quarter of 2015 as reported in U.S. dollars, before cash margins for by-products, decreased primarily due to higher sales volumes."

-2015 Q4 report, pg 16
Zinc concentrate sales were much higher than production for Q4 (222,000 tonnes vs. 145,000 tonnes). While production and sales gaps vary from quarter to quarter, this large a gap is anomalous. They said it is due to shipping timing into and out of Red Dog, Alaska, but I believe they were really selling off stockpiles waiting to be refined in their Trail, BC complex. As a result, zinc accounted for 63% of their Q4 gross profit. They made a similar move in 2015 Q3, dropping production and selling off 700,000 more tonnes of coal than they produced. I would expect a similar move to sell off copper stockpiles in 2016 Q1 if they have it available. After that, they will likely be out of that type of life line.
The bottom line: Teck managed to maintain production volumes and positive earnings in 2015. They did this at the expense of future operations and by selling off stockpiles. Additionally, they have already reduced the semi-annual dividend from $0.45/share to a token $0.05/share. These options are no longer available for 2016.
The Fort Hills Oil Development
This project is Teck's first venture into the oil industry. It comes at a terrible time (actually this is very reminiscent of their 2008 Fording Coal purchase, which increased debt to $10 billion just before coal prices crashed). Fording Coal worked out well, but the Fort Hills project has an added headwind in that the Canadian oil sands industry is in a bit of a bind. It seems no one wants pipelines, and no one wants to refine the heavy crude coming out of them. That is why barrels are being sold at an enormous discount to WTI oil prices: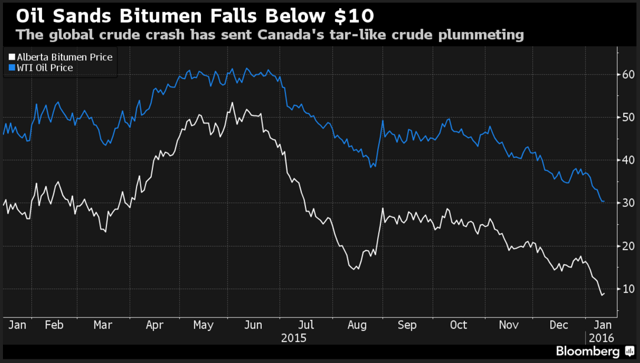 2016 spending is expected to be $960 million on the project, and production is expected to begin by the end of 2017. By then oil prices could be anywhere, but it is unlikely a reasonable delivery method to market/refineries will be in place. Teck's words on the matter:
"We are continuing to review options to sell diluted bitumen into the North American and overseas markets which may include the use of pipelines from Hardisty or rail to access U.S. Gulf Coast refineries and tidewater ports."
In other words they have no idea how they will get the oil to market, but unlike Suncor and other oil sands players, they are still going full steam ahead. Teck currently reaps benefits from low diesel prices at their other operations. It makes sense for them to want to diversify into oil to take some volatility out their portfolio. Unfortunately they have allocated a huge amount of available cash to the project at the expense of other profitable operations.
Conclusion
Currently a lot of things had to go exactly right for Teck to squeeze out positive earnings in the last quarter. They sold off a large supply of zinc stockpiles and are facing declining ore grades at their largest operations. I expect this problem to be exacerbated if low commodity prices persist, since management will look to reduce capital spending on resource exploration and facility upgrades. Teck is positioned better than most to weather this storm, but I believe investors were overly excited about potential zinc market strength and the Q4 earnings report. Calling a turnaround in the metals market is premature at this point, and Teck is aggressively preparing for a prolonged downturn. As reality sets in, I expect the stock price will drop back down.
Full disclosure: I built a small position in $9 March 18 puts on February 19 and 22.
Disclosure: I am/we are short TCK.
I wrote this article myself, and it expresses my own opinions. I am not receiving compensation for it (other than from Seeking Alpha). I have no business relationship with any company whose stock is mentioned in this article.