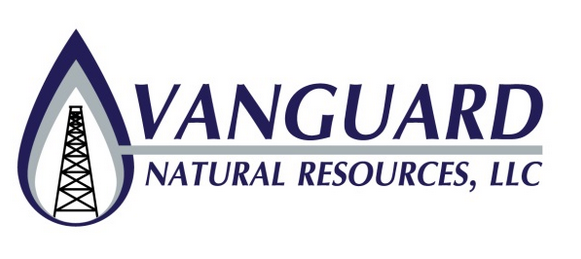 As we all know by now, things are not looking good for upstream companies. Quite a few levered upstream companies/master limited partnerships have declared lower dividends/distributions in 2015/6 due to devastatingly low energy prices. Companies like Linn Energy, LLC (NASDAQ:LINE) and Chesapeake Energy Corp. (NYSE:CHK) have become active speculation targets for investors that have started betting that these companies will file for Chapter 11 in the coming months.
Chesapeake Energy, for instance, suspended its preferred stock dividends at the end of January, and hired Kirkland & Ellis LLP to advise the company about its debt restructuring. The company also released a statement in the second week of February saying that it "has no plans to pursue bankruptcy", which was likely meant to calm unitholders down in light of rampant bankruptcy speculation.
Another company under intense pressure to deal with the fallout from the energy crisis is Vanguard Natural Resources, LLC (NASDAQ:VNR).
Vanguard is essentially in the same position as Linn Energy and Chesapeake Energy: Low energy prices and a big chunk of debt sitting on its balance sheet have put the company in such a precarious situation that Vanguard felt it necessary to slash its common unit distribution at the end of last year.
In December Vanguard announced a 75% cut in its annualized distribution from $1.41/unit to just $0.36/unit in order to pay down debt under its revolving credit facility. Vanguard has so far not touched its preferred stock dividends, as opposed to Chesapeake Energy. The 75% distribution cut for common unitholders was a shock, but the company did not entirely suspend its common unit distributions, which so many other companies did in this market.
New round of impairments?
Vanguard Natural Resources will report fourth quarter 2015 results soon, and the earnings release is likely not going to be a very pleasant event for unitholders.
Vanguard Natural Resources recognized $491.5 million in impairments on its oil and natural gas properties in Q3-15 which brought YTD write-downs up to ~$1.4 billion. Since energy prices continued to fall throughout the fourth quarter, chances are that Vanguard will have to report another round of impairment charges for Q4-15.
With spot prices in free-fall, unitholders will most certainly also see substantial revenue and cash flow declines compared to Q4-14, which in turn could tempt Vanguard Natural Resources to entirely cut its remaining distribution to conserve cash. VNR sells for a 17%+ yield at the time of writing, so a complete distribution suspension is a very real concern for the market at this point.
Investors apparently don't have high expectations anymore when it comes to upstream companies, and Vanguard is no exception.
Units have crashed ~31% year-to-date, and 88% over the last year. Devastating.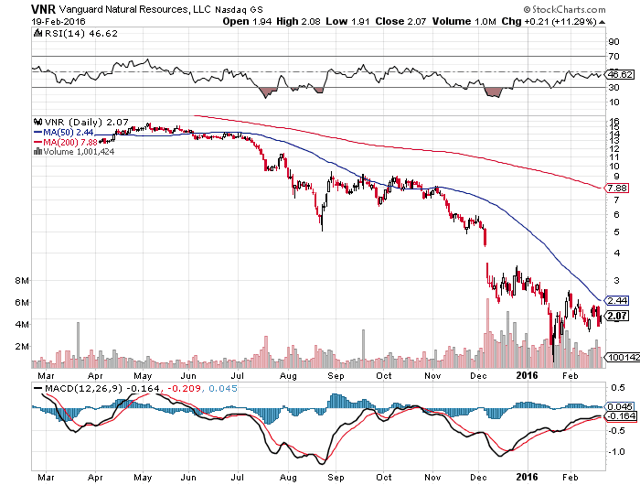 Click to enlarge
Source: StockCharts.com
Your Takeaway
Vanguard Natural Resources' Q4-15 earnings will be released soon, and they are not going to be great. The company will likely have to recognize another round of impairments on the back of deteriorating prices in the energy sector. And if cash flow takes a big enough hit in the fourth quarter, paired with a weak outlook, Vanguard may even decide to cut its common unit distribution altogether.
Upstream companies are fighting for their survival, and so is Vanguard Natural Resources. Vanguard's high distribution yield in excess of 17% proves that the market is highly skeptical about its ability to maintain its current payout. Since Linn Energy, Chesapeake Energy and others have already ceased paying unitholders, it wouldn't be a surprise if Vanguard was the next shoe to drop. Stay away.
Disclosure: I am/we are long LINE.
I wrote this article myself, and it expresses my own opinions. I am not receiving compensation for it (other than from Seeking Alpha). I have no business relationship with any company whose stock is mentioned in this article.