Investing in the silver companies has been extremely difficult the past five years, as the metal has shed over 70% of its value from its 2011 peak of $49.52/oz. While gold bugs have had a brutal few years, having watched a 45% drop in their beloved commodity, most silver bugs would trade silver's 4-year performance with gold's in a heartbeat. Despite silver's precipitous drop in price since April of 2011, there are a handful of silver miners that managed to weather the storm and stay afloat. One of those companies is Fortuna Silver (NYSE:FSM) whose main operations are in Oaxaca, Mexico, where it has secured the largest land package of any other mining company. With a land package of a whopping 71,000 hectares, it is ahead of Gold Resource Corporation (NYSEMKT:GORO), which owns 68,000 hectares, and has almost triple the land package of Newstrike Capital (OTCPK:NWSKF) which has merged with Timmins Gold and now trades under the symbol TGD. Despite the weak silver market since 2012, FSM has maintained one of the tightest share structures in the industry, with only 132 million shares fully diluted while it has a hoard of over $110 million in cash and a $20 million credit facility. Fortuna's current share price of $3.40 represents a market capitalization for the company of $449 million, and an enterprise value of $339 million subtracting its $110 million in cash. I believe Fortuna Silver to be significantly undervalued at current prices with large upside potential, irrespective of whether a precious metals rally continues further into 2016.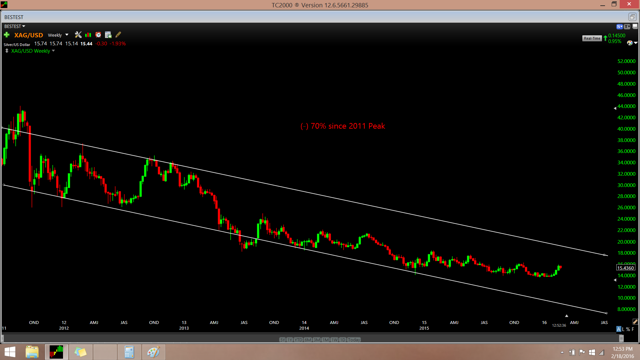 Click to enlarge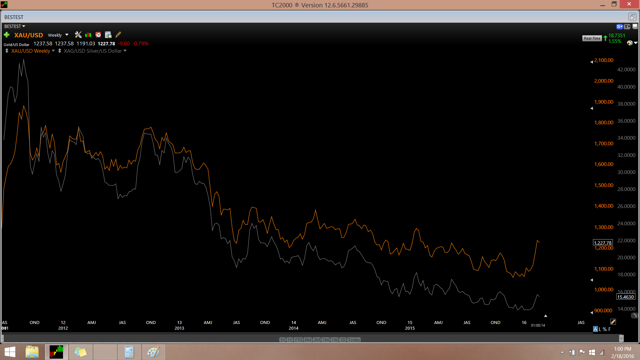 Click to enlarge
Fortuna Silver's Mines
Fortuna Silver has two mining projects in its portfolio, both of which are 100% owned and currently produce silver and gold.
The company's Caylloma project in Arequipa, Peru, boasts a 35,000 hectare land package and is the first mine it purchased over a decade ago. The Caylloma Mining District is well known as it has been mined sporadically over the past 500 years since the times of the Inca Empire. The mine currently produces silver, lead, zinc and gold and was responsible for 18% of its total silver equivalent production in 2015. The Caylloma mine is its least profitable mine, with reported all-in sustaining cash costs of $12.87 per oz for the nine months ended September 30th of 2015. While these cash costs are a little steep, they have dropped 8% since 2014 and represent less than 20% of Fortuna's total production. Due to Caylloma's small fraction of Fortuna's silver production, any increases in production at its second mine can impact its bottom line very positively.
The company's flagship project is its San Jose gold/silver mine which is located in Oaxaca, Mexico, where over 80% of its silver equivalent ounces are produced. Its San Jose mine was commissioned in 2011 and currently produces at a rate of 2,000 tonnes per day with a further increase to 3,000 tonnes per day planned for July of this year. Assuming the expansion to 3,000 tonnes per day goes without a hiccup, FSM's San Jose gold/silver mine will rank among the top 15 primary silver producing mines in the world. The San Jose mine produced a record 4.9 million ounces of silver and 38,500 ounces of gold last year, in addition to being 15% above its aforementioned guidance. San Jose's all-in sustaining cash costs for the nine months ended September 30th, 2015 were $11.51/oz compared to $12.93/oz the previous year, an astounding annual decrease of over 12%. The San Jose mine's guidance for 2016 is production of over 7 million silver equivalent ounces at an all-in sustaining cash cost of $9.10/oz.
2016 Cash Cost Reductions and 2016 Earnings Outlook
Fortuna's guidance is one of the most compelling things about the company and should provide a massive boost to its EPS. While I am often doubtful of guidance that deviates the prior year's numbers by this much, it's hard to be skeptical of Fortuna's management as they have continually over delivered on their promises. The company's guidance is production of 9.7 million silver equivalent ounces this year at all-in sustaining cash costs of $11.10/oz. Despite a slight 6% increase in production for 2016, the real difference is all-in sustaining cash costs which are slated to fall to $11.10/oz for 2016 from an average reported all-in sustaining cash cost of over $15.00/oz in 2015. This decrease in cash costs equates to a 30% drop year over year which will make a significant difference in Fortuna's profitability for 2016 and going forward.
Fortuna's net income for 2015 for the first 9 months was $6.7 million or roughly $0.05 per share, even with the worst prices for silver in half a decade. Assuming FSM's net income comes in again at $0.02 per share for Q4 of 2015, it will have recorded net income of just below $9 million in 2015 or $0.07 per share. While these numbers are nothing to be excited about, Fortuna's net income in 2016 should tell a completely different story. Using a $15.00/oz price for silver and $11.10/oz cash costs, its margins will expand from $1.00-$1.50 per ounce of silver sold to over $3.75 per ounce of silver sold, despite very little change in the price of silver. Fortuna Silver was producing silver with an all-in sustaining cash cost of $14.50-$15.00/oz in the first 9 months of 2015 and selling its silver for no better than $15.00/oz, giving it very tight margins to work with. As long as the silver price stays above $15.00/oz, Fortuna's all-in sustaining cash cost guidance of $11.10/oz for 2016 will net it an extra $3.00 in margin per ounce of silver equivalent sold. I would expect 2016 net income to more than double and come in at $20-$25 million for 2016, equating to net income of between $0.17-$0.20 cents per share. I believe these estimates to be conservative as they are based directly on margin expansions for silver sold due to significant cash cost reductions, without relying on further appreciation in the price of silver.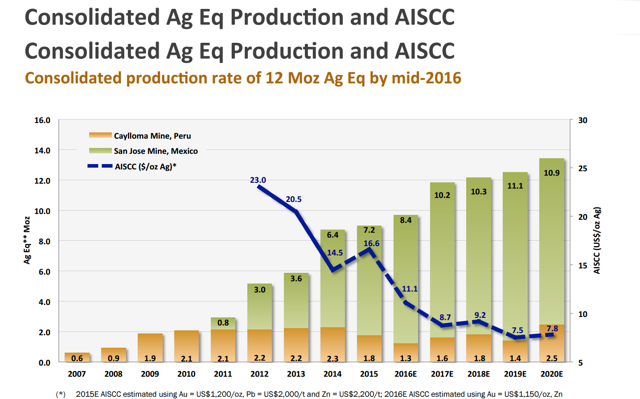 Click to enlarge
Organic Growth & Potential for New Discoveries
Fortuna has done an exceptional job of growing organically since acquiring its San Jose mine in 2009. Since purchasing the mine it has kept both proven reserves as well as measured and indicated silver resources stable, even while mining 13.8 million ounces of silver from San Jose and an additional 9.2 million ounces from its Caylloma mine (an average of over 5.5 million ounces annually). Even more impressive is the fact that despite this resource depletion while keeping M&I and P&P reserves at the same level, it has doubled its inferred resources from 50 million ounces to over 100 million silver equivalent ounces. While most mining companies slowly deplete resources due to mining or are forced to acquire other companies to add resources, Fortuna's success in growing organically is a great sign it can continue to do so while it makes its transition to a 10 million ounce silver equivalent producer.
In addition to a plan to maximize shareholder value by reducing cash costs substantially, Fortuna has an aggressive exploration budget of $8.2 million planned for 2016 in hopes of making new discoveries. The top priority for its 2016 exploratory drilling is testing the Trinidad North discovery which is open to the north and at depth and contiguous with its existing mine infrastructure. Currently, FSM's inferred resources average 257 grams per tonne of silver and 1.75 grams per tonne of gold, but step-out drilling in this area has yielded several intercepts of between 500 to 1,500 grams per tonne of silver, in addition to between 2 to 6 grams per tonne of gold included in these intercepts. These step-outs are increases of 200-500% of the current inferred resource and would lower cash costs even more if more discoveries are made in this area in the 2016 drilling program. Fortuna is also planning more drilling to test the San Antonio and La Noria vein system which is 2 km west of the Trinidad veins, hosting the San Jose mine's current reserves. The San Antonio and La Noria veins seem ripe for additional discoveries, as grab samples in the area have been very encouraging to date. Fortuna Silver has done an incredible job of expanding its resources at San Jose since purchasing the mine in 2009, but it seems exploration progress over the past year could end up yielding even more high-grade discoveries than investors originally anticipated.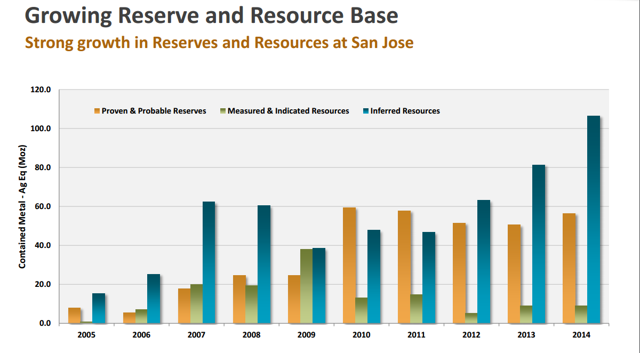 Click to enlarge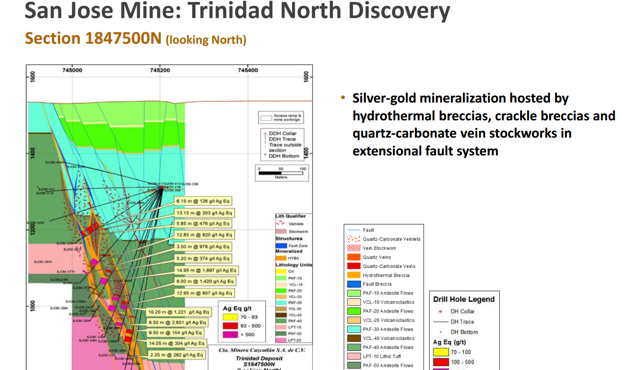 Click to enlarge
Management Team
Fortuna's management has done an impressive job steering the company through a difficult market for precious metals since 2011. While many silver companies have become penny stocks due to heavy dilution and poorly timed capital raises like Aurcana (OTCPK:AUNFF), FSM has grown organically to support itself. At the helm of Fortuna's management team acting as the CEO and President is Jorge A. Ganoza, a geological engineer who has over 20 years experience in mining and development throughout Latin America. Mr. Ganoza has mining in his blood as he is a fourth generation miner from a Peruvian family that has owned and operated mines in Peru and Panama. The CFO for Fortuna Silver is Luis Dario Ganoza, who has 14 years experience in the operation and financial management of mining companies. He previously worked for a Peruvian mining company with revenues in excess of $100 million per year. He has a Bachelor of Science in Mining Engineering as well as a Master of Science degree in Accounting and Finance from the London School of Economics. In addition to the expertise of its CEO and CFO, Fortuna has a V.P. of exploration with an extremely successful career in mineral exploration and mine development throughout Latin America. Thomas I. Vehrs, its V.P. of Exploration, previously worked with Gold Fields (NYSE:GFI), a mining company with over a $3 billion market capitalization producing over 2 million gold equivalent ounces annually. The company's management has a track record of success, and with a combined 50 years experience, I have no reason to believe Fortuna has anything to worry about going forward with these three individuals paving its future.
Risks associated with my thesis
While I am very confident in Fortuna delivering on its promises on 2016, there are some risks to my thesis for it significantly increasing its net income from 2015 levels.
1. Silver price
The first risk associated with my thesis of Fortuna generating net income of between $20-$25 million for its full-year 2016 results is the price of the silver. While this is not a company specific risk, the underlying price of the commodity it produces will have a direct influence on its net income going forward. Personally, I see more upside than downside for silver in the next 12 months, therefore, I don't believe silver prices pose a significant risk. Silver has been in a violent bear market for over 4 years, and the time to be betting against the price of silver was while it remained in its downtrend. While silver did make a 5-year low late last year, it has gone on to make higher lows and find a firm footing above its 200-day moving average since. I believe silver is very likely attempting to start a new bull market and should trade within a range of $14.00-$18.00 in the next 12 months.
While nothing is certain, I don't see silver prices being a major problem for Fortuna going forward. At current silver prices of over $15.00/oz, Fortuna will be enjoying $3.00 in margin for every ounce produced based on their 2016 guidance. The reason I feel my above estimates for full-year 2016 earnings are conservative is because silver does not have to appreciate at all for Fortuna to potentially double its net income. The only way Fortuna could show declining net income year over year is if silver takes out $13.50 to the downside and makes new 5-year lows. The silver chart below shows that silver is consecutively closing above its 40-week moving average as its 10-week moving average has turned positive and should provide support on any weakness. Assuming the price of silver does not collapse in the next 5 trading days, this will be the first time the price of silver made a third consecutive close above its 40-week moving average in almost 2 years.
2. Difficulty successfully increasing throughput at San Jose
The second risk to my thesis is the success of Fortuna in its mine commissioning planned for July of 2016. If Fortuna's ramp up to 3,000 tonnes per day from 2,000 tonnes per day does not go as planned, this would slightly decrease its silver equivalent ounce production to below guidance of 9.7 million ounces. I do not see this as a material risk as Fortuna would still be on track to produce between 8.5-9.0 million ounces of silver (its 2015 production metrics) at a 25-30% lower all-in sustaining cash cost. Based on this, it should still see net income in the $15 to $20 million range and on the low end of my estimates.
3. Missing on guidance
The third and most plausible risk to my thesis is how the company delivers on its 2016 guidance. I am not very concerned in its ability to produce 9.7 million silver equivalent ounces but admit I would be in awe if it goes hit its all-in sustaining cash cost guidance levels it has projected ($11.10/oz). Fortuna has consistently under promised and over delivered on guidance which is why I do not like to doubt it, but its guidance for this year if hit would be quite an impressive feat. Due to its guidance being roughly 30% below 2016 levels, I have based my projections of $20 to 25 million in net income for 2016 on $11.65/oz (5% higher than what its given guidance) to account for it slightly missing. I feel this estimate is quite conservative as I have added 5% to the guidance it has promised and have done so as I believe it will need to be very diligent to hit the projections stated at the beginning of this year.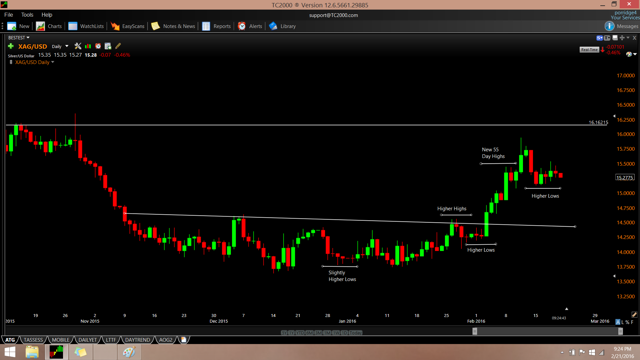 Click to enlarge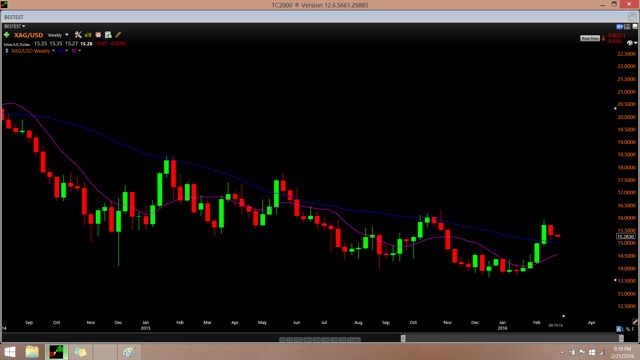 Click to enlarge
Technical Outlook & Summary
Fortuna's fundamentals are shaping the company up for a very exciting year going forward, but even more exciting is the stock's technical breakouts in the past month. FSM has been in a steady weekly downtrend since 2011, but as of January has broken out of that downtrend and seems to be exploding out of the base it spent almost 6 months building. The weekly chart shows new 30-week highs as of February, and a six-month base break-out with a measured move targeting over $4.20 a share. The share price double bottomed exactly at $2.00 in September of 2015 and again in January of 2016 and has now completed the double-bottom break-out with new highs outside of its box. Moving to the daily chart, the 200-day moving average is now going sideways for the first time since January 2015, while the stock is within two weeks of a golden cross (50-day moving average crossing up through 200-day moving average). The 50-day moving average is trending upwards quickly, with the 20-day moving average turning parabolic and giving the stock a level of support below it should it see any pullback over the next few days. From a trend following perspective, the stock has made new 20-day highs and 55-day highs, both of which are significant buy signals for anyone who is a proponent of Richard Dennis and his Turtle Trading techniques.
Fortuna Silver seems poised for an incredible year with both its technicals and fundamentals lining up so in sync currently. While the measured move gives a price target of $4.21 a share, I could see this price target easily exceeded if Fortuna delivers on the numbers it has guided to as of January 2016. After digging through several different silver miners, I have a very difficult time finding a safer investment with greater upside potential than FSM at current prices. Even if silver (NYSEARCA:SLV) does not continue its ascent going forward in 2016, FSM will enjoy massive increases in profitability going forward as it executes its cost-cutting strategies, and attempts to provide further catalysts for the stock in the form of additional silver discoveries.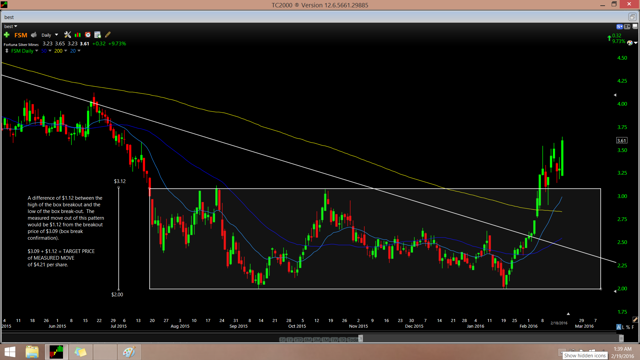 Click to enlarge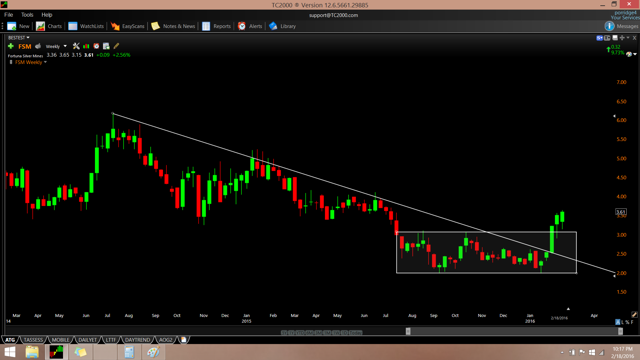 Click to enlarge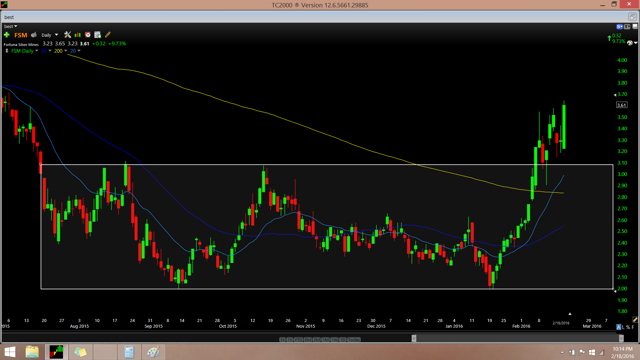 Disclosure: I/we have no positions in any stocks mentioned, but may initiate a long position in FSM, SLV over the next 72 hours.
I wrote this article myself, and it expresses my own opinions. I am not receiving compensation for it (other than from Seeking Alpha). I have no business relationship with any company whose stock is mentioned in this article.