Nevada the seventh largest state in USA recently altered its net metering laws. These new regulations are loaded against solar home owners, which will find it economically nonviable to switch to solar energy. This decision goes against the broad policy and regulatory trends in USA, which has been broadly supportive of solar energy. Unlike other countries, USA's growth in solar capacity has been extremely lopsided with a few states such as Arizona, Hawaii and California accounting for a lion's share of solar energy capacity. Solar industry still remains in infancy in USA with only 1% penetration, when compared to ~7% for Germany. The ITC extension will play a major role in further promoting solar in USA, with SEIA estimating a huge increase in solar installations compared to a scenario where ITC would not have been extended.
Utilities in USA have been lobbying hard to stop the advancement of solar energy. USA does not have a standard federal law and state regulators frame their own regulations. Though Nevada has decided to go anti-solar, major states in USA have decided to remain pro-solar. California recently revised its net metering law, which remains favourable for net metering solar customers. While Nevada's decision has certainly raised concerns, it also emphasizes that solar is now becoming a mainstream power source and utilities are now threatened by the rising popularity of solar energy.
The Nevada PUC Solar Decision - Moving towards the darker side
When the whole world is coming together to fight climate change with solar as the key weapon, Nevada has decided to go against the tide by punishing solar installers. The state regulator recently implemented new net metering rates and fees for rooftop solar users. These changes in net metering law has increased the charges on solar home owners by ~40% and reduced the tariffs paid under net metering. The decision came days after Congress voted to extend the Investment Tax Credit on solar. Nevada was once used as an example for its aggressive rooftop solar installations, given its high solar radiation and the state's friendly net metering laws. There are almost 15000 interconnected net metering customers at Nevada Power Co. in Southern Nevada, and more than 2000 customers with Sierra Pacific in Northern Nevada.
This led NV Energy (the state's dominant electric utility) to push for a new rate design to the PUC. The new rates will increase the monthly charge for NV Energy customers with rooftop solar from $12.75 to $17.90 per month in the first year of the phased increase and will eventually reach $38.51 at the end of five years. Credits for excess generation from rooftop solar systems also will decline over the next four years. The changes were supposed to take effect on January 1 and will apply retroactively to all net-metered solar customers. Major solar installers such as Solar City (NASDAQ:SCTY), Sunrun (NASDAQ:RUN) and others have already cut hundreds of solar jobs.
Despite the Nevada setback, USA Solar Growth is set to grow strongly
According to IEA solar will generate ~16% of global electricity by 2050 from less than 1% now. Solar is expected to generate 200,000 solar jobs in USA by 2016 end, making it one of the largest employers in the country. The solar industry which used to be a niche one is slowly becoming a mainstream one. Since 2006 when ITC was implemented, the solar installation cost has dropped by more than 73%. ITC has helped annual solar installation to grow by more than 1,600% since it was implemented in 2006. According to SEIA solar power will hit 95GW mark by 2022, enough to power 19 million homes. In USA, solar accounted for 30% of all new electric generating capacity brought online during the first three quarters of 2015. IHS has predicted that solar energy installations will grow to 15 GW in 2016, which is a growth over 60% over 2015.
USA Installations in 2015 (in MW)
| | | | | |
| --- | --- | --- | --- | --- |
| | Residential | Utility | Commercial | Total |
| Q1 15 | 400 | 644 | 285 | 1329 |
| Q2 15 | 463 | 729 | 201 | 1393 |
| Q3 15 | 519 | 603 | 239 | 1361 |
Data from SEIA
Effect on other USA states
California was also pressured by Southern California Edison and other large utilities to make similar unfavourable changes but did not change its stand. The state maintained its retail rates for rooftop PV, but it issued a ruling that entails new NEM customers to pay an interconnection fee of ~$75-150 and non-bypassable charges for all electricity consumed from the grid (roughly ~$0.02-0.03/kWh). The state argues this new decision will ensure fair cost-sharing between net-metered customers and others. California accounted for 48% of total Q3 residential installations in USA. Arizona had recently increased the monthly fee by $5, but had not made any drastic changes against the solar industry. The SRP (Salt River Project) proposal was successful there, which hiked rates for solar customers who purchased their systems after Dec. 31, 2014. For Hawaii, the retail rates for existing solar customers will continue. However, new customers will have to choose between two less lucrative options.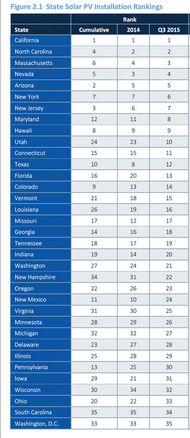 Source: SEIA
Effect on Solar Installers
Though the pace is certainly not going to be the same in Nevada with big solar companies firing solar employees in the state, they still have not given up entirely on solar in Nevada.
"I think Nevada is going to be an amazing solar market. What you'll see is companies like us developing technology to deal with policy." - SunPower (NASDAQ:SPWR) CFO, Chuck Boynton.
USA is a vastly underpenetrated solar market with most USA states having less than 200 MW of total installed capacity. Compare this with the more than 30,000 MW installed by Germany. As solar prices keep declining, they will become more and more economical compared to the fossil fuel prices. Utilities are fighting a losing war, even if they have won a small battle. Progressive utilities such as NRG Energy (NYSE:NRG), which are transforming themselves to face a future of decentralized power generation and distribution should thrive. The technology trend of solar power becoming cheaper than grid power is not reversible. Solar installers will continue to benefit from this tailwind, even if they face temporary setback with regulators siding with entrenched lobbying interests.
Conclusion
In Nevada, the solar demand will surely be hit severely from what it was a year ago. It seems that the new decision is punishing customers for going solar. However, proponents of solar would still continue to install solar, just because they want clean energy. I do not think what happened in Nevada will get replicated in other states, as solar bears are saying. Solar is poised to grow in double digits globally and has already reached grid parity in many places. With the recent Paris summit and ITC extension, solar energy has gained strong support at the international level. Key stocks to buy to benefit from the growth of the solar industry are First Solar (NASDAQ:FSLR) Sunpower and large Chinese module suppliers like Trina Solar (NYSE:TSL), Jinko Solar (NYSE:JKS), JA Solar (NASDAQ:JASO).
Disclosure: I/we have no positions in any stocks mentioned, and no plans to initiate any positions within the next 72 hours.
I wrote this article myself, and it expresses my own opinions. I am not receiving compensation for it (other than from Seeking Alpha). I have no business relationship with any company whose stock is mentioned in this article.