CSX Corporation (NYSE:CSX) is a railroad company based in Jacksonville, Florida that moves just about everything imaginable over their 21,000 miles of track that reach 23 states and even our Canadian neighbors to the north using almost 4,500 locomotives. The company as we know it now was formed in 1986 after combining Chessie System and Seaboard Air Line Railroad. Along with Norfolk Southern Corporation (NYSE:NSC), CSX enjoys a duopoly over the rail traffic east of the Mississippi River. With access to over 70 river and sea ports, the company provides vital infrastructure to the North American economy.
The railroad industry was no different from many other industrial facing businesses and had a rough 2015. Revenues for CSX came in at $11.8B, roughly $800M less when compared to 2014. Due to their aggressive and regular share repurchase program, they were able to increase EPS to $2.00 for 2015, giving them an $.08 increase YoY. The company also increased their cache of cash to $1.4B, adding $500M YoY, while long-term debt rose by $2B and is sitting at multi-year highs. Free cash flow, my favorite, is still rising at the railroad and they brought in $992M for 2015 compared to $919M the year prior. Overall the company is financially healthy, but there are concerns.
In 2015 volume for every segment of product they transported dropped besides mineral and automotive, which increased by 6% and 3% respectively. The two largest drops occurred in metals and coal, both at 16%. Their largest individual segment based on overall volume and revenue is coal, and the suffering of the coal industry is spooking investors. When we look at revenue for all other segments, coal accounts for 31% overall. There is little relief in sight for the coal industry due to continued low natural gas prices and a strong US dollar hurting exports of coal and everything else. While this is concerning, there is no reason to panic; the coal volume isn't going away completely and CSX along with others are shifting their operations to account for this drop. The company will still make money off coal transportation and despite the news the industry is not yet dead.
With shrinking volumes and continued headwinds going into 2016, the dividend has come into question. In 2015, each share was paid $.70 and resulted in nearly $700M in dividends being paid out. Looking at both earnings and cash, the dividend is well covered and not threatened. Assuming they raise the dividend another $.07 for the year, bringing the total to $.77, using their forward earnings estimate of $1.85, we get a 37% payout ratio. Looking at operating cash flow of an estimated $3.48, we get a 22% payout ratio. There is also the ongoing share repurchase program in the amount of approximately $250M a quarter that would likely be suspended before the dividend. Overall the dividend does appear safe even if CSX falls short of estimated earnings and cash flows. Current cash on hand could cover the dividend for two years at least. At current market prices, the yield sitting at 2.9% is at a multi-year high, and the 5-year DGR of 16.5% easily outpaces inflation for income seeking investors.
The long-term debt held by CSX is also of concern for many investors. They currently have two bonds coming to maturity in 2017. One reaches maturity on May 1 and carries a 7.9% coupon with $312M outstanding. The next one reaches maturity on the same date, but is callable and holds a 5.6% coupon on $300M. The structure of the rest of their $10B in debt is spread out all the way into 2054 and the highest coupon is 9.5%. Overall with a debt to equity ratio of 47% and a BBB+ credit rating, there should be little concern for the debt going forward unless they issue a significant amount or the overall business falls apart.
The company's valuation appears to be fairly attractive when using 10-year averages for P/E and P/CFL. The below FAST graphs will help show how the company is slightly undervalued.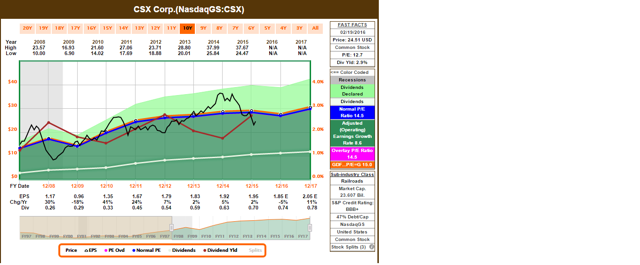 Click to enlarge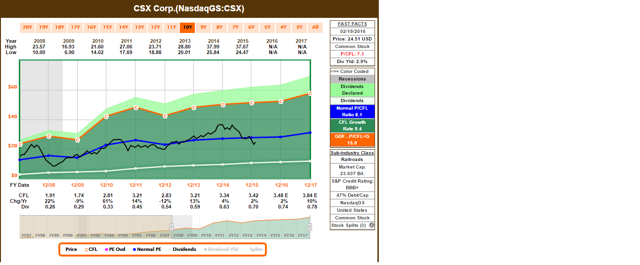 Click to enlarge
At current valuations, there is 10%-15% upside through 2016 if the estimations remain the same and they don't surprise on their releases.
Overall, I like the business and see the current trading range as a bottom. Of course that could always change, but long term the business is sound and once it comes out of this cycle, it will emerge stronger. I like the dividend at this level and CSX's commitment to maintain it even through the last recession should comfort income-minded investors. Their balance sheet is sound, the management has hundreds of years of combined knowledge, and railroads will continue to be relevant for decades. I started my position last week in CSX due to their attractive valuation at just 12.7 P/E and 7.8 P/CFL with modest growth estimated for 2016. I feel the railroad industry was put through a wringer because of the slumping coal industry and the concern investors have regarding its correlation to railroads, but long term this won't destroy CSX. Until something comes along that can move more than a railroad more cheaply, they won't be going away. For that reason, I'm comfortable with my long position in CSX. I appreciate you all reading my article, and I look forward to the discussion in the comments. As always, I wish you all the best of luck.
Disclosure: I am/we are long CSX.
I wrote this article myself, and it expresses my own opinions. I am not receiving compensation for it (other than from Seeking Alpha). I have no business relationship with any company whose stock is mentioned in this article.