When valuing a stock and comparing it to its peers the first metric that generally comes to mind is the price to earnings (P/E) ratio. It is a plain vanilla metric which is easy to understand, for example, a P/E of 10 would indicate that you pay $10 for $1 of earnings. If then compared to numerous other investments, generally, it seems like a better deal if you pay the least for $1 of earnings.
This tinkering thought has been reviewed, time and time again, in the world of academia where the majority of research concludes that investing in a firm with a low P/E results in higher odds to outperform investment in firms with a high P/E, conditional upon a variety of variables. Bringing this back to the real world, when I would look for a bunch of low P/E stocks, numerous Chinese firms qualify: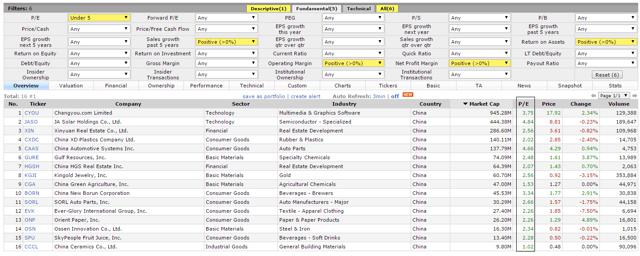 Source: Finviz
This justifies looking further into this topic, specifically the iShares MSCI China Small-Cap ETF (NYSEARCA:ECNS). The main focus is here to realize that classic metrics might not be good enough to value stocks.
The ETF advantage is where I believe small-cap investments should not serve a large stake and/or lengthy period in your portfolio. Yet due to external factors, such as an imminent recession, certain stocks might plunge unreasonably more than others. This is where the opportunity comes forward and could be captured in the iShares MSCI China Small-Cap ETF rather than a single cherry pick.
Chinese Stocks: Undervalued, Overvalued or Misunderstood?
Looking at mere classic fundamental metrics alone, Chinese stocks seem to offer undervaluation. Unfortunately, when scratching the surface, a Pandora's box opens up. In recent articles, financial practitioners express their concerns in regards of small-cap Chinese stocks.
These concerns are widely disregarded inside the borders of China; nevertheless, ZeroHedge provides the other side of the coin which. And even though sometimes cynical, it's worth reading. Furthermore, it is clear that China does whatever they can to stimulate and steer the economy in whatever way they deem sensible.
In my opinion, government intervention in the financial markets (wherever in the world), is not something which carries a lot support by investors, only the ones who might be in need of rescuing. Apparently the Chinese governments have a lot more confidence in their own ability to steer the economy in a certain way rather than relying on market forces. Therefore it's not a surprise that securities regulator Xiao Gang had to step down after the immense turmoil on Chinese markets. Yet I believe actions like these only keep the volatile time alive.
It therefore does not come as a shock to me that the list of fraudulent Chinese firms is endless. But let's not kid ourselves that this is only a trademark of the Chinese, accounting scandals can be found everywhere. Also to more familiar names such as Xerox (NYSE:XRX), Vivendi (OTCPK:VIVHY), Freddie Mac (OTCQB:FMCC), Kmart and others. The trend in fraudulent Chinese stocks has changed the 'Chinese Value Play' in an outright 'Value Trap'. But what else is new?
One interesting example of being misled in China would be the case of Caterpillar (NYSE:CAT), which had to do a massive write off on goodwill due to the acquisition of ERA Miner Machinery a few years back. The issues were plentiful, from reporting inventory/actual physical inventory to the complex reverse merger which should also have rang an alarm bell but unfortunately it didn't.
A question every investor in Small-Cap Stocks could ask themselves:
Does inventory grow quicker than revenue? Inventory which grows quicker than revenue. In case inventories would grow quicker than sales it can indicate that inventories in this case are obsolete which could lead to a write-off or the company may have failed to charge the cost of sales on some parts of its revenue.
Does management hold the majority of shares, and furthermore does management pursue reverse mergers?
Who is the auditor?
Does the firm use a Variable Interest Entity (VIE) construction?
This brings us to the iShares MSCI China Small-Cap ETF, issued by BlackRock (NYSE:BLK).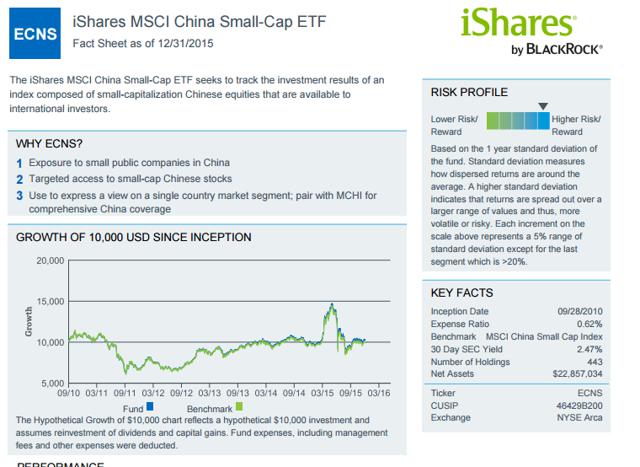 Source: iShares
The expense ratio of 0.62% is not incredibly expensive. With 443 holdings, one has a diversified exposure to Chinese stocks. This ETF carries the rating of 'high risk', unfortunately as the profile above already explains in the hypothetical situation, not much growth has been seen since inception.

Source: iShares
It does not qualify itself as cheap, with a current P/E of over 20. Additionally, it's very volatile with a standard deviation (3y) of over 25% which clearly confirms the profile of "high risk".
The comparison to the Dow Jones doesn't make it any better: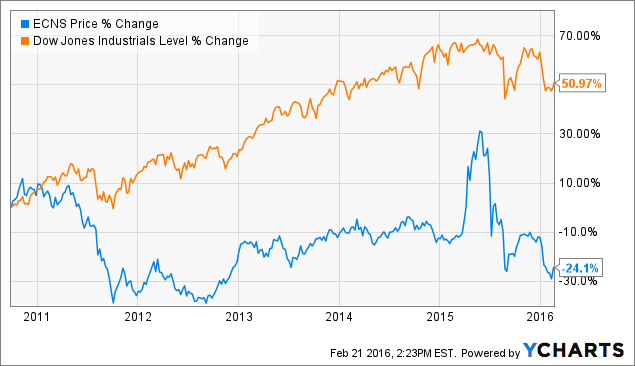 One of the few differences this time around (based on low valuation) is that Chinese companies tend to go much more private as years before: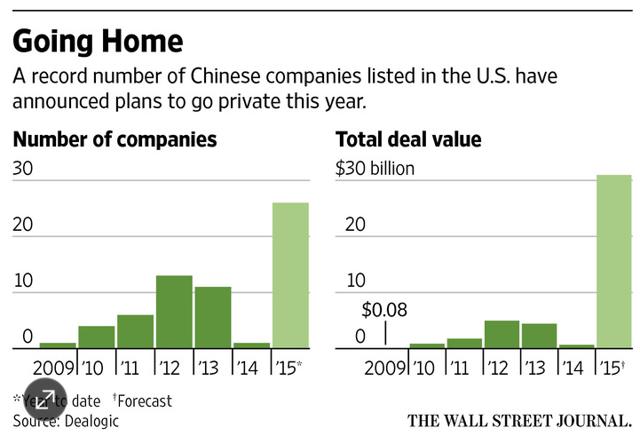 Source: WSJ
This going private boom can be a nuisance to investors as management can try to buyout the company with low-ball offers.
One of the businesses I've recently covered which qualifies as a small-cap China stock is China Automotive Systems (NASDAQ:CAAS). Their management announced a share repurchase program not long ago. Nevertheless, besides 1 surge in February, the share has been floating lower since 2016.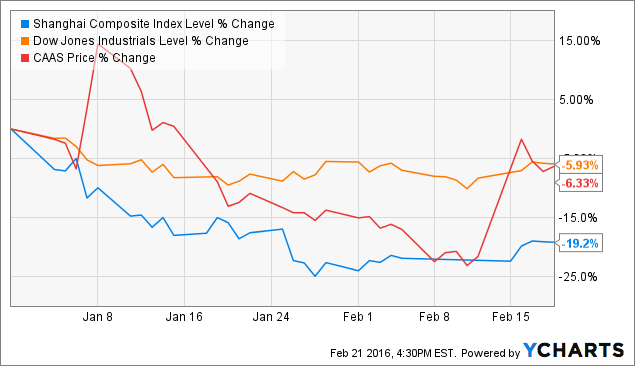 Also from a revenue/inventory growth perspective, in contrast to many other firms, CAAS does at least show a healthier sign of growth.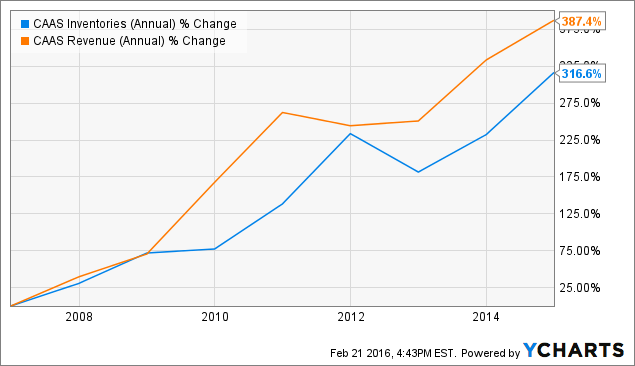 I find it hard to justify a current position in CAAS, even though I am a firm believer in the underlying steering market, especially the electronic steering market which is expected to grow for a while. Yet, due to a wobbly market since January 2016, I find it too risky to enter a position as the majority of stocks are down, and I am not sure if we have seen a bottom yet. I will issue an update on CAAS when additional information is published.
Summary
Will we see a mild expansion in multiples any day soon? I'm not sure. Even though the world might have pulled back out of stocks a little, Chinese firms enjoy the same low valuation as they have done before. The given fact that Chinese investable equities yield such low valuation proves once more that one should simply not rely on classic fundamental metrics alone. The question why management does not take many of these cheap firms private is a good one, yet difficult to answer (as many withdraw their offers). But it does strike as reason enough to avoid any Chinese small-cap ETF. I have been scammed/duped before, and since I don't live in Asia, all I can base my research on is what I see in the books. Nothing more, nothing less. This is a major weak spot.
Advocating a long-term holding in this ETF (or any of the single stocks) is incredibly risky due to outlined reasons outlined in this article. A strong stomach is a prerequisite for any purchase in this field. Whenever I have a profit double digit profit, I close the position and move on.
I remain interested in CAAS, but mostly due to the underlying growth in the steering market.
Disclaimer: This article provides opinions and information, but does not contain recommendations or personal investment advice to any specific person for any particular purpose. Do your own research or obtain suitable personal advice. You are responsible for your own investment decisions. This information is not a recommendation or solicitation to buy or sell securities, nor am I a registered investment advisor.
Disclosure: I/we have no positions in any stocks mentioned, and no plans to initiate any positions within the next 72 hours.
I wrote this article myself, and it expresses my own opinions. I am not receiving compensation for it (other than from Seeking Alpha). I have no business relationship with any company whose stock is mentioned in this article.