By Dakota Sparks
The biotechnology sector as a whole has experienced a sharp downturn over the past 6 months, with factors ranging from Hillary Clinton's tweets to commodity prices all contributing to the volatility. This sell-off has brought opportunities to invest in relatively low valuations in equities throughout the market, but one opportunity commands attention, and that is with Seattle Genetics (NASDAQ:SGEN). Many investors are aware of the risk that a high beta biotechnology stock like SGEN inherently brings, but the case for the stock is strong, with a strong product pipeline, low debt/high current ratio, and strategic partnerships that SGEN has garnered.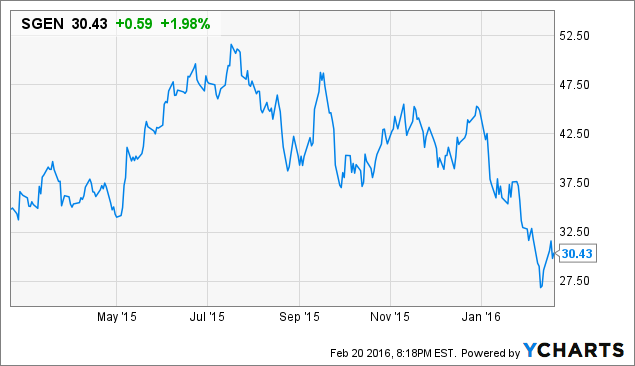 SGEN data by YCharts
SGEN is currently trading higher than its 52-week low of $26.02, but opportunity still exists from the 52-week high of $52.33. The company's main product, ADCETRIS, has been successful in the domestic and international markets, helping generate $336.8 million in revenues last year with a growth rate of 17.5% Y/Y. With SGEN operating at a loss and EPS at ($0.178), growth in revenue is important for SGEN to continue to demand investor attention. Of the mid-cap ($2 billion+) biotechnology stocks, SGEN boasts the 7th best gross margin at 88.9% and the 6th best current ratio at 8.1. This may be evidence of the large overhead costs that are synonymous with market participation (R&D, Administration, CapEx). The last reported EPS is the closest SGEN has been recently to showing investors a profit.
Strategic Partnership
Next quarter, analysts expect SGEN to report an EPS of ($0.09) and revenues of $116.25 million. This large gap in Q/Q revenue on the surface shows cyclicality and volatility in revenue stream. However, the blame here lies in the payment structure that SGEN and Takeda Pharmaceuticals (OTCPK:TKPHF) have negotiated. If TKPHF generates sales of ADCETRIS greater than the benchmark of $200 million per year, SGEN is given a one-time payment of $20 million that is reflected on the statement as well as per unit royalties. Without this one-time payment on the revenue stream, Q/Q sales growth is relatively flat and unimpressive. However, TKPHF has demonstrated a commitment to aggressive expansion of the marketing of ADCETRIS. To-date, TKPHF is licensed to market ADCETRIS in 60 countries, which has only increased the revenue stream of SGEN as strong international demand persists. Furthermore, as pipeline products are released to the market, investors should expect SGEN to already have the supply chain and business partnerships set up for rapid sales growth in the future.
Product Pipeline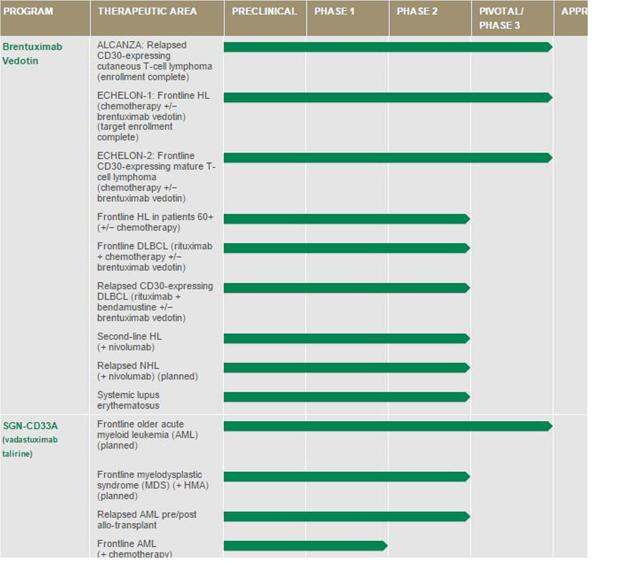 Click to enlarge
Source: Seattle Genetics Pipeline
While the current product catalog of SGEN is small, only being represented by ADCETRIS, products in trial with monoclonal antibody techniques are promising, and results are expected within the next year. Hodgkin lymphoma, non-hodgkin lymphoma, leukemia, solid tumors, and autoimmune disease (lupus) are all medical applications being explored by the company.
Perhaps the most exciting opportunity for SGEN is in acute myeloid leukemia, or AML. SGN-CD33A is in a phase 2 trial recruiting patients, but preliminary results released (in late 2014) show that patients subjected generated an anti-leukemic response 47% of the time. This poses a significant opportunity for SGEN, because the National Institute of Health estimates AML is responsible for 4.0 new cases per 100,000 and fatalities of 2.8 per 100,000. To put this in context, ADCETRIS currently targets classical hodgkin lymphoma, with new cases of 2.7 per 100,000 and fatalities of 0.4 per 100,000.
SGEN has also found a further application of ADCETRIS (brentuximab vendotin) in medical applications of non-hodgkin lymphoma, or T-cell lymphoma. This trial is in phase 3 of development, but non-hodgkin lymphoma affects 7x more people in the United States than classical hodgkin lymphoma. If SGEN were to capture market share of both hodgkin lymphoma and non-hodgkin lymphoma, this may significantly affect the overall profitability in a positive direction. Currently, non-hodgkin lymphoma generates new cases of 19.7 people per 100,000 and fatalities of 6.2 people per 100,000 a year.
Corporate Growth and Insider Buying
A local business journal to SGEN recently reported on the hiring boom ongoing in the biotechnology sector, especially in the Pacific Northwest. The company has added to employees by about 15% per year over the last 2 years. Expansion of labor in this fashion may be evidence that business continues to expand (around ADCETRIS), or future business growth is expected, and management is front-hiring on those expectations. Regardless of the reason that SGEN continues to add employees, the confidence exhibited by management in growing the business is encouraging for investors.
Director Baker Felix has significantly added to his position over the last 12 months. In fact, over this period, Baker Felix has increased his ownership in the company by 27%, with the most recent purchase on 2/19 at 1.3 million shares purchased. More notably, the purchase on 2/19 by Baker Felix is also the lowest share price of an acquisition made in the last 12 months. As of the close on 2/19, Baker Felix owns $1.06 billion in SGEN equity, or 315% of FY15 total sales. Insider trading is difficult to assess the meaning of, but if investors are to assume that insiders do not like to lose money as investors do, then this could be a good sign for an entry point in SGEN. Institutional ownership of SGEN is also relatively high at 72%.
What the Bears Say
Reasons that investors should be worried about SGEN's prospects in 2016 are that it could get caught up in significant regulations and reactions to the biotechnology witch hunt that Martin Shkreli has initiated. If public perception is that biotechnology and pharmaceutical companies are worth considering economic sanctions, the industry could get wrapped up in a sell-off. While the Nasdaq Biotechnology Index (NBI) is already down 22.7% since the beginning of the year, the industry could find another bottom if political pressures are great enough. Also, it is important to remember that investing in pharmaceutical companies is highly speculative in nature due to clinical trials not always coming to fruition or FDA barriers in place before approval of marketing. However, early indications of SGEN trials are encouraging for 2016. Finally, some analysts also believe that the biotechnology sector is still overvalued at these levels coming off of the bubble that occurred last summer.
Conclusion
Look for SGEN to be on the rise through the first half of 2016. After the first 6 months, pipeline announcements and trials are expected, so much of the propulsion for the stock to test new levels of resistance ($45-55) would need to be fueled by the pipeline of products. If the company can land two or more product applications in 2016, this could be a blockbuster year for the stock and for investors.
Disclosure: I am/we are long SGEN.
I wrote this article myself, and it expresses my own opinions. I am not receiving compensation for it (other than from Seeking Alpha). I have no business relationship with any company whose stock is mentioned in this article.