Almost every Saturday morning I drive out of my neighborhood on the way to Starbucks (NASDAQ:SBUX) and I pass by at least a half dozen yard sales. I'm not sure if the yard sale is a southern tradition, since I live in South Carolina, but these bargain shopping events are a commonplace experience in my home state.
Typically, the goods in a yard sale are unwanted items that a homeowner is looking to unload for some quick cash, and on rare occasions, there are some gems that can be discovered. More often than not, you will find a worn-out item that the owner is willing to part with at a really cheap price, and when the sale is consummated, the two parties are delighted, hence the saying:
one man's trash is another man's treasure.
It's always good to be prepared for a yard sale, in other words, loading up the wallet with plenty of cash. Also, haggling is routine at yard sale events as most items don't have price labels, so it always pays to be a bargain shopper and wait on that perfect opportunity to pounce on a real bargain.
Similarly, it's always good for a REIT to have the same "yard sale" buying mentality - always being prepared for a bargain deal.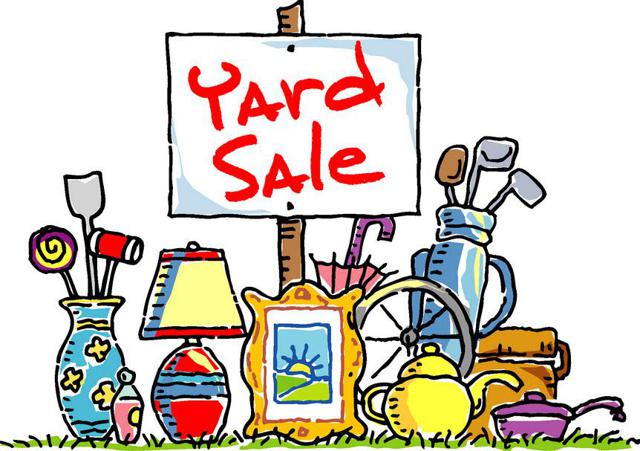 Click to enlarge
The Signs Are All Over The Place
As my Seeking Alpha followers know, I have been covering the healthcare REIT space in great detail, almost one article a week so far in 2016. More recently, I have written on HCP, Inc. (NYSE:HCP), Omega Healthcare Investors (NYSE:OHI), Ventas, Inc. (NYSE:VTR), New Senior (NYSE:SNR), and Welltower (NYSE:HCN).
Clearly the "yard sales" are well publicized in the healthcare REIT sector, primarily as a result of the headline risks related to HCP, Inc. and its largest tenant, ManorCare. Accordingly, most all healthcare REITs have underperformed over the last year.

Click to enlarge
The History
National Health Investors, Inc. (NYSE:NHI) was founded in 1991, and for most of the last 25 years, the Tennessee-based REIT has maintained a small asset base. However, since 2013, the company has more than doubled in size to $2.146 billion (as of Q4-15). Here's a snapshot of the company's historical growth (in assets):

Click to enlarge
One important footnote to NHI's past is its dividend cut in 2000. As you can see below, NHI was forced to cut its dividend around 15 years ago as a result of a technical default. At the time, NHI had a large loan with a Japanese bank and when one of NHI's tenants filed BK, the bank called the loan. At the time, NHI did not enjoy the same financial flexibility and it had no tenant diversification.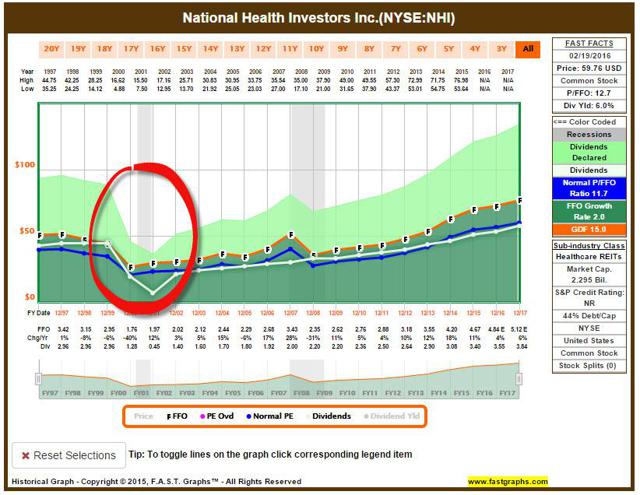 Click to enlarge
As a result of the adversity (back in 2000), NHI's Board has gained valuable experience and that is the reason that the company has become a more disciplined enterprise.
Although I do not believe HCP will be forced to cut its dividend, history has shown that high concentration with one tenant (ManorCare) can lead to poor performance. I am maintaining a HOLD on shares of HCP until I see more clarity relating to the rent coverage metrics. Like NHI, I have found that maintaining a more disciplined investment strategy can produce optimal results.
Since the end of the last recession, NHI has performed well. Here's a snapshot that illustrated the REIT's earnings (or FFO) and dividend performance over the last few years.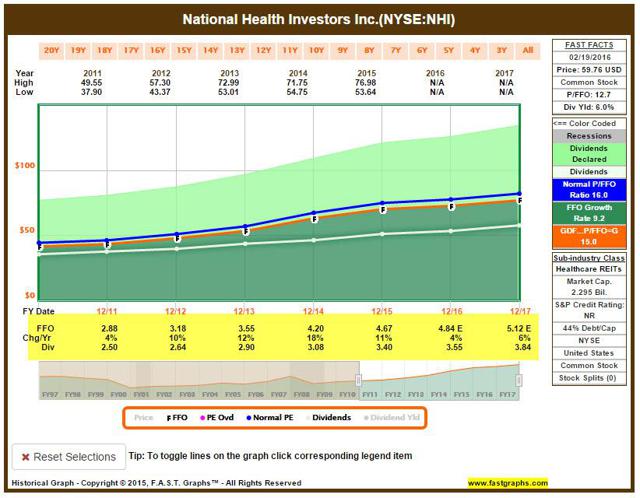 Click to enlarge
As of Q4-15, NHO owned 190 properties in 31 states.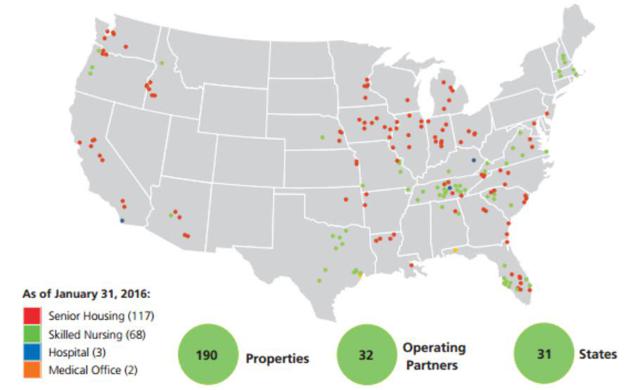 Click to enlarge
NHI is considered a diversified healthcare REIT based upon the following sub-sector breakdown: Skilled Nursing (31%), Hospital/MOB (4%), Entrance-Fee (17%), Independent Living (17%), Assisted Living (22%), Senior Living Campus (6%), and Other (3%).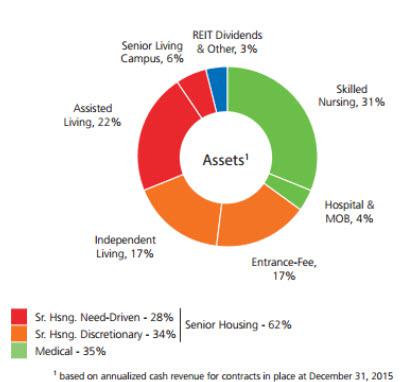 As I said, NHI learned its lesson from the 2000 dividend cut, the company now has a well-balanced platform that consists of 32 operating partners. Here's a snapshot of NHI's partners (Note: Brookdale (NYSE:BKD) is just 2% exposure).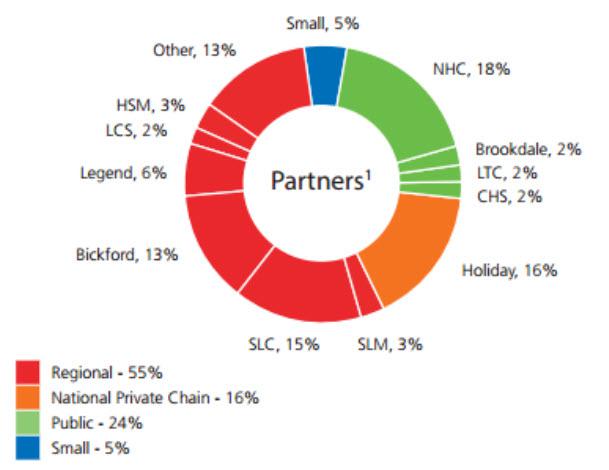 As you can see below, NHC and Holiday are NHI's largest relationships and there is no significant concentration with "headline" operators (like Brookdale).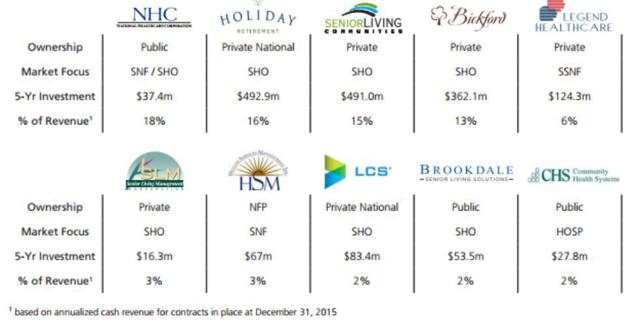 Click to enlarge
A Differentiated Business Model
As noted above, NHI is similar to the "big 3" healthcare REITs that own a variety of healthcare properties; however, NHI is much smaller with a market cap of around $2.294 billion.

Click to enlarge
In a previous article (October 2013), NHI had around 26% exposure with NHC, and that's now down to 18% (as of Q4-15). NHI has been reducing its exposure to NHC, developing relationships with growing senior housing and care operators.
A majority of NHI's revenue is derived from lease contracts (75%). The company has around 11% RIDEA exposure and 12% debt exposure. NHI owns 32 RIDEA buildings and the operators (with RIDEA) have a deep level of experience with strong balance sheets. In other words, NHI does not take on much operator risk and the emphasis is on net leased assets.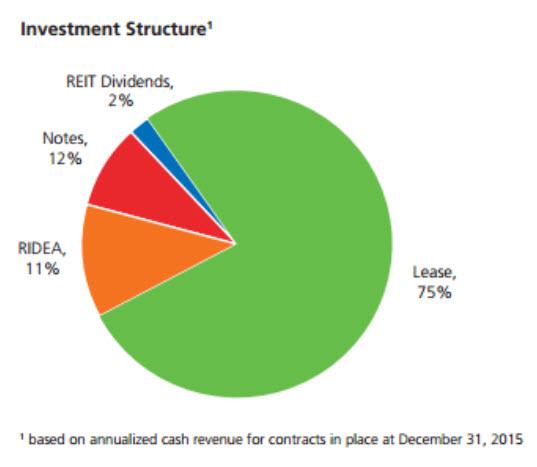 One of NHI's primary tenant relationships is Bickford Senior Living. NHI generates around 13% of revenue from Bickford, the primary RIDEA relationship for the REIT. Bickford manages and operates 50 Independent Living, Assisted Living, and Memory Care branches throughout the country and has experience in constructing over 150 of these types of communities for various owners.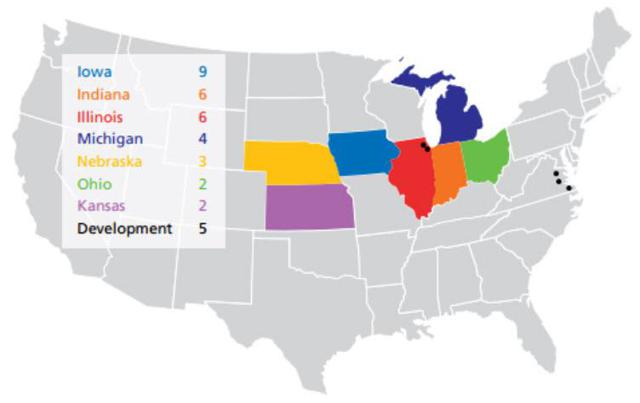 Click to enlarge
As you can see below, NHI has grown its relationship with Bickford over the years.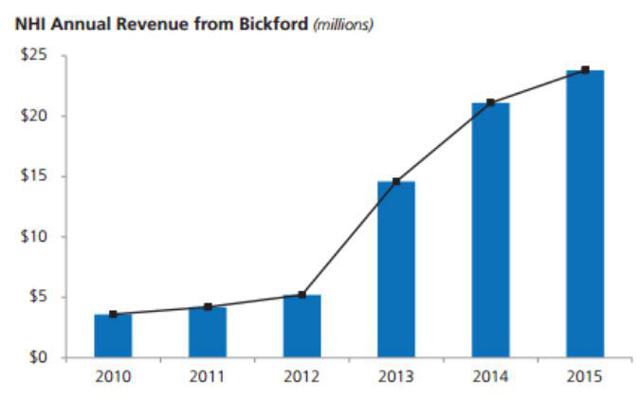 Click to enlarge
As part of a joint venture relationship, NHI owns 85% of the operations and real estate in 34 Bickford communities while affiliates of Bickford Senior Living own 15% and manage the communities. NHI's RIDEA structure is designed to follow the fundamental elements of a triple-net lease.
Within the RIDEA, NHI continues to foresee organic growth potential from improving operations, but the agreements with Bickford also enforce growth through a hybrid feature providing a preferred payment stream subject to 3% escalation and payable first to NHI among the joint venture partners.
NHI's JV with Bickford for its RIDEA structure is designed to provide higher growth than triple-net, but has a preferred payment structure, offering similar safety. The JV partnership has been advantageous (the RIDEA JV produced 4.8% same-store growth in 2014), but not as high as other JVs (HCN was up 8% and VTR was up 6.8%).
NHI's net lease contracts include 3% annual escalators on the senior housing assets and around 1.75% annual escalations on the skilled nursing assets. Here's a snapshot of NHI's EBITDAR coverages for each sub-sector.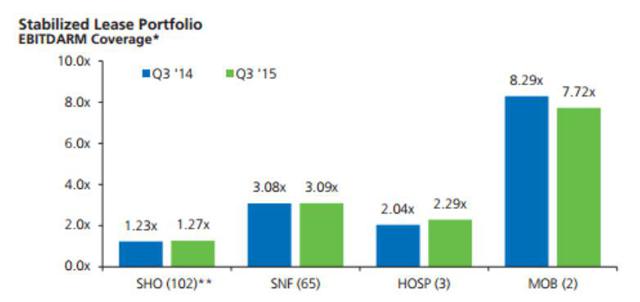 Click to enlarge
Plenty of Cash for the Yard Sale
As mentioned above, it's always good to have plenty of cash at the yard sale.
NHI has strong balance sheet metrics that include net debt to annualized EBITDA of 4.2x, weighted average debt maturity of 7.1 years, weighted average cost of debt of 3.77%, and fixed charge coverage of 6.1x.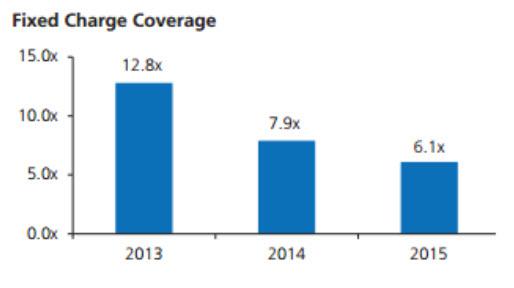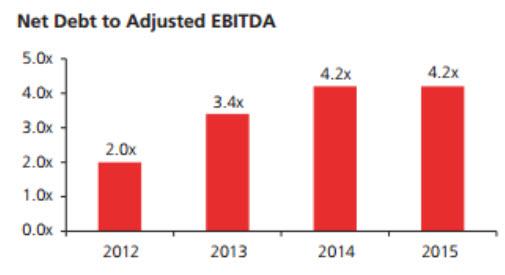 As of December 31st, NHI had ~$34 million outstanding on the revolver with an available capacity of $516 million. During Q4, NHI sold 830,506 ATM shares at an average price of $60.37 for net proceeds of $49.4 million. NHI has around $926 million in debt, of which 83% is unsecured.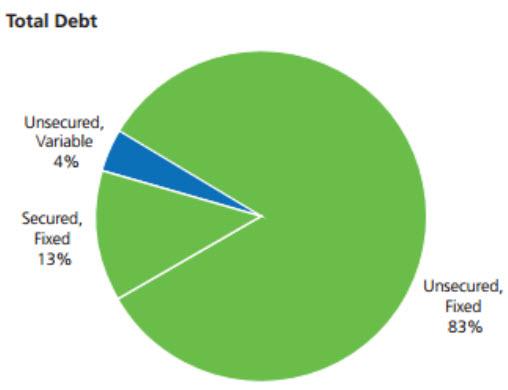 NHI has low leverage and I find the modest amount of secured debt appealing:

Click to enlarge
Most of the secured debt is related to Fannie Mae (10-year interest only at 4%) and HUD (low interest with long amortization). NHI prefers the cheapest cost of debt - the revolver - that carries an interest rate of 2%. The debt is well-staggered with long-term maturities.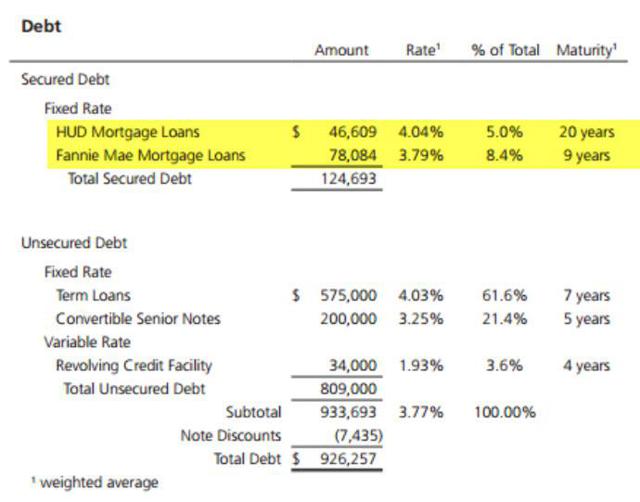 Click to enlarge
NHI will likely improve its balance sheet through additional asset sales and through the ATM, although leverage is lower than all but two peers. Although the company has no investment grade rating, I consider the debt "unofficially" rated as BBB. I like the fact that NHI maintains frugal practices like not forking out over $400,000 annually to a rating agency or supporting its corporate offices in an owned office building outside of Nashville.
Again, no flash, just lots of cash!
Another Solid Quarter
For the quarter, NHI's normalized FFO increased to $1.17 per diluted share, and normalized AFFO increased to $1.03 per diluted share, which represents a 10.4% and 9.6% increase respectively over the fourth quarter of 2014. Normalized FAD for the fourth quarter increased to $1.04 per diluted share, which is a 9.5% increase from the previous year.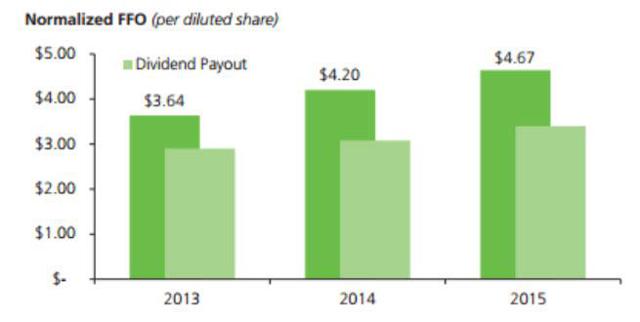 Click to enlarge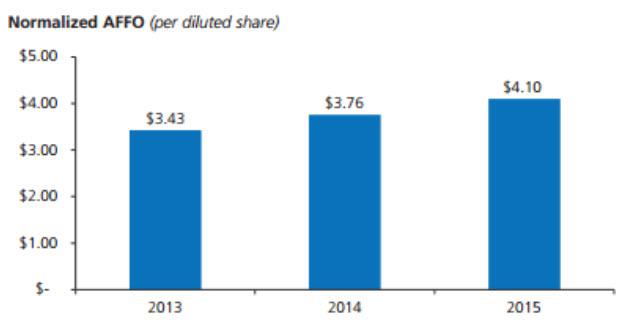 These results reflect the high volume of investments in late 2014, and over $310 million in 2015 related to acquisitions, loans and development activity.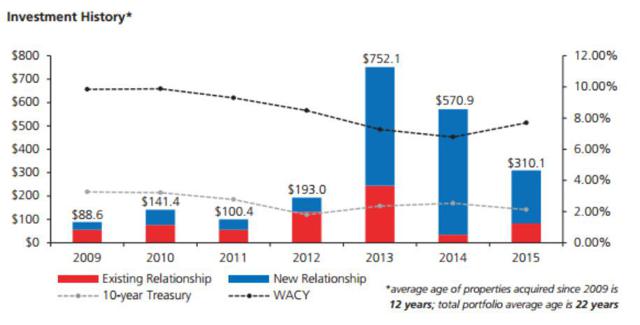 Click to enlarge
NHI's revenues for the fourth quarter increased 28% over the same period in 2014 and interest expense increased to $10.1 million in the fourth quarter due mainly to terming around $225 million of borrowings on the revolving credit facility to fixed rate private placement debt in early January 2015.
Here's a snapshot of NHI's AFFO per share history:

Click to enlarge
As you can see, NHI had a record year with over 12% AFFO per share growth in 2015… yet, Mr. Market was asleep.
Also, NHI increased its quarterly dividend to $.90 per share (annualized $3.60), or 5.9%. NHI boosted its dividend by over 10% in 2015.

Click to enlarge
NHI estimates its FFO payout ratio in the low 70% range and its AFFO payout ratio in the low 80% range.

Click to enlarge
NHI's 2016 normalized FFO guidance is $4.82 to $4.88 per share and the normalized AFFO range is $4.29 to $4.33 per share. The company does not include an estimate of investment volume in its guidance range.
This Healthcare REIT Is Ready For The Next Yard Sale
As I said, NHI is ready to go shopping at the yard sale. While the AFFO guidance is relatively modest, the company has a history of not "over promising," but instead "over delivering." While NHI has posted solid results in 2015, the share price has not adequately reflected the sound operating performance.

Click to enlarge
With the exception of OHI and VTR, NHI has one of the best dividend growth records. I expect to see more of the same…

Click to enlarge
I don't know about you, but I like being the unnoticed bargain shopper sifting through the rubble hoping to uncover a golden nugget. It pays to have cash and discipline, and NHI fits squarely in that framework. What could NHI buy?
I quick back of the napkin suggests that NHI could pick up SNR (Holiday exposure would be around 20%) or perhaps some of the Northstar Realty (NYSE:NRF) assets. I'm not suggesting such a combination would be necessary since NHI has demonstrated it can grow modestly and still move the needle by adding more senior housing assets.
Quite clearly, NHI has the key ingredients to drive shareholder value. This is not a glamour stock (like VTR and HCN), instead this Tennessee-based player is just a smart shopper that knows how to grow its dividend, and as a result, I've decided to move NHI from a BUY to a STRONG BUY.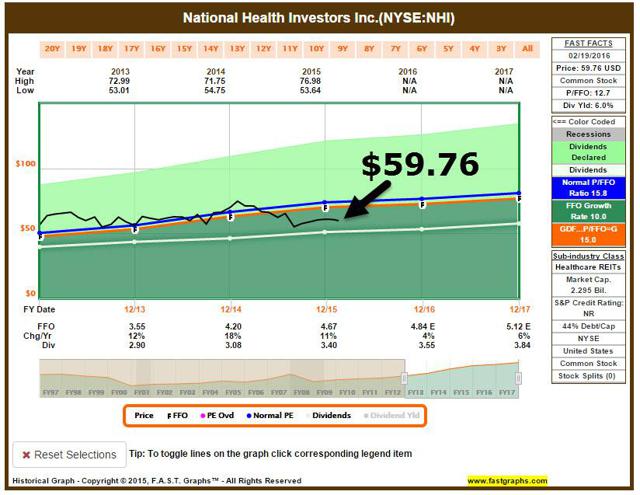 Click to enlarge
Click on these REITs to link to my latest article: HCP, VTR, OHI, SNR, and HCN.

Click to enlarge
Author's Note: I'm a Wall Street writer, and that means that I am not always right with my predictions or recommendations. That also applies to my grammar. Please excuse any typos, and I assure you that I will do my best to correct any errors if they are overlooked.
Finally, this article is free, and my sole purpose for writing it is to assist with my research (I am the editor of a newsletter, Forbes Real Estate Investor), while also providing a forum for second-level thinking. If you have not followed me, please take 5 seconds and click my name above (top of the page).
The only guarantee that I will give you is that I will uncover each and every rock I can, in an effort to find satisfactory investments that "upon thorough analysis promises safety of principal and satisfactory return. Operations not meeting these requirements are speculative." (Ben Graham)
Disclaimer: This article is intended to provide information to interested parties. As I have no knowledge of individual investor circumstances, goals, and/or portfolio concentration or diversification, readers are expected to complete their own due diligence before purchasing any stocks mentioned or recommended.
Source: SNL Financial, F.A.S.T. Graphs, and NHI Q4-15 Supplemental.
Disclosure: I am/we are long O, DLR, VTR, HTA , STAG, GPT, ROIC, HCN, OHI, LXP, KIM, WPC, DOC, EXR, MYCC, BX, TCO, SKT, UBA, STWD, CONE, BRX, CLDT, HST, APTS, FPI, CORR, NHI, CCP, WSR, CTRE, WPG, KRG, SNR, LADR, HCN, HCP.
I wrote this article myself, and it expresses my own opinions. I am not receiving compensation for it (other than from Seeking Alpha). I have no business relationship with any company whose stock is mentioned in this article.