It has been a wild ride for Prospect Capital (NASDAQ:PSEC) so far in 2016. The stock price fell sharply, down as much as 25% by early February, before rebounding after the company posted better than expected results for Q4 2015. Though, it appears some insiders took advantage of the dip to add to their positions.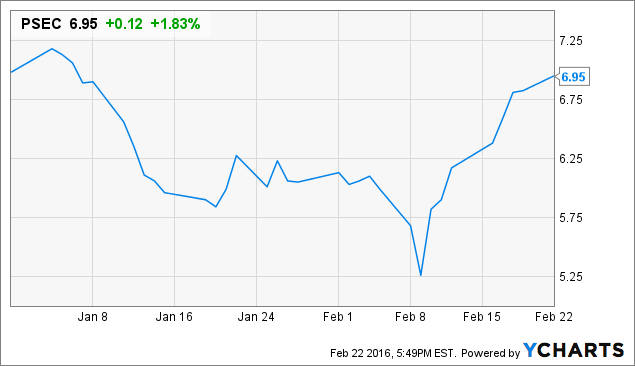 Major insider buying
During February, Prospect Capital saw a ton of buying by insiders.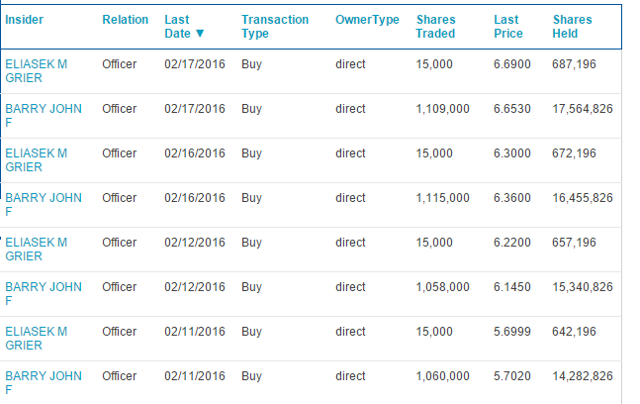 Click to enlarge
Source: Nasdaq.com
As shown, Prospect Capital CEO John Barry and COO Grier Eliasek purchased large amounts of stock. In total, ~$27.5 million was spent purchasing ~4.4 million shares of PSEC stock at an average price of ~$6.25 per share.
These were hardly token purchases either as Mr. Barry increased his holdings by 4.3 million shares, or ~25%, to ~17.56 million shares and Mr. Grier by 60k shares, or 9%, to ~687k shares.
Most of the insider buying of Prospect Capital stock took place after the company posted strong Q4 2015 earnings. It may seem unusual that the insiders only bought after the earnings and subsequent rally in the share price given that the stock sold off heavily prior to the report. Though, it was likely the case that SEC rules prevented buying on the material insider, nonpublic, information, i.e. the better than expected earnings report.
Conclusion: What to make of this news?
I think the insider buying at Prospect Capital is a clear bullish signal. The magnitude of the buying is rather telling as is the timing -- Prospect Capital's insiders backed up the truck as soon as they possibly could. This does not seem to be merely some "noise".
This move also tells me that the Prospect Capital may be seeing improved operational performance. After all, these insiders have information not publicly available to the rest of us.
Buying such large amounts of stock so quickly seems like a bet towards further share price appreciation. If things were going poorly for Prospect Capital there would have been some insider sales, yet only buying has occurred.
Keep in mind that this is the not the first time large buys of the stock has happened. In late 2015, Prospect Capital insiders purchased a combined $52 million worth of stock, with Mr. Barry and Mr. Grier basically doubling their stakes in a matter of weeks.
It makes a ton of sense that insiders are buying -- Prospect Capital trades at a massive 30% discount to its last reported NAV and yields 14%. The share price reflects severe distress. Yet, Prospect Capital dividend is well covered by NII, coverage ratio is ~1.05x, while the company actually posted a positive economic gain for calendar 2015.
Furthermore, the price action in early February appeared to stem from the rather dubious allegations of a possible SEC investigation and the general market sell-off in high-yield securities. Prospect Capital addressed the SEC investigation during the most recent conference call, noting that it knows of no current or pending investigations. The company also lambasted the allegations as "fear driven rumor-mongering without any checking."
Disclaimer: The opinions in this article are for informational purposes only and should not be construed as a recommendation to buy or sell the stocks mentioned. Please do your own due diligence before making any investment decision.
Disclosure: I am/we are long PSEC.
I wrote this article myself, and it expresses my own opinions. I am not receiving compensation for it (other than from Seeking Alpha). I have no business relationship with any company whose stock is mentioned in this article.