So far this year, shares of Goldcorp (NYSE:GG) have enjoyed an impressive run on the stock market. In fact, the stock is already up more than 30% on the back of better gold pricing, with the yellow metal benefiting from low interest rates and the prevalent volatility in the equity markets, which can take gold up to as much as $1,300 an ounce.
But, whether or not will Goldcorp will be able to sustain its impressive run up will depend to some extent on how the company's fourth-quarter results turn out to be. The company is slated to release its results later this week, so we will take a look at what's expected of the company and how its outlook might look like.
The expectations
On a year-over-year basis, it is estimated that Goldcorp will witness an increase of almost 29% in its revenue to $1.07 billion. The increase in revenue will be primarily driven by Goldcorp's acquisition of Probe Mines Limited, which it had completed in March of last year and had helped it increase its underground constrained indicated resources to the tune of 1.6 million ounces and inferred resources by 0.4 million ounces of gold. More importantly, this acquisition had helped Goldcorp improve its grade profile.
Another key reason why Goldcorp's revenue will improve in the fourth quarter is because the company had started commercial production at the Éléonore mine in April last year, and it has continued ramping up this asset. Additionally, the commercial production at Cerro Negro had also begun in January last year, and Goldcorp remained focused on improving the production capability of the mine throughout 2015. Thus, as a result of higher production, Goldcorp will see an increase in its revenue in the fourth quarter as the new mines were not online in the prior-year period.
However, despite the increase in revenue, Goldcorp's bottom line is expected to decline on a year-over-year basis. Consensus estimates indicate that Goldcorp will post earnings of $0.00 per share as against $0.07 per share in the prior-year period. Now, this might seem surprising considering the fact that Goldcorp's top line is anticipated to grow rapidly. However, a closer look at the gold pricing scenario indicates just why Goldcorp's bottom line will take a hit.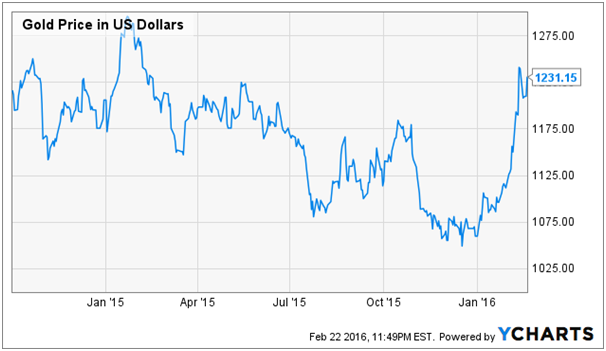 As shown above, gold prices in the final quarter of 2015, from October to December, were lower on an average than in the prior-year period. As a result, it is not so surprising to see that Goldcorp's earnings are expected to take a hit.
However, I think that investors should not get discouraged by the fact that Goldcorp's results might be mixed when its releases its results, as the company's outlook will be strong nevertheless. This is evident from the chart given above where we can see that gold prices have shot up tremendously in 2016, opening up an opportunity for Goldcorp to improve its margins.
The outlook is strong
There are a number of reasons why gold prices have been increasing of late, the key among them being low interest rates and end-market volatility, which are related to some extent. Driven by weak oil prices, an economic slowdown in China, and volatility in the equity markets, gold prices have gained strength. Now, gold thrives on volatility considering its safe haven nature as investors tend to buy more of the yellow metal in distressed times. This can be seen from the chart given below: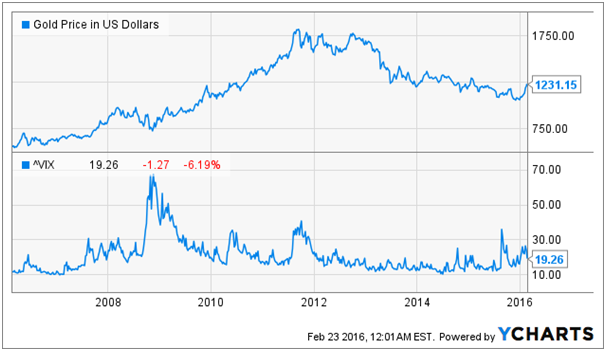 Take a close look at the chart given above. When volatility spiked post 2008, gold prices were on an uptrend, rising consistently as the markets remained volatile through 2010 and 2011. However, lower levels of volatility from 2012 onward led to a slide in gold prices as the equity markets became more attractive. However, of late, it can be seen that volatility is spiking up once again, and this has led to an improvement in gold pricing.
Looking ahead, I believe that the market will continue to remain volatile this year as economic growth in key nations such as the U.S. and China is showing signs of weakness. According to CBS News, some analysts have cut their forecast for U.S. growth in 2016 to 2% from the prior 2.4%, while on the other hand, Chinese economic growth will witness yet another year of slowdown. Additionally, the likes of Venezuela, Brazil, and even Argentina are in a recessionary environment, which creates more reasons for the market volatility to persist.
As such, it is likely that gold prices will continue rising this year, which will allow Goldcorp to achieve an improvement in average realized prices.
Conclusion
Goldcorp's upcoming earnings report might pose a small hiccup for investors as its bottom line will take a hit on the back of lower gold prices. However, the company's outlook appears strong as an increase in gold prices will help it expand its margin profile, thereby allowing it to sustain its strong run as the year progresses. So, according to me, it will be a good idea for investors to remain invested in Goldcorp as it can scale new highs going forward.
Disclosure: I/we have no positions in any stocks mentioned, and no plans to initiate any positions within the next 72 hours.
I wrote this article myself, and it expresses my own opinions. I am not receiving compensation for it (other than from Seeking Alpha). I have no business relationship with any company whose stock is mentioned in this article.