Memorial Production Partners (NASDAQ:MEMP) joined the rest of the upstream MLP space in slashing its distribution down to size. On January 27th, Memorial Production Partners announced it would reduce its distribution from 30 cents per quarter to just 10 cents per quarter.
This distribution cut should come as no surprise. After all, the last time it cut, management confirmed that it could maintain its distribution with WTI as low as $40 per barrel. At the time, that was thought to have been a reassurance. But, of course, crude oil has dropped to below $30.
So, really, Memorial had no choice. Management wisely decided to use cash generated from its substantial hedge position to pay down debt. The only unfortunate thing is that Memorial didn't do this nine plus months ago. This article looks at Memorial's remaining hedges, its cash flow and its debt, in order to figure what the company may do going forward.
Going forward
There's one important thing to know about Memorial Production Partners: It has a hedgebook that allows the partnership to generate lots of cash through 2019. The partnership is also levered relatively light. Altogether, Memorial has $1.8 billion in debt, about $700 million comes due in early 2018. The remainder comes due in 2021 and 2022.
This year, Memorial Production Partners expects to generate $115 million in distributable cash flow, or DCF. Of that, some $35 million will go to distributions. The other $80 million per year should go to delevering. At this rate, by 2018, Memorial should knock its debt down by some $180 million. That number will be higher if oil and gas prices go up.
To be sure, Memorial does need to delever as much as possible. Last month Moody's placed Memorial Production Partners on review for a credit downgrade, which would make refinancing existing debt more difficult. While Memorial certainly cannot pay off all that debt anytime soon at this rate, Memorial can still make a big dent in the outstanding balance, and in so doing perhaps salvage and improve its credit rating over time.
Memorial Production Partners expects about $300 million in EBITDA this year, which would put Memorial's debt at 6 times EBITDA. That's too high, and management is right in trying to bring that figure down. But at these crude oil prices, delevering will be a challenge. For example, two-and-a-half years of delevering would only bring debt to EBITDA down to 5.33 times, which is still rather high. The bottom line is that Memorial Production Partners needs higher crude oil prices to achieve 'escape velocity.'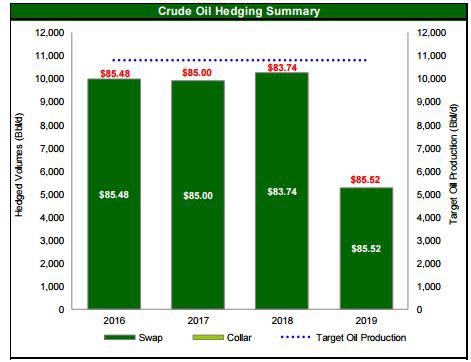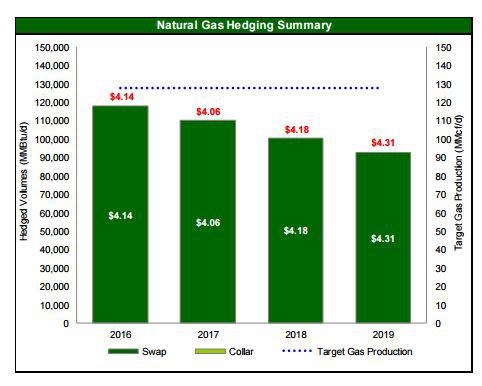 Courtesy of Memorial Production Partners Investor Relations.
The good news is, the partnership has the hedges to wait multiple years for things to get better in the oil patch. Memorial can wait through 2017, 2018 and maybe even 2019 for this whole thing to turn around, and the partnership can delever the entire time if it needs to. I suspect that is more than enough time. So, as long as Memorial is able to refinance its credit line before March 2018, or extend the credit line, then I believe that Memorial Production Partners will get through this smoothly.
Since Memorial has already declared what it will do, analysts and investors in this partnership will likely turn their attention to other happenings. Specifically, I believe investors will watch how Memorial Production Partners manages and reduces its operating and capital expenditure costs. For a long time Memorial has been having difficulty with cost reduction.
For example, last quarter Memorial was only able to reduce operating costs by 3%, despite other upstream MLPs reducing costs by double digits. Since that time, however, the partnership should have completed a saltwater distribution system in East Texas. That system should reduce costs by several million dollars, and that should in turn help with cost reduction efforts. I'll be looking out for this in the next conference call. It is one of the few things this partnership can control right now.
Conclusion
It's difficult to recommend any E&P at this point in time. There's just too much uncertainty. I will say that Memorial is uniquely well-structured to outlast the other upstream MLPs. I do believe oil will bottom some time this year, only because I think a lot of companies are going to go out of business. Memorial won't be one of those names, but even still, until I see some fallout in this sector, I prefer avoiding nearly all E&Ps.
Disclosure: I am/we are long MEMP.
I wrote this article myself, and it expresses my own opinions. I am not receiving compensation for it (other than from Seeking Alpha). I have no business relationship with any company whose stock is mentioned in this article.