On Friday, February 19th, James Hardie Industries (NYSE:JHX) reported earnings for the third quarter of its 2016 fiscal year, beating analysts' expectations for revenue growth. As I discussed in my last article, JHX is undervalued and has a lot of potential for growth:
A Hidden Value: James Hardie Is Undervalued And Overlooked
The latest earnings report validates that undervaluation and shows that JHX continues to be a valuable long position. There is a lot of important financial data contained in the earnings report; the key points that affect investors the most are discussed below.
1) Double Digit Profit Growth
For the first 9 months of its current fiscal year, JHX reported adjusted net operating profit of $185.0 million, a 13% increase over the previous fiscal year. Adjusted net operating profit refers to net operating profit adjusted for expenses related to asbestos compensation which is a financial responsibility the company has every year. The double digit growth in adjusted net operating profit was driven by an 11% year-over-year growth in gross profit, from $426.3 million to $472.1 million.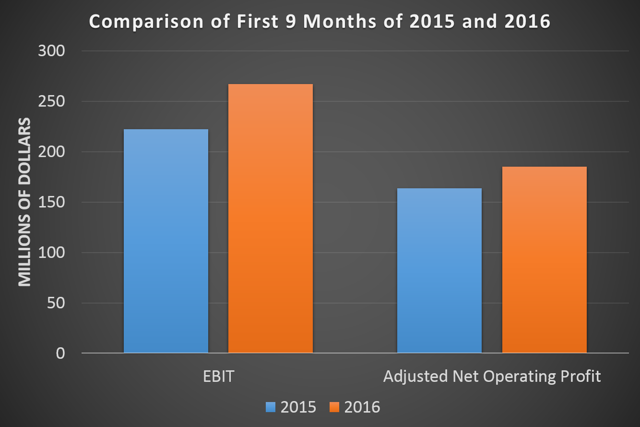 Click to enlarge
Comparison of first 9 months of 2015 and 2016. (Source: Author)
This is a very positive sign for investors because it shows that JHX is profiting from the growing housing market. Sustainable and significant earnings growth will push the stock price higher.
2) Sales Growth and Higher Margins in North America
JHX operates in 2 geographical business segments: North America/Europe and Asia Pacific. In the current fiscal year, the North America segment has accounted for 74.4% of total company revenue. The North America segment makes up a very large portion of JHX's revenue so continued growth in this segment is important.
In the latest earnings report, the North American segment reported quarterly revenue of $330.5 million, 12% higher than the corresponding quarter in 2015. For the first 9 months of the fiscal year, the segment reported $1 billion in revenue, an 8% increase year-over-year. The large growth in revenue is one of the major contributing factors for the double digit profit growth mentioned above.
Critically, the company has been able to not only meet, but exceed target margins in this segment. Management sets a target for margins of 20-25% for earnings before income tax (EBIT). In the past quarter, the EBIT margin exceeded the high target, coming in at 25.1%. Higher margins can be attributed to lower freight costs and increased operational efficiencies at manufacturing plants. This is important for investors because in addition to growing revenue, the company has been able to do it more profitably than before. This will allow the company to continue to grow its value over time, leading to nice returns.
3) Higher Sales but Lower EBIT in Asia Pacific
Revenue in the Asia Pacific segment grew 9% year-over-year for the first 9 months of the fiscal year. However, EBIT for the first 9 months dropped significantly, 12%, year-over-year. At first glance this may worry investors: how can revenue rise 9% while EBIT drops significantly? The explanation can be found when looking at recent manufacturing and R&D facility purchases and costs. The purchase of a site in Rosehill as well as startup costs associated with a site in Carole Park have adversely affected this year's EBIT from the Asia Pacific segment. However, expect EBIT to rebound during the next fiscal year when startup costs from these facilities decrease or disappear. These facilities are a net positive because they improve the strategic positioning of JHX in the region in terms of R&D and manufacturing.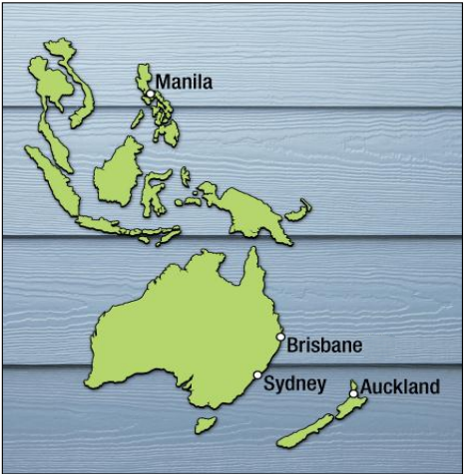 Locations of JHX facilities in Asia Pacifc region. (Source: JHX 2016 Investor Presentation)
4) Management's Full-Year Guidance
Arguably, the best piece of news investors received in the earnings report was the full year guidance issued by management for adjusted net operating profit of $240-250 million. Management expects to beat analyst forecasts as well as increase earnings year-over-year by $20-30 million.
JHX is definitely on track to meet management's guidance based on its performance so far this fiscal year. In 3 quarters, it has managed to generate adjusted net operating profit of $185 million, an average of almost $62 million per quarter for the first three quarters. If JHX can maintain this average then it will generate $247 million in adjusted net operating profit, towards the high range of analyst expectations.
Disclosure: I am/we are long JHX.
I wrote this article myself, and it expresses my own opinions. I am not receiving compensation for it (other than from Seeking Alpha). I have no business relationship with any company whose stock is mentioned in this article.