Vale S. A. (NYSE:VALE) has been among the most beaten down stocks in the mining industry. The company has seen significant headwinds against its financial performance, amid drastic and dramatic changes in iron ore prices as well as volatility in the prices of other commodities. Consequently, the company has suspended its dividends and lowered its investments to beat the headwinds, while strengthening its balance sheet.
In the latest quarter, Vale posted a huge loss of $2.12B and its annual revenue fell by 28% to $6.5B, largely due to reduced prices for iron ore and other commodities. As a result of consistently falling performance across the past three quarters, its stock lost 70% of its value in the past twelve months. This is a huge loss for the company and its shareholders. However, we have been seeing some recovery from the company in the last couple of weeks.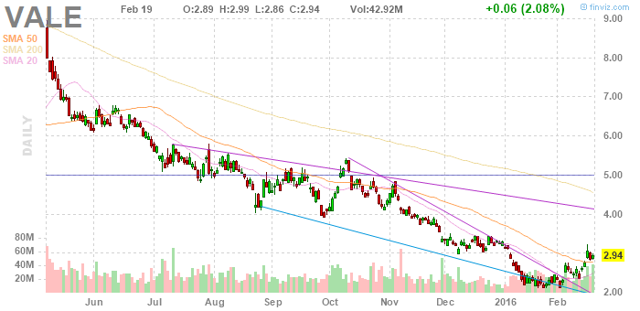 Click to enlarge
After reaching its lowest price of $2.13 per share on the 25th of January, the company's stock began to rebound on the back of improvements in commodity prices. In the last month alone, its share price soared by almost 26%. Here the question arises whether the company's shares will gain additional momentum or whether we will see fresh losses in the weeks to come. In my view, now is a perfect time to buy Vale, ahead of the stabilization of commodity prices. In addition, the company is significantly lowering its cost structure. This will allow it to generate big gains when commodity prices really start to recover.
Vale's business model is directly correlated with commodity prices, which are now showing signs of improvement. Iron ore prices have gained significant momentum in the past 30 days. Iron ore soared to $50 per tonne in the latest trading session, the highest price seen in the past three months. Other commodities like copper and aluminum are also gaining momentum on the back of declining inventories.
The company is employing a smart strategy of reducing investments and cutting costs, all without impacting production levels. Recently, Vale announced its full year and final quarter's production report. Based on this report, Vale generated record iron ore output over both the final quarter and the full year. It generated 88.4M metric tons of iron ore in the final quarter, while its full year output grew by 4.3% to 345.9M metric tons. In addition, the company is increasing its production of various commodities including copper and nickel. In Q4, its nickel production increased by 12% while copper output increased by 6.7% to 112.5K tons.
Looking at strong production, we can expect extremely high results from the company for 2015. On the other hand, the weakening of the Brazilian Real against the U.S. dollar is sharply reducing Vale's costs. In Q3, it reduced iron ore cash costs to $12.70/metric ton, which the company says is the lowest in its industry. As a result, it has been able to deliver iron ore to China at $34.20/ton this quarter. Vale is aggressively reducing both its costs and its expenses. Over the first nine months of 2015, it lowered its reference costs and expenses by $2.7B, despite posting higher sales volumes.
In Conclusion
Vale is likely to report its full year results in the coming days. I believe that its financial performance will show the impact of lower prices on its earnings and sales. However, the company is likely to generate strong numbers in terms of production and cost cutting. I believe that with the growth in production and significant cost reductions, the company's stock could get at least a bit of support. We can also expect steady improvements in its share price over the coming days, on the back of positive signs from the entire mining industry as well as boosts in commodity prices. I believe that iron ore has reached its nadir and now this commodity is in recovery mode, thanks to positive signs from the steel industry.
Disclosure: I/we have no positions in any stocks mentioned, and no plans to initiate any positions within the next 72 hours.
I wrote this article myself, and it expresses my own opinions. I am not receiving compensation for it (other than from Seeking Alpha). I have no business relationship with any company whose stock is mentioned in this article.