Boeing (NYSE:BA) saw its shares decline by more than twelve percent intraday after an SEC probe into the company's program accounting practices was announced. I believe this provides a great buying opportunity for investors.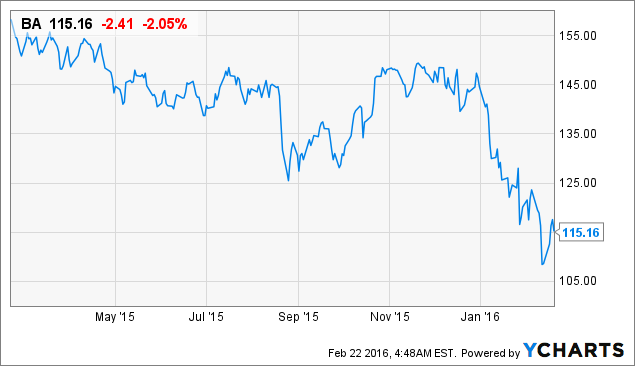 Boeing's shares are down to $115, which is just slightly above the company's 52-week low and almost twenty percent below the share price at the beginning of the year.
The company's most recent selloff was based on news about an SEC probe into Boeing's program accounting practices. Program accounting is a legal practice which allows companies to distribute costs over several units, which makes sense in some cases, e.g. the aircraft industry: Developing and testing new aircraft comes with huge upfront costs, also the production costs for the first few aircraft are a lot higher than production costs a couple of years later, when everyone in the company is used to the new product and operations have been trimmed for efficiency. If Boeing used traditional accounting methods/unit accounting, the first airplanes would come with huge losses, whereas the airplanes of the same series which are produced a couple of years later would be very profitable. By using program accounting, Boeing can distribute the higher costs at the beginning over the whole (expected) volume, which smooths earnings numbers (earlier on, each aircraft is more profitable than with unit accounting, later on, each airplane is less profitable than with unit accounting). The SEC is investigating Boeing's use of the program accounting method for its 747 and 787 (Dreamliner) product series.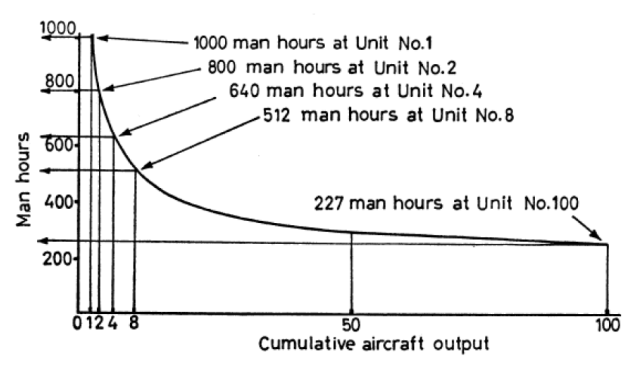 (Source: hsimonis.wordpress.com)
The image above shows the efficiency gains one can expect whilst moving along the learning curve (the above example is for fighter aircraft, but the principle is the same for other types of aircraft): The first few units need up to four times as much man hours to produce as units 100 and beyond, which means that production costs for the first units are a lot higher as well. Moving along the learning curve means lower labor costs, but other costs will decrease as well, as the learning curve not only applies to Boeing, but also its suppliers, which means the parts Boeing buys will get cheaper over the years as well. Add in better capital efficiency, lower required overhead costs as production matures, and lower error frequency as employees are getting more experience and you have a lot of costs declining over the years. Using program accounting for Boeing's aircraft series thus makes sense (generally speaking).
The SEC probe will try to find out whether Boeing has been too optimistic regarding cost cutting possibilities (thus assuming a learning curve which is steeper than it is in reality), as well as the fact that Boeing's sales forecasts might be too optimistic. The Dreamliner program has deferred costs of about $30 billion, which is the highest of any Boeing aircraft series so far. On the other hand, Boeing's estimate for 1300 787 sales is very high as well; spreading $30 billion over these 1300 airplanes means $23 million in deferred costs per airplane. If Boeing manages to cut production costs by 23 million per unit for its Dreamliner series, there will be no problem - if Boeing's assumptions about a rather steep learning curve with this type of aircraft is correct, there will not be any write-offs.
For Boeing's valuation, I'm using the discounted cash flow method, using a WACC of 9.1 percent (my assumptions include a risk-free rate of 1.8 percent, an equity risk premium of 7.2 percent and Boeing's beta of 1.12).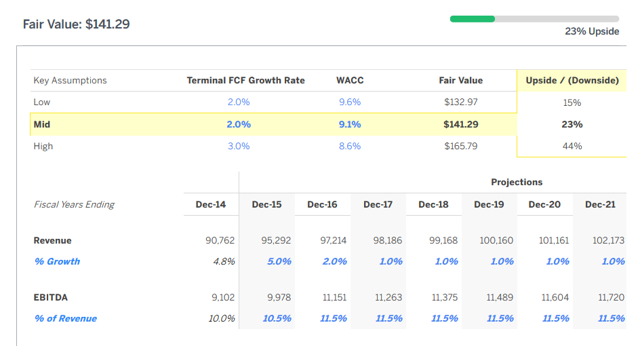 Using the finbox.io valuation model, I looked at three scenarios, the middle scenario, which means a fair value of about $140 and upside of about twenty percent, seems to be the most likely. Due to the fact that even in the pessimistic scenario (using a higher WACC and an FCF growth rate of just 2.0 percent) Boeing would be undervalued right now, I believe the company's shares look attractive right now.
Investors with a long-term horizon might use the recent share price weakness to enter a position in this company, which offers a wide moat, very large backlog, strong cash flows, high dividend and substantial share repurchases.
Takeaway
Boeing's shares have come under pressure this year, partially due to an SEC probe into the company's program accounting practices. The Dreamliner program has huge deferred costs, but with a large expected sales number of 1300 planes, this comes in at roughly $23 million per unit. Boeing should be able to cut costs by this much if its assumptions about the learning curve effect are right.
Boeing looks undervalued at the current price, and offers a lot of positives, including a large backlog, high cash flows and a high dividend, which makes the company's shares attractive.
Disclosure: I/we have no positions in any stocks mentioned, but may initiate a long position in BA over the next 72 hours.
I wrote this article myself, and it expresses my own opinions. I am not receiving compensation for it (other than from Seeking Alpha). I have no business relationship with any company whose stock is mentioned in this article.