By Gary Alexander
Last Tuesday, after the Grammy Award winners were announced the night before, I ordered the jazz category winners for airing on my radio shows this week. As a "prime" customer, I routinely receive my orders two days later, but this package was not like the others: It had a nearly-blank mailing label.
The mailing label for my CDs only listed my small town - no name and no address. The local delivery service couldn't find any name or address via the tracking number, so they opened the package to see if there was an order slip or receipt with an address. No such luck. But when they saw the four jazz CDs inside, they knew I was the local jazz DJ, so they knocked on my door and asked, "Did you order this?"
Those are some of the benefits of living in a small town. When my parents lived here in the 1980s, my mother used to get mail addressed only to "The Quilt Lady" - with just the town; no name or address.
We live in a miraculous world where you can order almost anything you want and get it in two days. With such an advantage, why ever drive clogged streets to a crowded parking lot and a long walk into a confusing array of stores, only to be disappointed and walk away with nothing? If you ever wonder why some stores are closing and some malls look empty, consider invisible consumers (like me) for a minute.
My wife and I look forward to receiving package deliveries almost daily. We cut down on driving, wasted time, and frustration that way and we're not alone. Online is the cutting edge of consumer demand.
Last Wednesday, the U.S. Commerce Department reported that online sales grew 14.6% last year and averaged 15.8% annual growth over the last six years. In the last 10 years, total Web sales have grown by a phenomenal 275%, averaging 14.1% per year, even growing (at a slower rate) during the Great Recession of 2008-09.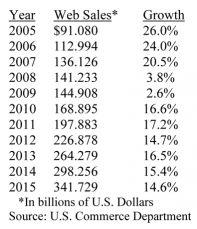 By contrast, total retail sales grew only 1.4% in 2015, rising from $4.63 to $4.69 trillion, not including food service, restaurant, and bar sales. Online sales, therefore, only accounted for 7.3% of total retail sales in 2015. Despite its relatively small size, online sales accounted for two-thirds (66.4%) of total retail sales growth in 2015. If you factor out the lower cost of gas by eliminating the sales of automobiles and fuel (not usually bought online), online sales accounted for more than 100% of all retail sales growth in 2015.
U.S. GDP May Expand 3% in 2016
The S&P 500 rallied strongly - up 1.65% or more per day for three straight days - starting on Lincoln's Birthday, February 12, when the Commerce Department revised last December's retail sales up to a 0.2% gain, reversing the 0.1% decline previously estimated. Excluding sales of autos and gasoline, core January retail sales rose 0.4%. With December's revision, retail sales have now risen for four straight months.
While those numbers may look small on the surface, that's because they are measured month-to-month, not annualized. Any positive gain in a deflationary environment is good, but Ed Yardeni reported that, "adjusted for a 0.7% estimated drop in the goods CPI during January, real retail sales rose at a 6.9% annual rate during the three months through January," (from Yardeni's Morning Briefing, February 16).
We also heard some good news on GDP on February 12, when the widely-watched Atlanta Fed GDPNow model forecast for the real GDP this quarter was raised to 2.7%, up from 2.5% the previous Tuesday:
The GDPNow model forecast for real GDP growth (seasonally adjusted annual rate) in the first quarter of 2016 is 2.7 percent on February 12, up from 2.5 percent on February 9. After this morning's retail sales report from the U.S. Census Bureau, the forecast for first-quarter real consumption growth increased from 3.0 percent to 3.2 percent. - Atlanta Federal Reserve, February 12, quoted in Yardeni's Morning Briefing, Feb. 16.
If 2.7% GDP growth seems optimistic, consider the cover story in the February 22 Barron's ("This Storm Will Pass") by their Economics Editor, Gene Epstein, who says the economy should grow 3% this year - 2.8% in the first half and 3.2% in the second half. Although Barron's sees a cyclical bottom of $20 oil in April, they also see crude rising to $55 by December, boosting earnings in the troubled energy sector.
Earnings growth will likely drive the market more than GDP growth alone. According to Thomas Black, writing in BloombergBusiness (February 18, "Wall Street Gloom is at Odds with Profit Gains"), fourth-quarter earnings were down 4.9% (with 404 of the S&P 500 companies reporting), but factoring out energy companies, earnings grew 1.2%, or up to 5% when excluding industrials and basic materials.
Retail sales should expand since employment growth is solid, jobless claims are low, wages are rising, and so are the number of "quits," as workers seek better jobs. The housing market is also strong. Gasoline is cheap, putting more money in the consumer's pocket. Meanwhile, consumer balance sheets are stronger, as U.S. household debt as a share of disposable income is at the lowest level since 2002. (Data from "Investors just went bonkers, so you know it's time to buy stocks," Marketwatch, February 18, 2016).
So…let's shop!
Disclosure: *Navellier may hold securities in one or more investment strategies offered to its clients.
Disclaimer: Please click here for important disclosures located in the "About" section of the Navellier & Associates profile that accompany this article.