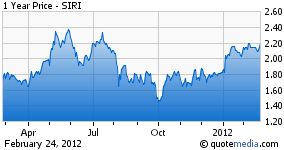 I'm already getting the questions. "What happened today with Sirius XM (NASDAQ:SIRI)?" "Why did the share price take off?" "What does this mean for next week?" "Need to know! Need to know now!"
Well I have good news and bad news for you.
The bad news first. It's not "exactly" clear.
There was no real news to speak of surrounding Sirius XM today. Go ahead, comb the net, and you'll come up with little news, and none of which could be considered a positive catalyst.
Must be something else, you say. And indeed, there is something else to make note of.
For the last six weeks, if you have access to Level 2 quotes, you will have noticed two major players sitting on or around bid and ask with 100 shares on each. These market makers (NITE, or Knight Securities and SCHB or Charles Schwab), have been present on each and every day, and sometimes in pairs, walking the price up, and pushing it down, skimming shares the entire time. Isn't it curious how a low volume day, like the ones we have been having, can trade horizontally within a half cent range the entire time and then suddenly pop with 2 million shares processed, and no price movement even though the bid/ask is less than the order which just went through?
While this is going on, unfortunately we have to endure the constant barrage from the naysayers, claiming this is the market saying Sirius XM is fairly valued and offering a host of nonsensical reasons to explain why the share price was as it was. I mean, really, do you think if the market thought Sirius XM was fairly valued, that once the market was left to fairly value Sirius XM, it would rise about 5% in one day, on no news?
Sirius XM has had its head held underwater for six weeks now, and today once those market makers released their choke hold and let Sirius XM up for air, natural supply and demand took over and the stock shot up.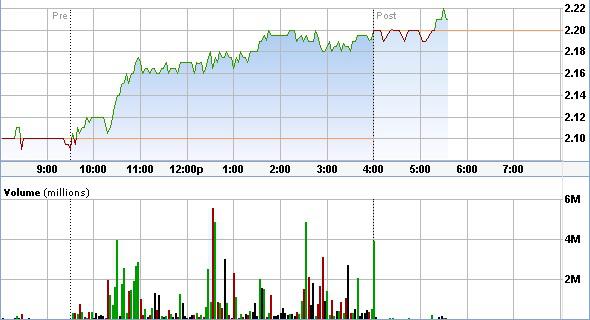 Click to enlarge
This is my take on it. It was pretty clear to me today. As soon as those two tickers retreated from the bid/ask and moved out to $2.31, the share price began to climb under heavy volume.
Today's close of $2.20 on 115 million shares traded (double average volume) is a very important signal.
Consult this link here, which is a point and figure chart showing price action. Take a look at the far right, and notice the X in the box signaling a confirmed double top breakout today. We have not closed at $2.20 or higher since July of last year, and today's close just squeaked out the breakout for Sirius XM. This was done on a day of *high* volume, and that is key.
Do we have a triumphant week ahead starting Monday?
Monday will be quite telling. And we have a few possible catalysts to give that kick Sirius XM may need to really take off. David Frear, CFO of Sirius XM, is speaking at the Morgan Stanley Technology, Media and Telecom Conference on Tuesday the 28th. This will also be the very last week before Liberty's (NASDAQ:LMCA) cuffs come off and they are free to do as they please regarding a possible buyout of Sirius XM.
Keep an eye on the share price Monday. If we continue with momentum we are due to enter a new trading range that has very little prior testing except for brief moments last year. Given my price target of $3 by mid summer, it's not surprising that I expect us to enjoy a healthy run through a higher range very soon, and the week ahead just may provide what many have been waiting for for a very long time.
The clock is ticking. Investors know this, and many of the bigger players are already in. The question is, are you?
Disclosure: I am long SIRI.
Additional disclosure: I am long SIRI March $2 calls. I have no positions in any other stocks mentioned.