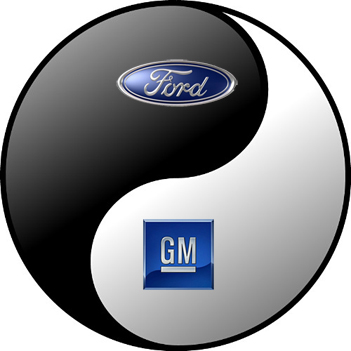 I recently wrote an article, "Automakers Getting Run Over: Load Up On GM And Ford While The Going's Bad," in which I detailed why auto sales in the U.S. aren't likely to plummet to the levels the market expects them to.
After reading through the comments section of the article, I realised that it would be a good idea to expand the analysis even further and find important factors that can influence sales, and as such, the fortunes of GM (NYSE:GM) and Ford (NYSE:F) in particular, for the year.
Why the U.S. Market is Critical to GM and Ford
Both GM and Ford are extremely dependent on their sales and operational performance in the United States, as shown below:

In 2015, GM's North America and International segments (Asia Pacific and Middle East) were the only profitable ones, with the former bringing in $11 billion in income before interest and taxes and the latter netting $1.4 billion. All other segments reported a loss. The story was the same in 2014.

Ford, on the other hand, was profitable in all segments except for South America in 2015. However, most of the segments only did a little better than break-even, even as North America brought in $9.3 billion in income.
To put it simply, North America is what is keeping both these companies profitable. If their net income were to approach a break-even point in this critical segment, they would be staring losses right in the face. As such, they are highly dependent on their performance in this region.
The First Boom - Bigger Cars Selling Faster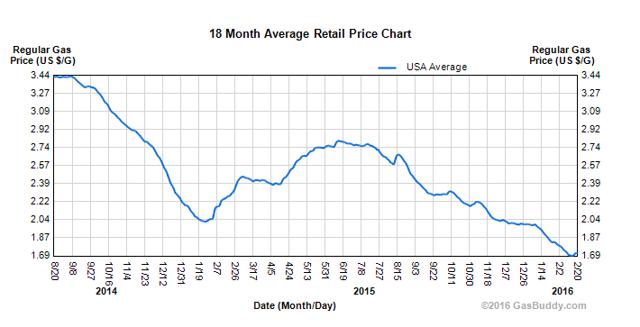 Source: Gasbuddy.
Though the relationship between low oil prices and car sales hasn't been proven beyond reasonable doubt, I believe oil prices play at least a small factor during the decision-making process of buying a car. Gas consumption is one of the things I look at when buying a car, but when I know that gas prices are going to be low for the foreseeable future, I might just look at something bigger that doesn't have the fuel economy I would otherwise want.
Admittedly, low oil price doesn't necessarily send people rushing to their local dealerships, but it does push them towards larger models. The point here is that these models are typically more profitable for the company to sell - and for the dealer, who influences their decision to a significant degree.
Case in point is the SUV boom that's happening around the world, and more relevant to this article, in the United States. With oil price being cited as the "tipping point," analysts are saying that the average consumer has returned to their "pre-recession taste" in automobiles.
The Second Boom - Auto Loans at Decade's Lowest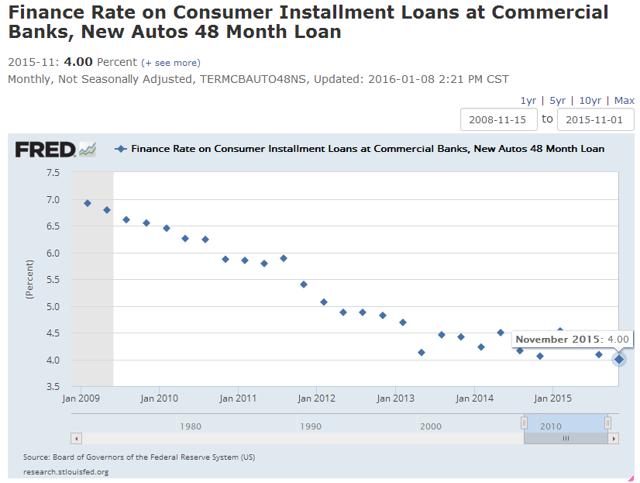 Source: FRED.
Ever since the U.S. economy came out of recession, interest rates have plunged - and so have auto loan interest rates. As an example, the four-year auto loan for new cars has been dropping steadily since 2009 and is currently at its lowest level for the decade. Nobody expects Janet Yellen to raise interest rates in a flash, because it's just not possible without shocking the economy. Interest rates will, of course, move to saner levels at some point, but it's going to be slowly and steadily done over a period of time.
From a recent Reuters report (Feb 19, 2016):
Falling commodity and stock prices in the past few weeks, along with slowing domestic and global economic growth, had undermined market expectations for further Federal Reserve interest rate rises this year ahead of the central bank's next policy meeting on March 15-16.

The Fed lifted its benchmark overnight interest rate from near zero in December, the first rate hike in nearly a decade.
One interesting point of note here is that the interest rate chart since 2009 looks the exact inverse of the lightweight auto sales chart (which includes light trucks.) So, if interest rates remain at current levels - which they most probably will - then logically, there's a high degree of probability that auto sales will remain at their current high levels.

Source: FRED.
The Third Boom - Decline in Used Car Sales
From a recent Statista report:
The number of [used] cars sold in the U.S. went down from a staggering 7.9 million units in 2014 to a little over 7.7 million units in 2015. December 2014 turned out to be one of the industry's most successful sales months, while sales dipped by 3.2 percent in December 2015, compared with the same month one year earlier. Light truck sales grew by 13.1 percent in 2015, compared with 2014. Persisting low oil prices are expected to further increase the number of cars and trucks sold in the USA. In light of an aging light vehicle fleet, a growing number of people will also likely replace their old vehicle with a new one. On average, U.S. passenger cars are 11.4 years old.
The used car market is a great secondary indicator for how new auto sales is trending. When people buy fewer used cars and the age of cars on the road keeps increasing, it means that people are keeping their old cars when buying a new one. As auto sales strengthen to new levels, this will subsequently reflect in the average age of cars.
The Fourth Boom - New Car January Sales
There were so many doomsday theories swirling around the auto industry since the end of last year, where so-called peak auto sales in the United States was merely a lead into a major decline in 2016. I disputed these theories with hard data over a 40-year period in my first article.
In January 2016, auto sales remained at a healthy 17.46 million after it showed slight signs of weakness since touching 18 million in October 2015.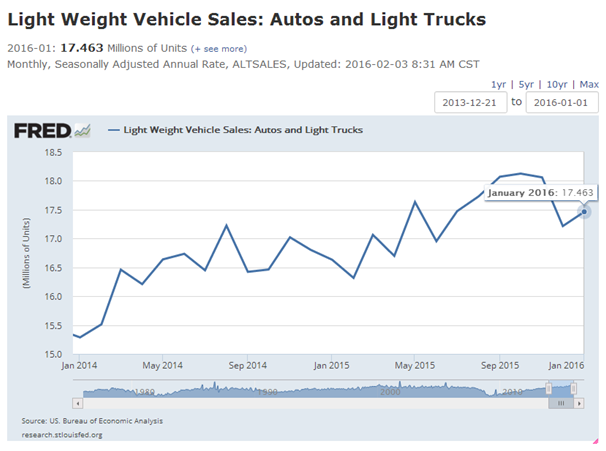 Source: FRED
It is now indisputable that we have reached any sort of 'peak auto' in the United States, and I expect this trend to continue through the year - or as long as the prevalent "boom" conditions I spoke of hold steady.
Which brings me back to my original thesis for this article...
Investor-speak: My Outlook for GM and Ford
From the above analyses of various factors influencing auto sales in the United States, it's clear that the primary driver of those sales is low interest rates, while low oil prices tend to push buyers towards cars that are more profitable for the manufacturer and the dealers.
Even if interest rates are hiked during the second half of 2016, there is a high probability that auto sales will remain above the 16 million per month region.
Right now, GM and Ford are both running their factories at full capacity utilization, while inventory (vehicles in stock) levels are lower than the same time a year ago. Both are good signs that the companies intend to show healthy sales over the coming months.
That, in turn, will allow them both to post modest growth in profitability for North America in 2016.
As I said in the previous automakers article, GM and F are both great buys at this point. In subsequent articles, I also showed why their dividend payout capabilities were based on solid financial strength.
I reiterate my stand in this piece: the market is showing signs of stability, interest rates are at attractive levels, oil prices aren't going to jump higher any time soon, and the auto industry's two biggest players are ready to reap the benefits of that in the United States.
I invite you to follow me for more analyses on the automobile industry and other consumer goods, including retail, e-commerce, and more.
Disclosure: I/we have no positions in any stocks mentioned, and no plans to initiate any positions within the next 72 hours.
I wrote this article myself, and it expresses my own opinions. I am not receiving compensation for it (other than from Seeking Alpha). I have no business relationship with any company whose stock is mentioned in this article.