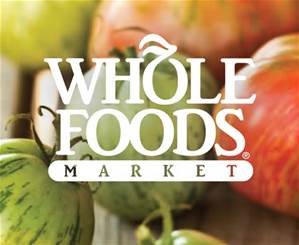 The volatility surrounding Whole Foods (NASDAQ:WFM) shares is fascinating to watch. Its boom and bust cycles create tremendous opportunities from both the long and short sides as fundamental developments seem to have exaggerated impacts on the stock. After successfully shorting WFM last year, I flipped bullish back in November as the company's fundamentals seemed to have bottomed along with shares. This was an important development for me because it was the first time I thought WFM actually represented value. Since that time, the stock has bounced around a bit but basically hasn't budged. But with FQ1 results now out and nearly constant chatter of consolidation in the grocery business, what is one to do with WFM?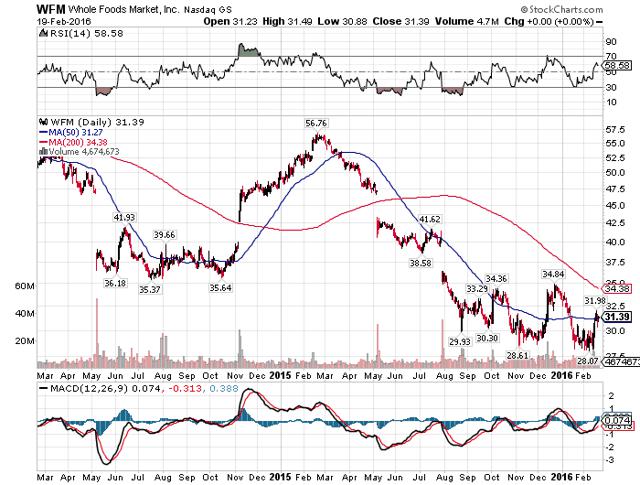 Click to enlarge
My problem with WFM in the past was simply that investors seemed to love the stock too much. WFM's business has never suffered but at $56, it was very easy to tell shares were overpriced. At that level shares were pricing in years and years of rapid growth that seemed farfetched in the first place. But with the valuation problem having been solved by a massive selloff that erased almost half of the company's market cap, we are free to evaluate the business against more reasonable expectations.
WFM beat handily on both the top and bottom lines in FQ1 but instead of the beat coming from a great quarter, it was more a case of WFM stepping over a very low bar. As I said, WFM experiences terrific swings in sentiment from investors and that creates situations where expectations are unreasonably high or low; we saw the latter in FQ1. However, a beat is a beat and investors cheered as WFM could have continued its slow descent it began in 2015, but didn't.
WFM's comp sales were very weak during the quarter as the constant-currency number was negative 1.8% in FQ1. What's worse is that the composition of the decline was very unfavorable, as I laid out in previous articles. The average transaction size fell 20bps but transaction volume fell 160bps, something that I'm concerned about to be sure. Traffic is always more important than basket size as the number one toughest thing for any company to do is get people in the door. If a company is failing at that - be it a retailer, grocery store, restaurant or anything else with a physical presence - it is in a tough spot. I don't mind so much that WFM ceded 180bps' of comp sales as much as the composition bothers me.
In addition, the way that WFM gets its sales doesn't bode particularly well for the future. This chart from the press release contains some very interesting information regarding comp sales at stores that are within three buckets of their lifecycle.

Click to enlarge
It shows an unequivocal decline in comp sales as stores get older, with the trailing four-quarter comp numbers for stores 5+ years old solidly negative against a +4.9% comp for stores that are less than 5 years old. That is an enormous discrepancy and it doesn't look good for WFM's store base as it ages. At some point, WFM is going to hit saturation and that means its revenue increases are at serious risk. It simply cannot afford comp decreases like this as its stores age unless it wants its stock to trade at 6 or 8 times earnings forever.
In addition to weak comps, the company's gross margins suffered during FQ1 as higher cost of goods sold pushed margins down 83bps. At a time when sales gains are tough to come by, the last thing WFM needs is higher costs. However, it is managing its SG&A expenses well and softening the potential negative impact that could have arisen from deleveraging there as well. Again, things don't look great here but could have been worse.
WFM's guidance for comp sales in 2016 was less than inspiring as it said it expects negative 2% to flat comps for this fiscal year and that comps in the first three weeks of FQ2 were negative. But growth in the store base will help push total sales up in the low to mid-single digit range as we've seen from WFM in recent years. In other words, this year is going to look a lot like last year and that isn't necessarily bad or good; it just means we have a reasonable expectation for what we will see from WFM this year.
One thing we're going to see a lot of is more buybacks. During FQ1 the company repurchased $634 million of stock and subsequent to the end of the quarter, added another $100 million. That is good for roughly 6% of the then-current float in just a few months, something that will serve shareholders very well in the coming quarters as the share count continues to be reduced. WFM still has about that amount left on its authorization so I expect we'll see it used up in fairly short order. That will be the primary source of earnings growth this fiscal year as WFM continues to right the ship.
Speaking of earning growth, analysts are still pretty bearish on WFM and that is where the opportunity lies. I've spent considerable space here telling you about how weak WFM's business is on a few levels but I'm also here to tell you that things aren't as bad as analysts think. WFM's earnings should be roughly flat or perhaps slightly negative this year but it is also likely to buy back at least 10% of its float; indeed, it has already made good on at least half of that number in the first few months of the fiscal year. That means the -3% EPS growth forecast from analysts is far too bearish as WFM could easily hit +5% on its buyback alone.
Based upon this, I still think WFM will move higher in 2016 as investors realize the company's fundamentals - while weak - are stable and that its buyback will power EPS higher. I still believe it is a mistake to sell WFM here as its capital returns are massive and will drive EPS higher with or without the business tagging along.
Disclosure: I am/we are long WFM.
I wrote this article myself, and it expresses my own opinions. I am not receiving compensation for it (other than from Seeking Alpha). I have no business relationship with any company whose stock is mentioned in this article.