Important Note: This article is not an investment recommendation and should not to be relied upon when making investment decisions - investors should conduct their own comprehensive research. Please read the disclaimer at the end of this article.
Marathon Oil's (NYSE:MRO) stock has lost almost half of its value since the beginning of this year. At $6.73 per share (Feb. 19, 2016 close), the shares are trading at just 18%, after adjusting for dividends, of the peak price achieved in August 2014.
The company's enterprise value has declined to just $10.5 billion, which is less than one-third of what it was a year and a half ago.
The company's bonds - which are still rated investment grade by all the three major credit rating agencies (under review by Moody's) - have also been in a free fall, with yields widening dramatically over the past two months. The 9%-10% yields that Marathon's notes are currently trading at, would be more typical of a low single-B rated credit, under more normal circumstances.
Quite notably, the Q&A portion of the company's earnings conference call last week was overwhelmed by the discussion of the balance sheet and liquidity.
Obviously, Marathon is not the only company in the oil and gas sector that has been under strong pressure. However, the stock is one of the worst performers in its peer group year-to-date. In fact, the underperformance has been consistent over the past twelve months.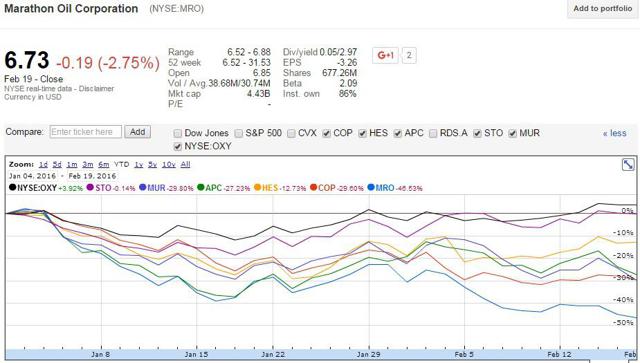 Click to enlarge
(Source: Google Finance)
What is driving the steep declines?
Notwithstanding the distressed commodity price environment, the recent near-free fall in Marathon's stock and bond prices may appear somewhat surprising, given that the company is a former "mini-major" that is still producing 432,000 barrels per day of oil equivalent and has just $6.1 billion of net debt.
Is Marathon's situation as dire as its stock and bond performance might suggest?
Is the apparent concern over the company's credit situation justified?
There are three circumstances, in my opinion, that are contributing to the stock's weakness:
Marathon is a high-cost operator. With the collapse in oil prices, the company's cash margins have narrowed dramatically, whereas new investment is in most cases uneconomic at the current strip prices.
Marathon is "behind the curve" adjusting its spending to the current commodity price environment, which makes investors nervous.
Marathon's capital productivity is put in the spotlight by the current downturn. The company's economic breakeven oil price - at the corporate level - appears higher than that for the leading E&P operators.
A High-Cost Operator
Marathon's discretionary cash flow from continuing operations (before changes in working capital) was $1.68 billion for full-year 2015.
To put this result in a commodity price context, 2015 was characterized by the following average benchmark commodity prices:
Oil Brent: $52.32 per barrel (Europe FOB)
Oil WTI: $48.65 per barrel (Cushing)
Natural Gas: $2.66 per MMBtu (Henry Hub)
Marathon's capital spending and exploration expenditures for the same period was ~$3.0 billion, a nearly 80% outspend relative to the discretionary cash flow.
While Marathon reduced the pace of spending throughout 2015, outspending remained quite high during the fourth quarter. Net cash provided by continuing operations before changes in working capital was $278 million in Q4, including an estimated ~$56 million contribution from hedges. This compares to $561 million of additions to property, plant and equipment during the quarter, a 100% outspend relative to discretionary cash flow (the slide below).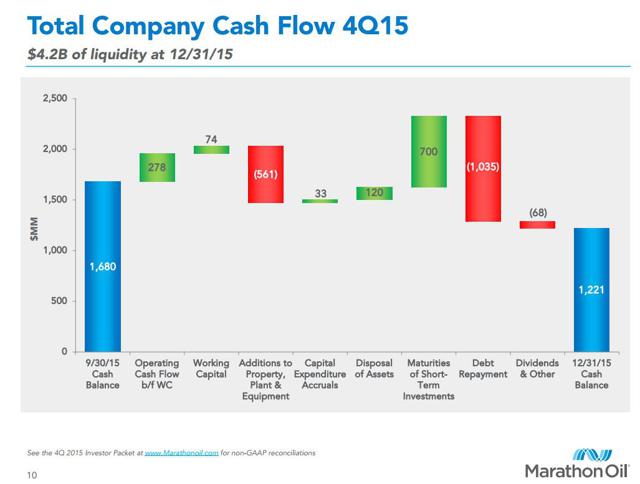 Click to enlarge
(Source: Marathon Oil, February 2016)
As one can see from the following slide, the bulk of Marathon's capital spending in 2015 was directed towards short-cycle projects in the company's U.S. resources plays, the Eagle Ford, Bakken and SCOOP/STACK in Oklahoma. These three areas accounted for ~$2.1 billion of Marathon's total $3.0 billion spend in 2015.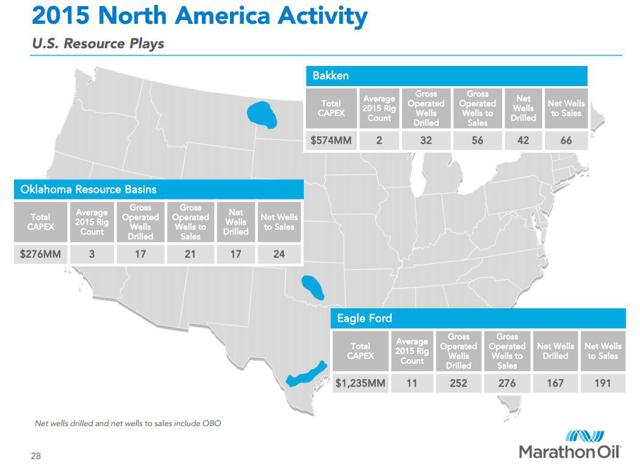 Click to enlarge
(Source: Marathon Oil, February 2016)
Despite the generous capital allocation - far above the discretionary cash flow - Marathon's crude oil and condensate production from the U.S. resource plays declined throughout 2015. The rate of decline for oil production from Q1 2015 to Q4 2015 was quite significant, exceeding 20% on an annualized basis.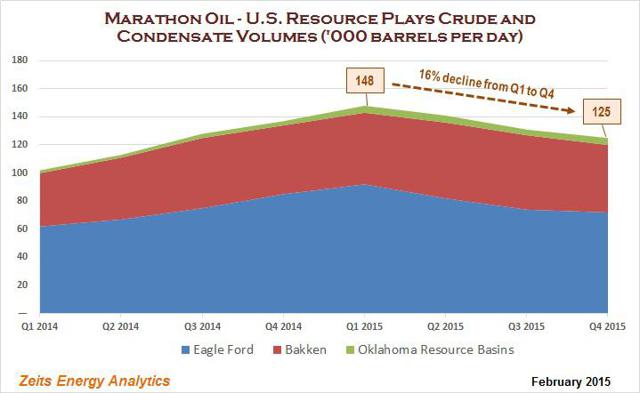 Click to enlarge
Marathon's natural gas production from U.S. resource plays and crude and condensate production from mature fields worldwide were more resilient. However, total production still declined in 2015.
The following graph shows Marathon's total production trajectory during the 8 latest quarters, with natural gas and NGL volumes in the U.S. converted on a 20:1 "economic equivalent" basis to better reflect the relative economic value versus oil (as opposed to the traditional 6:1 Btu-based basis). On this basis, the company's consolidated production declined ~9% from Q1 2015 to Q4 2015 (please note that equity investee volumes are not included in this calculation).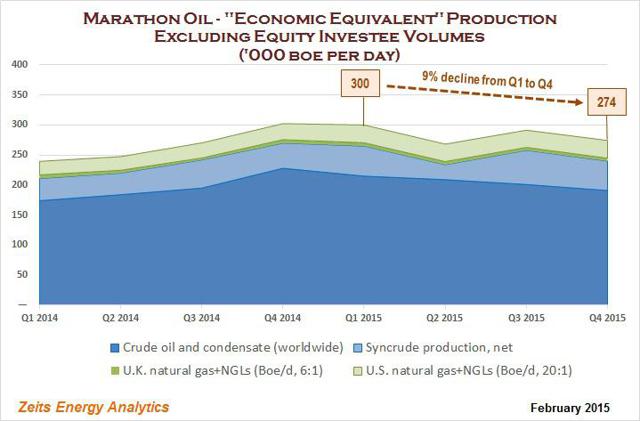 Click to enlarge
The production profile throughout 2015 highlights the challenge that Marathon is currently facing: volumes declined despite the significant outspend and oil prices in 2015 being much higher than the 2016 strip.
The trend is expected to continue in 2016.
Marathon has reduced its company-wide spending budget to $1.4 billion. Capital spending in U.S. resource plays will decline by more than half, from $2.1 billion in 2015 to ~$1 billion this year.
Driven by reduced spending, aggregate production volumes are expected to be lower by ~8% exit-to-exit, whereas U.S. resource plays will see production decline in mid-teens.
Production declines in shale plays are to be expected when an operator rapidly reduces the pace of capital spending - this is a reflection of the hyperbolic initial production declines. However, Marathon's growth-vs-outspend metrics at the corporate level appear to suggest that the company needs oil prices substantially higher than $50 per barrel to grow its production at a moderate rate, while spending within cash flow.
On this metric, Marathon appears to lag leaders in the E&P sector in terms of capital productivity at the corporate level. The company's dispersed operations and high associated G&A is one of the contributing factors.
Managing Spending Throughout The Downturn Is A Challenge
Marathon ended the year with significant liquidity and, arguably, moderate amount of debt relative to the company's extensive asset base.
Total liquidity as of December 31 was $4.2 billion, consisting of $1.2 billion in cash and cash equivalents and an undrawn $3 billion revolving credit facility. Marathon's debt stood at $7.3 billion.
The net debt of $6.1 billion compares to the $27.1 billion net book value of property, plant and equipment as of December 31, 2015.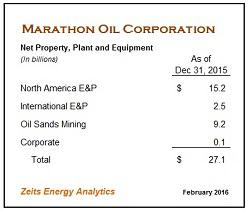 While a case can be made that Marathon has enough value in its assets to support its current debt, the real concern is the company's negative credit momentum and lack of more radical measures by the company to conserve cash in the face of the tightening borrowing and divestiture markets.
I estimate that Marathon's discretionary cash flow in Q1 2016 may decline below $100 million. Using strip pricing, discretionary cash flow will also remain weak through the remainder of the year and will not be sufficient to fund the company's $1.4 billion capital spending planned for the year. Based on my estimate, the outspend relative to cash flow may be in the $0.7-$1.0 billion range, using the strip pricing scenario.
Marathon has raised its non-core asset sales goal to $750-$1,000 million range to help fund its budget (of which $350 million of divestitures have already closed or been announced).
The increased divestiture target raises two key concerns. First, Marathon will be competing against a wave of large divestitures brought to the market by peers within the same time frame. Being under pressure to deliver on its target, Marathon may end up accepting low bids. Second, the funding from the asset sales at potentially rock-bottom valuations will be used to bring high-decline wells online, with flush production being sold at the current low prices. Assuming strip pricing, returns on such an "asset swap" are very questionable.
Marathon's desire to minimize organizational interruption and preserve operational capability is understandable. However, should the current oil prices persist, this decision may prove quite costly.
Marathon's recent decision not to suspend dividend in full is another questionable decision. While the amount being paid out as dividends is currently not huge - ~$135 per year - it would be disappointing, if the company was forced to cover this amount from an equity offering at a deeply depressed stock price.
Is An Equity Offering On The Horizon?
Marathon's near-term liquidity position may appear strong. However, given the expected cash burn, the company's liquidity may weaken significantly by the end of this year, should commodity prices remain weak.
As a result, Marathon's access to both debt and equity capital may become much more difficult and costly.
Marathon alluded on the conference call that it may be prepared to live with a non-investment grade rating from Moody's. However, it would be naive to assume that credit ratings from S&P and Fitch - which have been affirmed at BBB-, Stable and BBB, Negative Outlook, respectively - cannot come under pressure as the year progresses.
In this context, it appears that Marathon will not be able to avoid another round of potentially painful adjustments.
The following measures appear logical and urgent:
Additional spending reduction. A capital allocation to SCOOP and STACK are understandable, given Marathon's drilling obligations to hold acreage. In the Eagle Ford, on the other hand, the plan to run a one-crew completion program throughout the year is difficult to rationalize in the current price environment. Suspending completions in the Eagle Ford to avoid selling flush production into the extremely weak price environment might have been more logical.
Full suspension of dividend. Given that credit concerns dominate stock price performance in the E&P sector, the trade-off between liquidity and dividend yield appears obvious.
Equity dilution at the current price level is obviously a difficult step. However, the nature of the risks that Marathon is facing is such that it may be impossible to address without an equity injection.
"Sure dilution and production decline are better than possible distress" has been the approach that has prevailed in an increasing number of Board rooms.
There is no doubt that postponing an equity raise may be a winning bet. Under a scenario where oil prices recover, raising equity in a $50 per barrel environment may be a less painful proposition than raising equity at the current prices. That being said, betting on a price recovery in the immediate term is obviously a bit of gamble that may leave the company in an even more challenging position several months from now than it is in currently.
In Conclusion…
Marathon is facing a sharp contraction in cash flow from operations in the current quarter.
Given the company vulnerability on the credit side, an equity offering is a high-probability event.
Investors need to factor into their valuation the risk of a potentially significant share count increase and oil production declines.
That being said, operational and financial leverage are double-edged swords. Due to its strong oil production volumes but relatively high cost structure, Marathon offers strong leverage to a potential recovery in oil prices.
The view on Marathon's risk/reward profile is to a great degree a function of one's view on the trajectory of commodity prices beyond 2016.
For more in-depth data and analysis of commodity fundamentals, please consider subscribing to Zeits OIL ANALYTICS that provides in-depth analysis of global and North American crude oil market.
Disclaimer: Opinions expressed herein by the author are not an investment recommendation and are not meant to be relied upon in investment decisions. The author is not acting in an investment, tax, legal or any other advisory capacity. This is not an investment research report. The author's opinions expressed herein address only select aspects of potential investment in securities of the companies mentioned and cannot be a substitute for comprehensive investment analysis. Any analysis presented herein is illustrative in nature, limited in scope, based on an incomplete set of information, and has limitations to its accuracy. The author recommends that potential and existing investors conduct thorough investment research of their own, including detailed review of the companies' SEC filings, and consult a qualified investment advisor. The information upon which this material is based was obtained from sources believed to be reliable, but has not been independently verified. Therefore, the author cannot guarantee its accuracy. Any opinions or estimates constitute the author's best judgment as of the date of publication, and are subject to change without notice. The author explicitly disclaims any liability that may arise from the use of this material.
Disclosure: I/we have no positions in any stocks mentioned, and no plans to initiate any positions within the next 72 hours.
I wrote this article myself, and it expresses my own opinions. I am not receiving compensation for it (other than from Seeking Alpha). I have no business relationship with any company whose stock is mentioned in this article.