Shares of AbbVie (NYSE:ABBV) are on the rebound after a sell-off in early February on concerns about the pending decision by an advisory panel to the Food and Drug Administration, FDA, on the approval of Remsima (infliximab) for commercialization. Remsima, developed by South Korea-based biopharmaceutical company, Celltrion, Inc., is an anti-tumor necrosis factor (anti-TNF) mAb biologic drug indicated for the treatment of autoimmune and immune-mediated disorders including rheumatoid arthritis, psoriatic arthritis, ankylosing spondylitis, Crohn's disease, plaque psoriasis, and ulcerative colitis. The biologic is a biosimilar version of Remicade (infliximab), marketed by Janssen Biotech, Inc., a pharmaceutical company of Johnson & Johnson (NYSE:JNJ).
Interestingly, by a vote of 21-3 in early February, an FDA advisory panel recommended the Remsima biosimilar for the many indications of Remicade (infliximab), despite that only the clinical trials showing efficacy in rheumatoid arthritis and ankylosing spondylitis were presented. The recommendations of the panel are not binding, meaning the FDA could decide to approve only those two indications for the drug. Pfizer (NYSE:PFE), which holds the U.S. marketing rights to the Celltrion biosimilar after acquiring Hospira for $17 billion in September 2015, said it was moving ahead with plans to begin selling the product this year, under the brand name Inflectra (infliximab).
Biosimilar Race Gets Crowded
The reference product is in a class of drugs known as TNF-alpha or -a inhibitors, that includes biologics such as AbbVie's Humira (adalimumab) and Amgen's (NASDAQ:AMGN) Enbrel (etanercept), which are among the common targets to be copycatted. AbbVie's Humira and Amgen's Enbrel, both top-selling drugs for rheumatoid arthritis, psoriatic arthritis and other autoimmune disorders, generated sales last year of about $14 billion and $5 billion, respectively.
In early February, the FDA accepted Amgen's Biologics License Application, BLA, for ABP 501, a biosimilar to Humira, based upon clinical trial data from Phase 3 comparative efficacy and safety studies in both moderate-to-severe plaque psoriasis and rheumatoid arthritis, with a final FDA decision expected by September 25.
Since 2011, South Korea-based Samsung Bioepis has been collaborating with Merck (NYSE:MRK) and Biogen (NASDAQ:BIIB) to develop and commercialize multiple biosimilar candidates including SB2, SB4 and SB5, the biosimilar versions of Remicade, Enbrel and Humira, respectively. Biogen CEO George A. Scangos said in the fourth quarter 2015 earnings statement that the company is excited about the potential to launch three new products this year, including Benepali, a biosimilar candidate to the reference product Enbrel, and a Remicade (infliximab) biosimilar.
Baxalta (NYSE:BXLT), which agreed to merge with Shire Plc (NASDAQ:SHPG) in January, and a small biotechnology company, Momenta Pharmaceuticals (NASDAQ:MNTA), have been working together for several years on the drug M923, a biosimilar version of Humira, which is now in Phase 3. Baxalta and Momenta said they will be ready to submit the BLA for M923 to the FDA for regulatory approvals in as early as 2017.
AbbVie's Defensive Strategies
AbbVie CEO Richard Gonzalez told analysts during the company's third-quarter earnings conference in October that they plan to vigorously defend the intellectual property of Humira, its top-selling drug, from biosimilar competitors beyond 2016, as the composition patent for Humira expires in 2016. Gonzalez said that the litigation process and its intellectual property estate, including 70 ancillary patents covering the formulation, manufacture and dosage, will protect Humira from biosimilar entry until 2022. Wall Street's consensus models suggest the biosimilar versions of Humira will start appearing in the U.S. in 2019.
Amgen learned in January what Mr. Gonzalez meant by "vigorously defending" its intellectual property, when the USPTO Patent Trial and Appeal Board, PTAB, denied institution of two Inter Partes Review challenges brought by Amgen, Inc. against two Humira patents covering stable formulations of anti-TNF-a antibodies. Amgen needs to resolve the AbbVie intellectual property issue in court before launching its biosimilar version of Humira in 2017.
A very competitively priced Humira, compared to its biosimilars, could be coming from AbbVie's Singapore facility as early as 2019. In early 2014, AbbVie said they invested $320 million in a bulk manufacturing facility in Singapore, for both small-molecule and biologic active ingredients for its oncology and immunology pipeline. In addition, the company acquired a smaller active pharmaceutical ingredient, API, manufacturing facility, also in Singapore, which should be up and running this year.
Overviews of AbbVie and its Competitors
AbbVie - AbbVie's fourth quarter 2015 earnings results were mixed as the revenues missed expectations, but earnings beat. On the company's earnings conference call, AbbVie affirmed its earlier 2016 guidance with revenues for blood-cancer drug Imbruvica to more than double, and continuous growth for its hepatitis C Viekira Pak revenues. The company said revenues from its hepatitis C franchise could be impacted by new competition from Merck's Zepatier hepatitis C drug.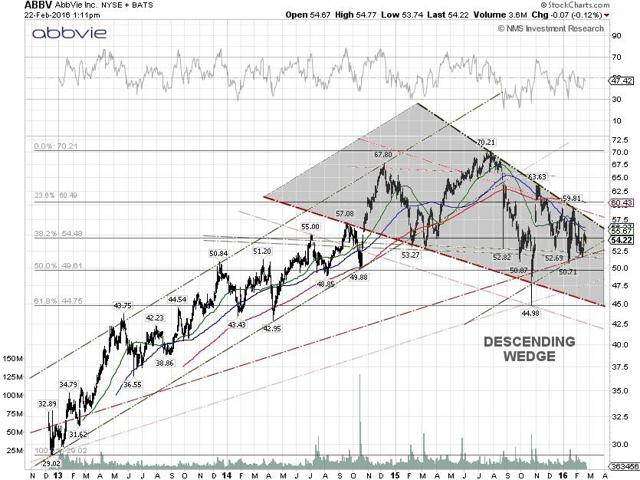 Click to enlarge
Technically, shares of AbbVie have been trading in a descending wedge chart pattern since late 2015. In our viewpoint, the stock may still look very challenging as a bearish dark cloud from political campaign rhetoric appears to hang over the biopharmaceutical sector. If the stock can stay above $54.48 per share, or the 38.2% Fibonacci retracement level, for the next few weeks, there is a good chance that ABBV can break out of the descending wedge. Investors may want to be cautious, as ABBV could pull back to $50 per share if the overall U.S. market turns bearish.
Amgen - Amgen reported their fourth quarter 2015 earnings results that beat top line and bottom line expectations, but investors are still concerned about the launch of their PCSK9 cholesterol lowering drug Repatha (evolocumab), due to a lack of details from management.
In March 2015, Sandoz, a Novartis (NYSE:NVS) subsidiary, received approval from the FDA for its cancer treatment drug Zarxio, a biosimilar of Amgen's Neupogen. Although Zarxio's selling price is 15% less than Neupogen, thus far, Amgen hasn't seen a significant drop in worldwide sales of Neupogen, according to their latest fourth quarter 2015 earnings report. Amgen could lose some market share of its Enbrel drug to Biogen's Benepali, when Benepali is launched.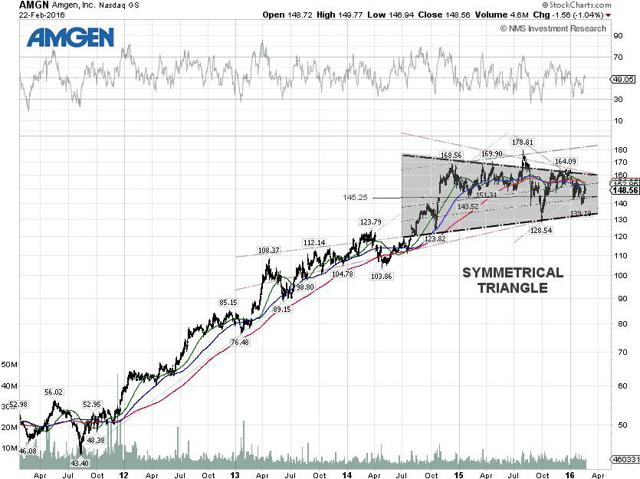 Click to enlarge
Technically, shares of Amgen have been trading in a symmetrical triangle chart pattern as investors can't decide what direction the stock will move next. In our viewpoint, AMGN is bouncing around the $145.25 level and looks like it is ready to move higher, as investors are expecting more information and encouraging news on Repatha.
Biogen - Despite Biogen's fourth quarter 2015 earnings that exceeded consensus estimates, there is some concern that Tecfidera sales are slowing down after several quarters of explosive growth. The stock could get a boost, as Biogen may launch three new products this year, including Benepali, Zinbryta and an infliximab (Remicade) biosimilar. Zinbryta is a multiple sclerosis drug jointly developed with AbbVie.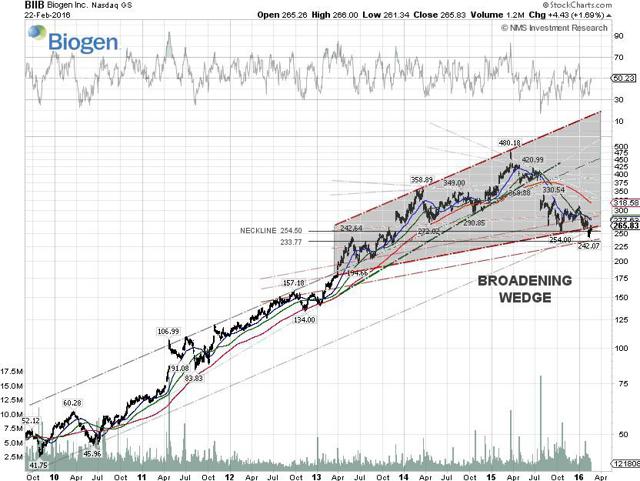 Click to enlarge
Technically, Biogen shares have been trading in an ascending broadening wedge chart pattern since early 2013. The stock hit an all-time high of $480.18 per share on March 20 last year, after the company announced impressive data from its early stage study of Alzheimer's drug BIIB037. BIIB is now trading near the bottom of the broadening wedge at around the $250 per share level, where the stock could bounce off. Investors may want to be careful though, as a potential bearish head and shoulders chart pattern has emerged, with the neckline at $254.50 per share. BIIB could pull back further to the $233.77 per share level, if the trendline support of the broadening wedge doesn't hold.
Conclusions - Shares of AbbVie are on the rebound after an early February sell-off on concerns about the pending FDA decision for a biosimilar drug to treat rheumatoid arthritis, psoriatic arthritis and other autoimmune disorders. AbbVie's Humira and Amgen's Enbrel are among the top-selling drugs to be copycatted but biosimilars are easier said than done, as big-cap biopharmaceutical companies are launching biosimilar versions of competitor products for new revenue streams, legal tests mount as companies vigorously defend their intellectual properties from patent challenges by biosimilar competitors, costly consumer awareness and brand building strategies need to be developed for the biosimilar market for safety and effectiveness, and products become competitively-priced as more biosimilars enter the market.
Disclosure: I am/we are long ABBV, SHPG, BIIB.
I wrote this article myself, and it expresses my own opinions. I am not receiving compensation for it (other than from Seeking Alpha). I have no business relationship with any company whose stock is mentioned in this article.