Diamond Offshore (NYSE:DO) released its 10-K a couple of days ago and I wanted to take a more detailed look at the company's results in 2015 and attempt to project liquidity through the end of 2016. As of today, DO is considered the safest of all offshore drillers due to relatively low debt and fairly decent contracts all the way through 2019. The quality of the fleet is relatively weak, but it matters very little in the current environment as the shiny new rigs of competitors are also out of work and require by far higher stacking expenses.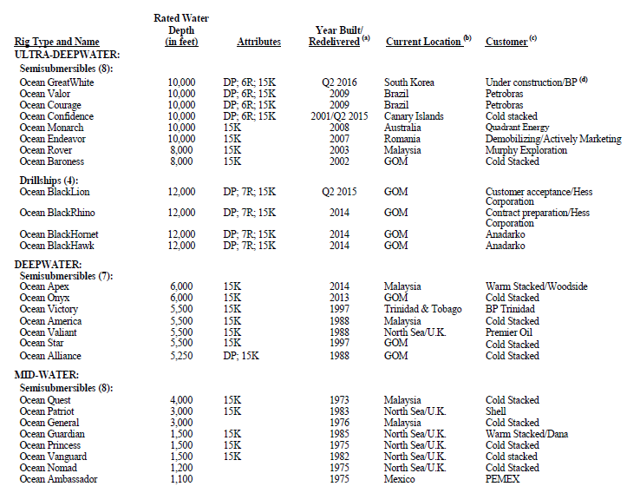 Click to enlarge
The company has 27 floaters, of which 11 are currently cold stacked. Midwater and deepwater fleets are relatively old, which explains why the majority of cold stacked rigs are in those two segments and there are several more rigs in both categories slated to finish their respective contracts in 2016, becoming prime candidates for additional stacking.
DO's backlog as of February 16th, 2016 was as follows: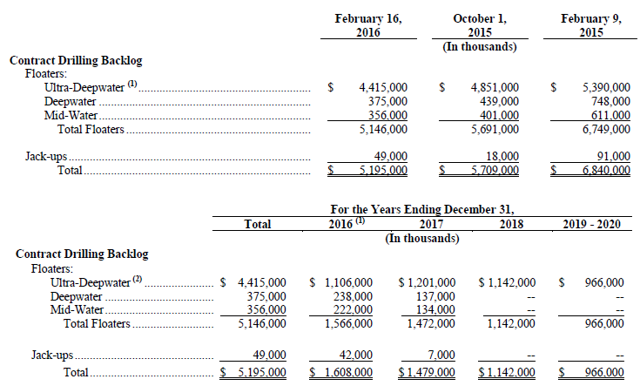 Click to enlarge
Total contractual backlog is $5.2 billion, which is a decrease of $1.65 billion from year-ago levels. The company replaced only $700 million, or 30% of revenue, over the past twelve months. At this time, replacement ratio for the next twelve months is expected to be far less than in 2015 (around 10%) as new contracts are practically non-existent. As the year goes by I expect a number of smaller contracts to be announced and the ultimate replacement ratio should trend towards 25-30% of 2016 revenue.
Now let's take a look at the company's balance sheet at the end of 2015: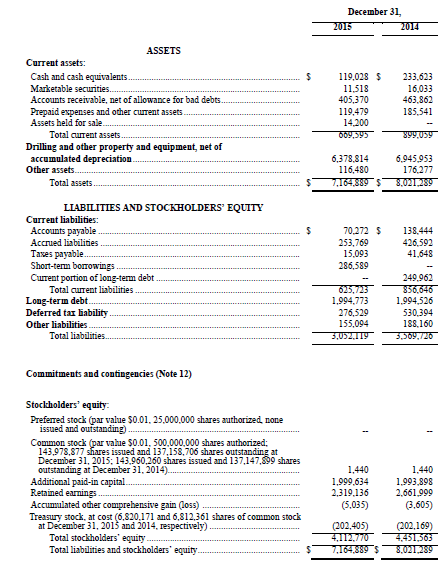 The company's long-term debt is approximately $2 billion and its working capital position is slightly positive. The company repaid $286 million of commercial paper indebtedness in January. However, in February DO accessed its revolving credit facility and borrowed $305 million. The facility has a total borrowing capacity of $1.5 billion and matures in 2020.
DO expects total 2016 capex of $675 million and expects to cover these expenditures through a combination of cash generated from operations and funds from the revolving credit facility. Since the company is finishing up its newbuild program, Capex in future years is expected to decline significantly providing the foundation to increase company's cash balance and cover debt as it comes due. Fortunately for DO, the earliest debt maturity is in 2019 when a $500 million bond comes due.

Click to enlarge
Based on the current contractual backlog and little to no additional contracting, DO should be able to generate operating cash flows of $500-$600 million per year in 2016 and 2017. I expect DO to exit 2016 with roughly the same net debt as right now, but decrease it down to $1.6 billion at the end of 2017. I estimate 2017 EBITDA of $600-650 million and a fair value of equity of $3.1-$3.5 billion based on an EV/EBITDA ratio in the 7-8 range. In such a scenario DO's stock would trade roughly 10-20% higher than today.
Disclosure: I/we have no positions in any stocks mentioned, and no plans to initiate any positions within the next 72 hours.
I wrote this article myself, and it expresses my own opinions. I am not receiving compensation for it (other than from Seeking Alpha). I have no business relationship with any company whose stock is mentioned in this article.