When it comes to investing a large chunk of your portfolio, ETFs are a popular alternative be them active or passively managed. Nowadays, the alternatives are plenty with them growing at an astonishing rate. So before you get excited, which is the best ETF now available? Well, I'll answer that later. For now, let's focus on the ProShares S&P 500 Dividend Aristocrats ETF (BATS:NOBL).

This ETF seeks to replicate the S&P 500 Dividend Aristocrats Index. The index seeks companies that have increased dividends every year for the last 25 consecutive years and weighs each constituent equally. The constituents are members of the S&P 500, have a market cap of more than $3 billion, and have a daily trade volume of at least $5 million. Also, the index must hold at least 40 constituents and no sector can represent more than 30% of the index. According to any prudent decision-maker, an agreement would be made of the appropriateness of the index. Back-tested performance has proven to deliver.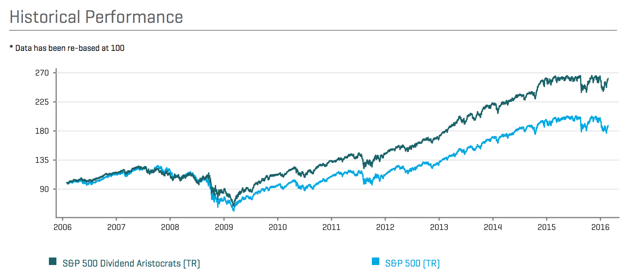 In this graph, it is shown that the index provides excellent upside capture and is more stable during recessionary periods. It is important to note that approximately 1/3 of market returns are provided through dividends for this index and in general. Since this index seeks companies that have demonstrated commitment to paying dividends, it can be noted that the constituents behind the index are well run companies.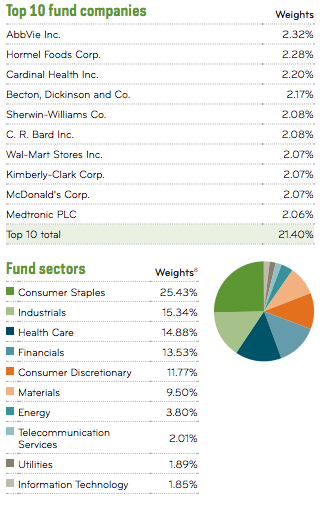 Some of the current companies in the ETF deliver products or services that are well known, demanded, and of great quality. Also, all the sectors in the economy are covered in this ETF providing exceptional diversification.
As for down years, the index has had only had two down years since 2006. These years were 2007 and 2008 when the index delivered -2.07% and -21.88%. The rest of the years were positive in which 2015 barely provided a positive return.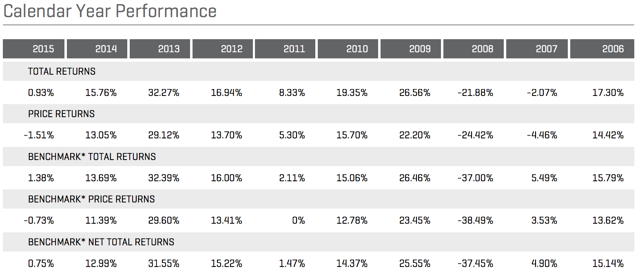 Even though the fund had two yearly negative returns in a year, the fund performance shows it is not as volatile as other funds. This is shown by down years not being catastrophic and up years not euphoric. For risk averse investors, this is a plus for those seeking an equity alternative within their portfolio.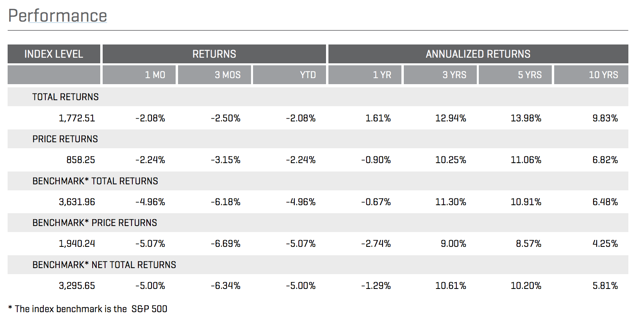 Over the long term, the index has clearly outperformed its benchmark, the S&P 500 as mentioned initially. It's interesting to note that the price performance differential over ten years between the index and the S&P 500 is 2.57% but the total return price differential is 3.35%. This difference clearly shows the significance of dividends for the index.

In addition to the index performing better than the S&P 500 over 10 years, the annualized risk of the index has been lower than that of the S&P 500 on an absolute and risk-adjusted basis.

The index valuation is not extremely overpriced but not dirt cheap. For those looking to allocate capital to equities, at the index's current valuation, it might be reasonable to do so in my opinion. For others fully invested, it might be best to hold on to this ETF. An interesting feature of ETFs that are designed with fundamentals in mind is that usually they don't inflate during bubbles but when the burst comes, these ETFs are not greatly affected.
Conclusion
NOBL represents an index that has clearly proven to be a winner, the S&P 500 Dividend Aristocrats Index. In addition, the ETF currently has over $1 billion in assets and has a low turnover of 15.31% (2015). All these features including liquidity, low turnover, long-term decent performance, manageable risk behavior, and an expense ratio of 0.35% clearly make this ETF a winner.
As for the best ETF available, there is really no such thing. Every ETF has its place in time and it varies from investor to investor.
Source: All data and graphs were obtained from S&P 500 DIVIDEND ARISTOCRATS and ProShares.
Additional Disclaimer: This post is solely my opinion and data and information contained is not intended to be investment or tax advice. A reference to a particular investment or any observation provided in is not a recommendation to buy, sell, or hold or to make any other investment decision. If you seek advice or counseling regarding your finances or investments, please consult a professional. Investing is risky and adequate precaution should always be taken. We don't take any responsibility for your investment or other action or we have any liability for the accuracy of the information provided. We make no representation about the suitability of the information contained herein. Past performance is not indicative of future results.
Disclosure: I am/we are long NOBL.
I wrote this article myself, and it expresses my own opinions. I am not receiving compensation for it (other than from Seeking Alpha). I have no business relationship with any company whose stock is mentioned in this article.