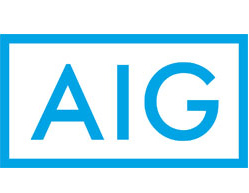 If investors were looking for just one reason why Carl Icahn started beef with American International Group, Inc. (NYSE:AIG) last year, they have to look no further than to the insurance company's disastrous fourth quarter earnings release. One of Icahn's criticisms of American International Group was that the company was running an unprofitable property insurance business that failed to meet just mediocre return requirements. Unfortunately for American International Group, Q4-15 earnings just proved Icahn's point.
AIG's property casualty business reported a pre-tax operating loss of $2,338 million for Q4-15. A year ago AIG's property casualty business earned $935 million before taxes...a big difference indeed. AIG's property casualty written net premiums remained fairly stable compared to last year, but higher insurance losses ripped a big whole into AIG's fourth quarter results.
At the end of the day, AIG was forced to report a $3,068 million underwriting loss compared to a $173 million underwriting loss in the fourth quarter of 2014.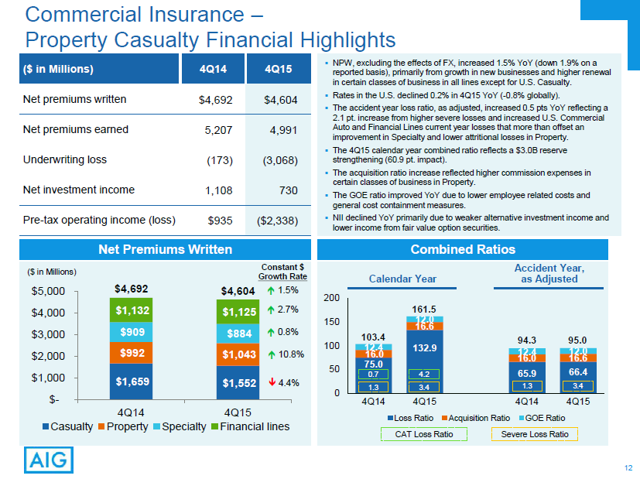 Click to enlarge
Source: AIG
Bad property casualty results negatively affected American International Group's total after-tax earnings, which dropped from $1,371 million in Q4-14 to $(1,348) million in Q4-15. On a per-share basis, AIG saw its Y/Y earnings crash from $0.97 last year to $(1.10) in the last quarter.
AIG's consumer insurance lines did not only not offset the decline in earnings, but rather added to it.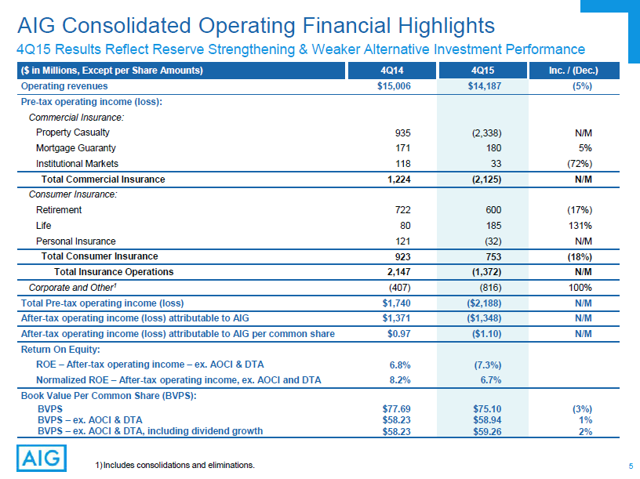 Click to enlarge
Source: AIG
But that was not the only bad news.
AIG's book value dropped, too, which is something that the market never really likes to see. AIG's accounting book value, or ABV, dropped 3.3% from $77.69/share at the end of 2014 to $75.10/share at the end of 2015. Ouch.
If anything, American International Group's results proved that the insurance company desperately needs to get its act together, especially in property casualty. John Paulson and one of Icahn's top lieutenants, Samuel Merksamer, a managing director at Icahn Capital LP, are going to join AIG's Board of Directors where they will have the opportunity to shake things up a little...we all know that AIG needs it more than ever. AIG's fourth quarter earnings were a major embarrassment for management, and a major disappointment for shareholders.
Growing skepticism towards management's restructuring plan that failed to meet expectations in January, has hurt the stock quite a bit in 2016...and the chart says it all.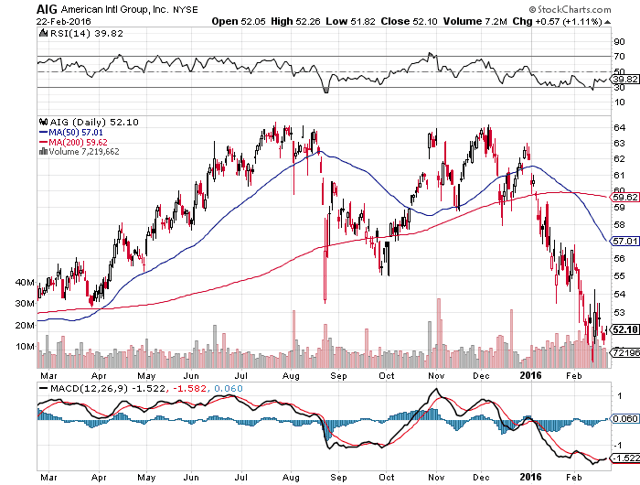 Click to enlarge
Source: StockCharts.com
American International Group tried to make up for its disastrous fourth quarter and larger-than-expected loss by throwing a bone to shareholders: The insurance company announced another $5.0 billion increase in its stock buyback authorization.
Stock buybacks have been a regular occurrence at AIG ever since the government has exited its stake, but a reliance on stock buybacks in order to get the share price closer to ABV is likely not going to cut it here. And neither is AIG's 14% dividend increase to $0.32/share. Such measures are well intentioned, no doubt, but they do little to address the problem at hand: The market wants to see higher capital efficiency.
I am afraid unless the company gets its act together and restructures its property casualty business, AIG will continue to trade at a material discount to ABV.
Your Takeaway
Q4 earnings were a major defeat for the insurance company, and only served to prove Icahn's point that the lagging property casualty business has a detrimental effect on AIG's market valuation. Though investors will like the new stock buyback authorization which clears the way for more repurchases at a dramatic discount to ABV, AIG needs to gets its act together, or risk for the stock to go sideways for another year.
What do you think? Will AIG go sideways for another year? Will Paulson and Icahn succeed in getting AIG's property casualty business on track? Let us know in the comments.
Disclosure: I am/we are long AIG.
I wrote this article myself, and it expresses my own opinions. I am not receiving compensation for it (other than from Seeking Alpha). I have no business relationship with any company whose stock is mentioned in this article.