Home Depot (NYSE:HD), the world's largest home improvement retailer, has just declared its fourth-quarter and full-year 2015 earnings, beating analysts' expectations. In an environment where talks of a recession are getting louder, the company has definitely performed well.
Highlights of the fourth-quarter and full-year 2015 results:
EPS of $1.17 against expectations of $1.10.
Q4 revenue increased by 9.5 percent to $21 billion, beating by $610 million.
Sales for fiscal 2015 jumped 6.4 percent from 2014. The number came in at $88.5 billion.
Total

company comparable store sales for fiscal 2015 increased 5.6 percent as compared to 2014.

The

company announced a 17 percent jump in quarterly dividend to $0.69 per share.
Craig Menear, Chairman, CEO and President of Home Depot, said:
"Our focus on improving the interconnected customer experience, along with solid execution and continued recovery in the U.S. housing market, resulted in record sales and net earnings for 2015."

"As a testament to our commitment to create value for our shareholders, the board has increased the dividend for the seventh consecutive year."
Post earnings, the shares were last trading up 2.5 percent at $125.90 in pre-market. But amid all this, there is one thing that might weigh heavily on the stock today: weak 2016 guidance.
The company sees a negative impact of $800 million to 2016 net sales growth if the present currency exchange rates were to persist for fiscal 2016. A negative impact on diluted earnings-per-share growth of roughly $0.06 per share will also be realized due to FX headwinds.
Home Depot expects softening in 2016 sales growth to 5.1-6 percent; for 2015, the company registered a 6.4 percent jump. While the comparable store sales grew by 5.6 percent for 2015, the management has pegged the number sharply lower at 3.7 to 4.5 percent. This is one aspect that the market might not appreciate.
Another thing that might adversely affect the stock is the flat gross margin rate and operating margin rate expansion of 70 basis points predicted for 2016. EPS growth is also expected to moderate to 12 percent to 13 percent compared to the 15.9 percent growth seen in 2015.
Investors can expect cash flow from business operations of approximately $10 billion in fiscal 2016 compared to $9.37 billion in fiscal 2015 and $8.24 billion in fiscal 2014. On a growth basis, the company reported a 13.71% improvement in the period 2015-16 while for 2016-17, the growth will be down more than 50% at 6.72%.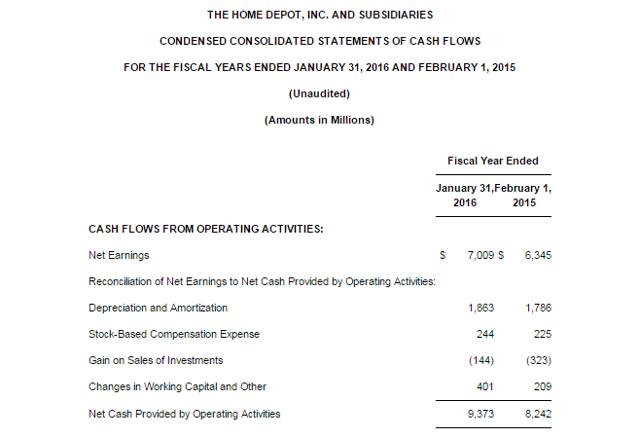 Click to enlarge
Conclusion
The market may ignore all these setbacks, which the company expects to face in this fiscal year. However, wise investors would look to add Home Depot only on declines, if they may occur. High expectations regarding the future growth of the company may negatively affect the portfolio. And if the slowdown in growth does happen as per the weak guidance, the stock may not look attractive from an investment point of view.
Disclosure: I/we have no positions in any stocks mentioned, and no plans to initiate any positions within the next 72 hours.
I wrote this article myself, and it expresses my own opinions. I am not receiving compensation for it (other than from Seeking Alpha). I have no business relationship with any company whose stock is mentioned in this article.