Perseus Mining (OTCPK: OTCPK:PMNXF) is an Australia-based company operating Edikan Gold Mine in Ghana. The mine started its operations in late 2011. Most recently, the company published its Half-Year report. In my opinion, this report reveals some problems, which overshadow Perseus' decent financial results. In this article, I am trying to list these problems and assess their potential impact on the company's future performance.
Output and revenue
In the second half of 2015, Perseus delivered 76,693 ounces of gold (all gold was extracted at Edikan). Here lies the first problem - according to the Technical Report on the Edikan mine, the average annual production was estimated at around 270 thousand ounces of gold. Meanwhile, the mine provided around 194 thousand ounces of gold in annual production, to date.
Next thing - in the second half of 2015, the company sold 77,960 ounces of gold at the average price of US$1,382 per ounce. Somebody could ask how it was possible to get such a high price. Well, the answer is simple - Perseus hedges most of its production through gold forward sales contracts. Apart from selling gold at prices much higher than market prices, at the end of 2015, the company's hedge book consisted of 120,267 ounces of gold sold forward at the average price of US$1,276 per ounce. The total hedge position was valued "in the money" at A$35,328 thousand, which means that if the company closed the entire position on December 31, 2015, it would lock a profit of A$35.3 million.
At this point, let me note that today gold is trading at US$1,210 per ounce. What is more, on February 11, 2016, gold was trading at US$1,263 per ounce, which was a price quite close to US$1,276 per ounce (the average price of gold sold forward by the company). Well, if gold continues its march up, Perseus' hedge book may start working against the company - if gold is trading above US$1,276 per ounce, the company will be reporting losses on its hedges.
I guess that some investors may misinterpret financial results reported by the company. Simply put, higher revenue, achieved through smart hedging, covers much higher costs incurred by Perseus. For example, if the company were not hedging its production it would make a loss. If the company sold its gold at the average market price of US$1,110 per ounce of gold (in the second half of 2015), it would make an operating loss of A$24.2 million (instead of the actual profit of A$5.1 million) - see the table below:
Table 1

Source: Simple Digressions
Of course it is not my intention to criticize the company for applying hedging strategies - the only thing I want to show in the calculation above is the fact that not everything is alright with the Edikan mine. Let me go to another problem: Production costs.
Production costs
Apart from standard cost reporting, the company also reports its costs per ton of ore mined and milled (processed). In my opinion, a per ton metric is a good way of showing the economics of mining and processing at Edikan.
The table below presents the Edikan's economic measures, reported in the second half of 2015 and fiscal year 2015 (the company's fiscal year starts on July 1 and ends on June 30):
Table 2

Source: Simple Digressions
Before discussing the figures above, let me explain a few things:
Market value of gold per ton of ore milled is calculated as gold price realized multiplied by head grade and recovery rate
Mining and milling costs have been delivered by the company in its financial statements.
After a quick look at the table, the first impression is that everything is alright - production costs, reported in the second half of 2015, were lower than in fiscal year 2015 (for example, mining costs went down from $4.55 to $2.40 per ton of material mined). Well, that is a fact but the key issue is expressed in the market value of one ton of gold. As the table shows, in fiscal year 2015, one ton of ore milled contained gold worth $43.88 while in the second half of 2015 each ton of ore milled contained gold worth only $27.65. What is more, this value depends only partly on the price of gold, at which Perseus sells its gold. The other important factor is the quality of ore mined, expressed by two mining ratios: head grade and recovery rate.
Let me go a little bit deeper into that matter. The philosophy of mining at Edikan is quite simple and may be described as follows:
There are four major open pits, where the gold is mined: a complex of Fobinso-AF Gap-Abnabna pits, Fetish, Esuajah (North and South) and Chirawewa (look at the map below).
Mine plan assumes that gold is being extracted according to a well-defined production pattern, where only a few pits are being mined at the same time. After reaching the planned production stage, the company shifts production to the next pit/pits.
A general assessment is that the company should mill (process) 8 million tons of ore annually; if, for whatever reason, the pits under operation are not able to deliver this amount of ore, the company supplements this gap with the ore stockpiled (of lower grade than the fresh ore).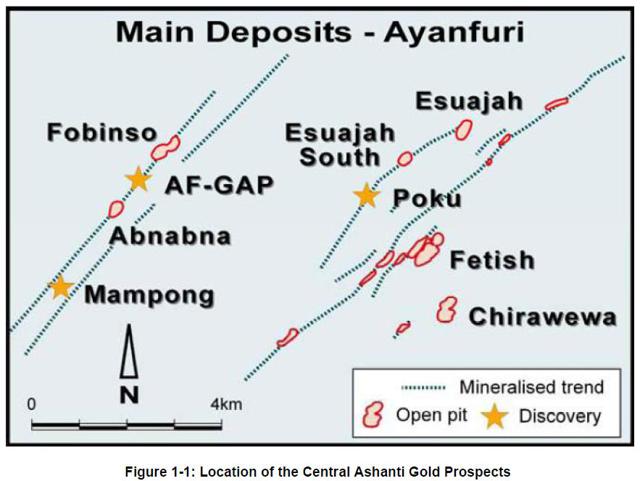 Click to enlarge
Source: Technical Report
In the second half of 2015, Perseus was in a transition stage - the company was shifting its production from the biggest pit (the Fobinso complex) to two new pits, called Fetish and Chirawewa. Due to some technical problems, Perseus was mining the ore of much lower quality than in fiscal year 2015. Let me cite the company:
"Despite best efforts in mining of 2.532Mbcm of material from the Fetish and Chirawewa pits, mining fell
short of forecasts as mud clearing from historically-mined Chirawewa and Fetish pits (that until recently were flooded) and grade control activities limited access to the higher grade ore zones. As a consequence, higher grade ore has taken longer than expected access and this has had a direct impact on the quantity and grade of fresh ore available for processing"
As a result, in 2H 2015, the company mined 2.05 million tons of ore grading 0.95 gram per ton, compared to the ore grading 1.21 gram per ton in fiscal year 2015. The lower grade of ore mined had a negative impact on the grade of ore milled (processed) - simply put, if the ore mined is of lower quality the ore milled is also of lower quality.
Simple? It seems so but things are a little bit more complicated.
As I have noted above, in 2H 2015, Perseus had mined 2.05 million tons of ore. It was much less ore than the company wants to mill (to remind my readers - the company aims at milling 8 million tons per year, which means 4 million tons in six months). To supplement this gap, Perseus added 1.5 million tons of ore stockpiled. Such an ore is of much lower grade than the fresh ore (0.95 gram per ton of fresh ore versus 0.5 gram per ton of ore stockpiled). As a result, the blended ore, milled in 2H 2015, had a head grade of 0.8 gram per ton (versus 1.17 gram per ton in fiscal year 2015).
This low grade of ore milled had a negative impact on the value of gold contained in the milled material. As Table 2 shows, in 2H 2015 one ton of ore milled had market value of US$27.65 (in fiscal year 2015 it was US$43.83). As a result, in 2H 2015, Perseus was making only US$16.06 on each ton of ore milled, much less money than in fiscal year 2015 (US$28.50). Note that this weak result was achieved at much higher gold prices realized and lower production costs per ton of ore. Well, the devil is in the detail.
Conclusion
Although Perseus reported decent financial results in the second half of 2015, investors should note that not everything was fine. First of all, the company was very smart in using favorable gold forward sales contracts. Due to this strategy, Perseus was able to sell its gold at much higher prices than its peers. However, if prices of gold start another leg up, the company's hedges may play against the company.
Currently, Perseus is mining gold at the Edikan mine. In my opinion, it is a decent deposit. According to the Technical Report, even at the price of gold of US$1,000 per ounce, this project should deliver an internal rate of return of 40.27%, which is definitely an excellent projected result. What is more, the mine was constructed on budget and on time, which is a big plus for the management. Unfortunately, not everything is going smoothly at Edikan:
The mine is not delivering the projected amounts of gold. For example, during the first five years of production Edikan was supposed to deliver 1.16 million ounces of gold. Actually, it delivered only 0.82 million ounces.
Most recently, while shifting its production to new open pits, Edikan has encountered some technical problems. As a result, in the second half of 2015 the mine delivered much less gold than it was projected in the company's guidance (76.7 thousand ounces of gold versus the projected amount of 90 - 100 thousand ounces).
The last Earnings Call Transcript provides additional mixed feelings about Edikan. Let me cite Jeff Quartermaine (the company's CEO):
"All of these means that more, more grade control meters need to be drilled. In order to stay up with the program, you need to have more drilling capacity that stands as a reason… I guess we overlook the advice of the exploration team some years ago, who had stressed to us the importance of grade control"
In my opinion, it is quite a strange remark. Generally:
"During exploration, grade control is a mining process to quality check and control the grade and variability of an ore. The purpose of grade control is for mining companies to understand and document any variability in their sampling and their ore reserve, taking into account the many facets of data collection before mining begins…
…Grade control is critical to practical excavation plans. Any inaccuracies at this stage can cause major setbacks to operational and business performance."
It seems that Perseus' management has forgotten about grade control. Now the company is sending a message that additional drilling should fix the problem. Although it will cost money, Mr. Quartermaine is candid about it. Anyway, investors should closely track the nearest developments at Edikan.
I believe that problems described above are standing behind a strong undervaluation of Perseus shares. Currently they are trading at A$0.34 a piece, which means an Enterprise Value / EBITDA multiple of only 0.71.
Disclosure: I/we have no positions in any stocks mentioned, and no plans to initiate any positions within the next 72 hours.
I wrote this article myself, and it expresses my own opinions. I am not receiving compensation for it (other than from Seeking Alpha). I have no business relationship with any company whose stock is mentioned in this article.
Editor's Note: This article covers one or more stocks trading at less than $1 per share and/or with less than a $100 million market cap. Please be aware of the risks associated with these stocks.