In recent days, Energous (NASDAQ:WATT) has appeared like a re-energized stock. What was behind this new-found vigor? An enthusing story, of course. A lurid story of how Energous might be in bed with Apple (NASDAQ:AAPL), going full-bore on the development of their wireless charging child, to be included in Apple's upcoming iPhone 7 or 8.
This story made the rounds. You can read about it in a Yahoo Tech/BGR column titled "Apple's upcoming iPhones might change the game more than you can even imagine." This is a popular column and it led to wide distribution of the rumor, which in turn heavily impacted WATT's stock price.
Why Am I Bringing This Up?
I've long held a negative stance on WATT, materialized in my two articles titled "Energous: We Have Seen This Story Before" and "Energous: More Reasons To Be Dubious."
I've held this stance because of a bevy of coincidences regarding who brought WATT to market and promotes it, namely MDB Capital, and the whole modus operandi used in sowing WATT's "good story." MDB Capital has a long history of bringing similar story stocks to the market, promoting them, and then having them implode back to reality. This long history included such names as Uni-Pixel (NASDAQ:UNXL), Parametric Sound, ClearSign Combustion (NASDAQ:CLIR), Resonant (NASDAQ:RESN), Crossroads Systems (NASDAQ:CRDS) and many others.
I was active in denouncing UniPixel as one such promotion, and my logic back then also made mention of a "modus operandi" which included references to partnerships, Tier I companies, and generically, the carrot of "just impending" marketing of a revolutionary product.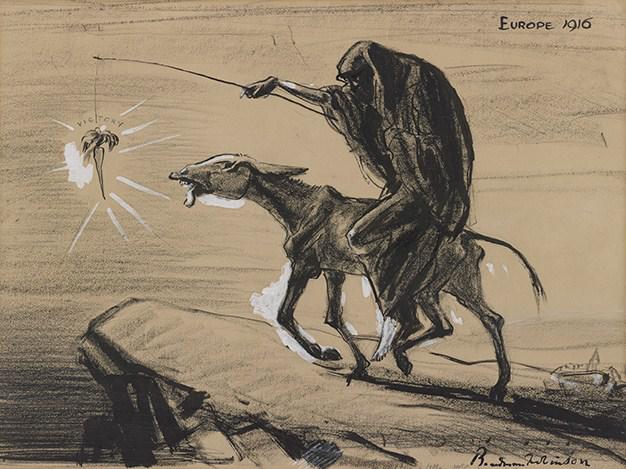 When I denounced Uni-Pixel, I also included references to given entities which were consistent in promoting stocks which were being brought forward and promoted by MDB Capital. At the time I mentioned (now discredited) Tobin Smith.
The Same Thing Might Be Happening Now
As it were, what happened was yet another example of the exact same modus operandi.
You see, the original source which led to the BGR article was a research report by a Disruptive Tech Research analyst. And that, alone, is too much of a coincidence.
It is a coincidence, because the same person: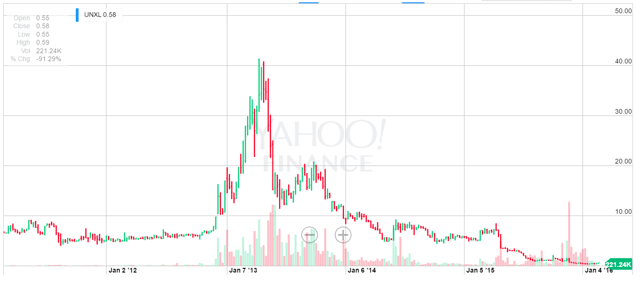 Source for chart: Yahoo Finance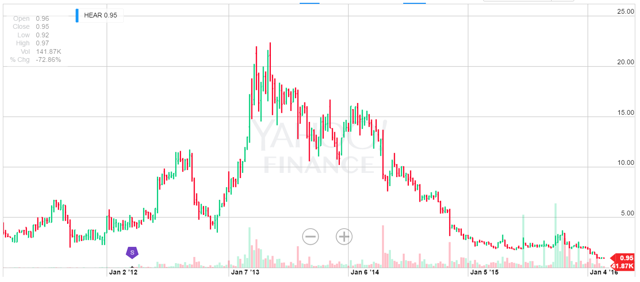 Source for chart: Yahoo Finance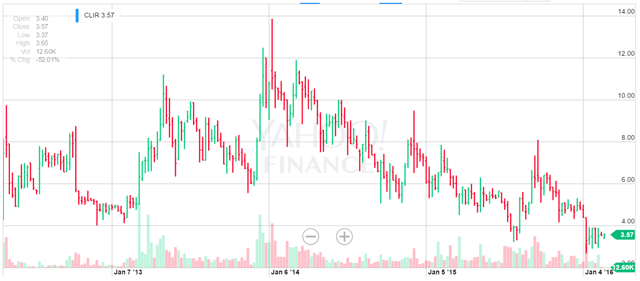 Source for chart: Yahoo Finance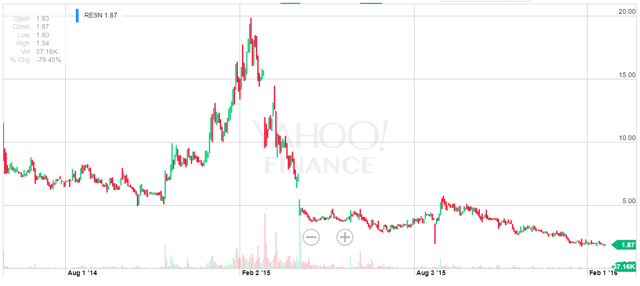 Source for chart: Yahoo Finance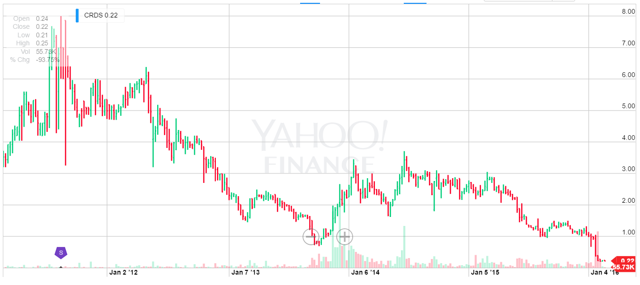 Source for chart: Yahoo Finance
Coincidentally, all these stocks were promoted by MDB Capital and all went bad. Since MDB Capital is not involved with thousands of stocks, any given analyst being fond of so many of them raises a valid concern.
This, my friends, is too much of a coincidence. This is a pattern. And when it comes to the kind of failed promotions we are talking about, a pattern is the kind of thing you don't want to see. It's a huge red flag.
If you want technical grounds to be negative on WATT, you can read Richard X Roe's comments on it, which are as good and informed as you're ever going to get.
However, even without delving into the technical aspects of it - better left for specialists - I can already put forward my opinion that a real company with real technology and a real promise will never exhibit the kind of promotion patterns WATT displays. This was again made evident with this Apple iPhone rumor and the source it came from.
This Is Not To Say Apple Isn't Involved
There's another interesting angle here.
Several of these promotions have shown the uncanny ability to ensnare serious companies in their stories. It is thus not entirely impossible that Apple might actually be involved in checking out WATT's technology, much like Kodak, Dell or Intel (NASDAQ:INTC) were ensnared by UNXL's.
However, the need to use the present schemes to promote the stock tells us that ultimately the technology will not pan out. If it was indeed working as promised, these schemes would not have been used. Which means it isn't.
Plus, the technical arguments against it are overwhelming as well. These have mostly to do with the power densities needed at the receptor level and how those can't possibly be approved by the FTC. Again, however, while I do believe the technical argument against WATT, I find that just the systematic pattern of promotion around it means the ultimate outcome will be similar to UNXL's and the other stocks mentioned: WATT will, in the end, trend toward zero.
Finally, WATT also is already displaying the pattern similar to the carrot pictured above in this article, with products supposedly being in the market in early 2016, then late 2016, then early 2017. Whoever followed the UNXL story will be familiar with that pattern as well.
Conclusion
The latest round of coverage around Energous and how it might be working with Apple to be featured in a future iPhone is yet another example of "too much coincidence."
The analyst creating this ruckus has an history of liking several past MDB Capital disasters as well. This greatly increases the chance that WATT will also follow on the footsteps of the other disasters.
Disclosure: I/we have no positions in any stocks mentioned, and no plans to initiate any positions within the next 72 hours.
I wrote this article myself, and it expresses my own opinions. I am not receiving compensation for it (other than from Seeking Alpha). I have no business relationship with any company whose stock is mentioned in this article.
Additional disclosure: The reason I am not selling WATT short is simply because its market capitalization is too low for me to do it.
Editor's Note: This article covers one or more stocks trading at less than $1 per share and/or with less than a $100 million market cap. Please be aware of the risks associated with these stocks.