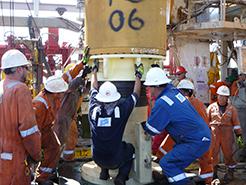 Source: Drilquip.com
Dril-Quip (NYSE:DRQ) reports quarterly earnings on Friday. Analysts expect revenue of $195.14 million and EPS of $1.06. The revenue estimate implies a 3% decline in comparison to the $201 million reported in Q3. Investors should focus on the following items during the quarter:
Subsea Equipment Declines Will Sting
Dril-Quip manufactures and services subsea equipment, and surface and offshore rig equipment. Nearly 70% of its revenue is derived from the sale of subsea equipment while 22% is derived from ancillary services like selling and renting tools used in the installation and retrieval of the company's products.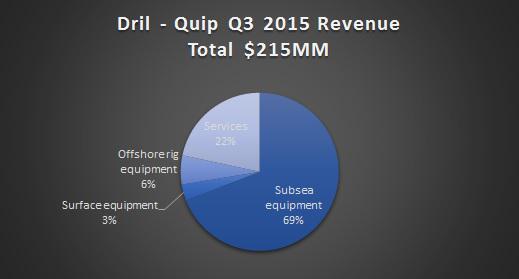 Source: Shock Exchange
Many deepwater projects are not economical at oil prices sub-$40; billions in new projects dried up or were delayed in 2015. Secondly, Wells Fargo analyst Judson Bailey projects a severe downturn in offshore and deepwater drilling for 2016. Revenue from the company's subsea sector was off 13% sequentially in Q3 while revenue from all other segments rose.
If revenue from the company's largest segment falls by double digits in Q4, it could miss its revenue estimate. That said, the diminution in the subsea segment is real. Even if Dril-Quip meets its Q4 revenue estimate, I expect the company to deliver weak guidance for 2016, which could send the stock lower. DRQ is about 8% off of its 52-week low of $48.88. It could retest these levels post-earnings.
Are Layoffs In The Works?
Dril-Quip's gross margins of 46% might be hard cut, but it has reduced spending on SG&A and engineering/development costs. On a combined basis, these costs were 15% of total revenue, down from 21% in Q2 and 18% in Q1. EBITDA margins were 36% in Q3, and if the company wants to maintain margins, it must cut costs. In my opinion, Dril-Quip is facing a proverbial "Catch 22." Revenue will likely fall precipitously in 2016. This might trigger sizeable headcount reductions in order to maintain margins - the only card the company has left to play.
If it announces layoffs in its subsea sector, then the market could take this as a sign that growth in subsea equipment sales is officially dead. If management stands pat, then margins could suffer. Either scenario could hurt the stock. Oil services firms that sell into land drillers - Halliburton (NYSE:HAL), Schlumberger (NYSE:SLB), Baker Hughes (NYSE:BHI) - have already cut tens of thousands of jobs. Dril-Quip could be next to drop the ax.
Disclosure: I am/we are short DRQ.
I wrote this article myself, and it expresses my own opinions. I am not receiving compensation for it. I have no business relationship with any company whose stock is mentioned in this article.