Apple (NASDAQ:AAPL) has again made headlines as it rolls out Apple Pay in China. Many analysts, including Seeking Alpha contributor WestEnd511, doubt the service will succeed in such a large and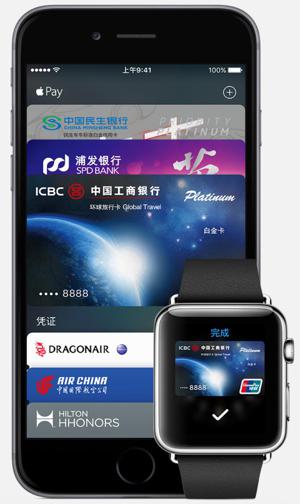 competitive market. I am more optimistic and feel it will benefit the company in the long run.
While on the surface it may appear that Apple Pay will hit a brick wall in the form of Alibaba (NYSE:BABA) and Tencent (OTCPK:TCEHY), which currently dominate the mobile payment market, it must be pointed out that the services are fundamentally different from Apple's offering. Alibaba and Tencent's services function more as mobile banks, similar to PayPal (NASDAQ:PYPL), and function outside of the centrally-controlled banks, such as the ICBC and China's card issuer UnionPay. Their third-party nature allows them to avoid traditional banks and their fees, especially when it comes to point-of-sale transactions. This puts those services at odds with the Chinese government. China has made concentrated efforts in recent years to grow its banking industry to accommodate a modern society. Third-party financial services undercut the government's initiatives and remove millions of dollars from its banking system. Its interest in growing its banks has led the Chinese government to partner with Apple to introduce Apple Pay.
When it comes to credit and debit cards in China, there is but one source, and that is UnionPay. Created in 2002 from its central banking system to issue cards, it is also the owner of every single point-of-sale payment terminal in China. With UnionPay being responsible for every domestically-issued card and payment terminal, it is in its best interest to encourage the use of its cards over alternative methods of payment, such as Alipay and Tenpay, which can circumvent terminals using QR code payment methods.
In an effort to take back market share, UnionPay has opened up its over five billion issued cards (two billion of which are chipped) for inclusion into the Apple Pay system. Currently, those five billion issued cards can be used at over 15 million POS terminals that existed in the country at the end of 2014. Of those 15 million terminals, an estimated 60% are NFC-enabled, which would allow for the use of Apple Pay at over nine million POS terminals. With UnionPay pushing its own NFC-enabled service called QuickPass, the number of NFC-enabled terminals in the country will rise rapidly as it also pushes into smaller retailers and merchants that lie outside the main urban centers. There are also major retailers and food vendors, such as KFC, McDonald's (NYSE:MCD) and Circle K that have agreed to accept Apple Pay in the country. The banking and card payment ecosystem in China is rapidly expanding with POS terminals growing more than 40% every year since 2011 and over half a billion ATMs on the UnionPay network. UnionPay processed more than 53T yuan in transactions for 2015 alone, a 31% YoY increase. With an estimated 90 million iPhone 6 users in China, the potential market is huge and growing at double-digit rates every year.
One issue WestEnd511 raised in their analysis was the high cost to switch to Apple Pay for iPhone users. Seeing as how Apple Pay uses already issued cards and the service does not cost users anything to utilize, I don't see any validity to this argument. Owners of iPhone 6 and higher models must only load their UnionPay-issued cards into their phones to use at no cost to them. The fees paid to Apple are reported to be 0.07 percent of each transaction compared to 0.15 percent in the United States. Apple will not receive those fees for two years, giving the banking industry plenty of incentive to support and push the service. China has a vested interest in growing its banking industry and transitioning its economy into a consumer-based one. Apple Pay is but one method it is employing.
There are a number of challenges to the service, some of which are coming to light in recent news. Besides glitches experienced by hopeful Apple Pay users, there is also the extreme regulatory environment that can help Apple Pay just as much as it hurts it. Should Apple upset the powers that be it would take little to remove the service from the country overnight.
We must also remember the existing mobile payment services from Alibaba and Tencent. Currently, users may be more inclined to use Apple Pay because the service is slightly easier to use than QR-based POS systems. Consumers naturally follow the path of least resistance, and right now, that appears to be Apple Pay. Should those existing services develop and implement their own NFC payment systems, Apple Pay would lose much of whatever market share it had managed to obtain.
There is also the ongoing concern that the economy in China is not as robust as its news outlets would lead you to believe. We are all well aware that Apple's iPhone is much more expensive than similar offerings from Samsung (OTC:SSNLF) or even domestic Chinese manufacturers. If the middle class in China does not increase its own earnings, it is less likely it will spend as much as $700 for a phone. As investors, we must view Apple Pay conservatively, especially when looking at China. The true success of Apple Pay will not likely be reflected in additions to the bottom line, but instead in market share retention.
The success of Apple Pay in China will have long-term benefits for the company. As smartphones become more ingrained in the daily lives of users, they will be less likely to switch to another manufacturer. Adoption of services exclusive to the iPhone will aid in ensuring retention of market share, and as the second largest market for Apple, the importance of China cannot be overstated. At this point of AAPL's life, preservation of market share is arguably more important than rapid growth. It is not the only respected producer of smartphones after essentially inventing the segment in 2007 with the first iPhone. Preserving what it currently owns in the market is important. There is also the possibility that widespread adoption of the service for current iPhone users could create a contagion where owners of other smartphones are convinced to switch. Investors must understand that Apple Pay in China will not directly contribute very much to its bottom or top line, but instead is furthering the brand in the nation and cementing the products into the lives of its customers. Eventually, the growth of Apple will slow and creating services exclusive to its products will help ensure current owners remain loyal.
While it is unlikely that AAPL will ever be able to segue into the payment management market in China like it could in the US, as outlined by SA contributor Brian Nichols, there is still money to be made here both through the service and preservation of its market and brand. The Chinese government wants Apple Pay to succeed in growing its banking industry and the use of its issued cards, so many barriers are being removed for the service. The rapidly growing middle class, strong iPhone market, huge mobile payments industry and a friendly and supportive government mean Apple Pay will be successful in the country. While the contribution to its bottom line will be minimal for such a large business, Apple Pay could help retain current market share and encourage other smartphone users to switch to Apple products. AAPL has little to lose here and much to gain.
Image Source: Apple China
Disclosure: I am/we are long AAPL.
I wrote this article myself, and it expresses my own opinions. I am not receiving compensation for it (other than from Seeking Alpha). I have no business relationship with any company whose stock is mentioned in this article.