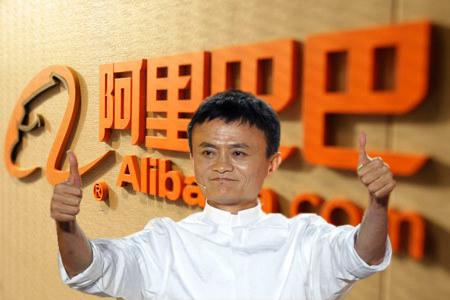 Alibaba (NYSE:BABA), in many ways, looks to be a mirror image of Amazon (NASDAQ:AMZN). At the very least, they seem to be inspired in the past by the company that took the retail market online.
Alibaba's cloud computing service is another example: The company did exactly what Amazon did - turn a cost center into a profit-making business. In Amazon's case, that business now rivals its core retail business in terms of profitability.
Now, however, things seem to have turned around. Amazon's Dragon Boat idea of connecting sellers in one continent to buyers in another seems to be inspired by none other than Alibaba.
Moreover, since Alibaba started putting together the pieces for cross-border trade, Amazon can only stand by and watch as the Chinese profitability machine enters Amazon's own domain of international sales.
But those seem to be the only parallels one can draw between the two companies. Alibaba's profitability alone sets it apart from any other major e-commerce or retail company in the world.
How Profitable is Alibaba?
In 2015, Alibaba earned $12.3 billion in sales with net profits touching $3.7 billion; that's almost one billion more in profits than Amazon, which did nearly nine times Alibaba's sales. But one year of data does not a trend make. Let's take a closer look at Alibaba's operational efficiency and profitability to see if they're really sustainable into the future.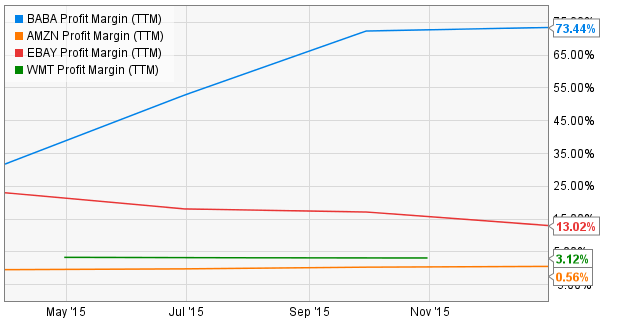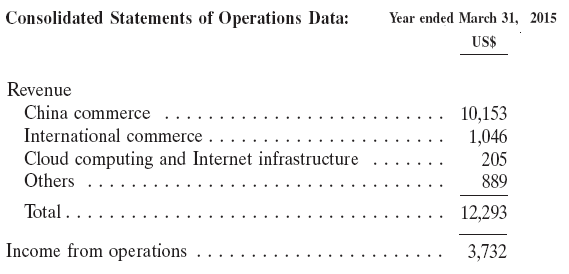 Just a quick look at their profit margin numbers in the last few quarters makes you question if it's an anomaly. How can a company that earns most of its revenue (83%+) from China alone be more profitable than retail stalwarts such as Amazon, Wal-Mart (NYSE:WMT) and eBay (NASDAQ:EBAY) that have global footprints?
The answer to that is multifaceted.
Why Is Alibaba So Profitable?
The Business Model Advantage
First of all, Alibaba is a marketplace, earning fees for connecting buyers to sellers online. It does not buy products from manufacturers and then try and sell them to customers. That one difference in their business model puts them in a category that's different from Amazon and Wal-Mart, but not eBay. Because Alibaba is primarily a commissions-based business, they're able to shed much of the overhead burden that retailers and e-tailers are encumbered with.
Think of it in terms of a real estate agent versus a real estate seller. The former connects the right buyer to seller, processes the necessary paperwork, closes the deal and pockets the commission. That's Alibaba and eBay.
On the other hand, Wal-Mart is similar to a real estate investor who buys homes, finds buyers and does all the work so the buyer only has to sign on the dotted line and write the check.
Amazon does the same, but they want to have it all: They want to buy and sell their goods, and be a broker to several third party sellers at the same time.
In terms of business models, all three work... and very well, too. Amazon's $107 billion and Wal-Mart's $480+ billion in sales are testament to that. However, that's not where their profitability comes from. What they keep in the end is a much smaller percentage than what Alibaba or even eBay keep, as you saw in the operating profit comparative graph above.
The Hands-off Logistics Advantage
The second key to profitability is the way Alibaba handles its logistics and last-mile delivery. Contrary to what most e-tailers do, the company has a hands-off approach to its logistics. That might seem counter-intuitive when you consider that the typical e-tailer is paranoid about having control over their delivery capabilities. Make no mistake - Alibaba is as meticulous about error-free delivery as any company, but they do it with a twist.

Click to enlarge
Source: BABA 2014 Annual Report
For the most part, they allow the seller to choose a delivery company that will fulfill the order. The selected logistics company is then tasked with the pickup of the product, warehousing, line-haul and last mile delivery. Alibaba's Cainiao Logistics takes on the job of selecting vendors for delivery, sharing data and overall management of the process - and that gives them the level of control they need, as well as the data to drive their business to higher levels of efficiency.
Leveraging its technology expertise, Alibaba then facilitates visibility for both buyer and seller to keep track of the product's delivery life cycle.
The process of only doing the supervisor's job with respect to delivery is what I believe to be one of the key aspects of Alibaba's profitability - one that puts them far ahead of even companies like eBay with a similar sales model.
The establishment of a separate logistics division is a big move, so their current model is geared to collecting all the data they need to optimize delivery routes and create a profitable division if they choose to start their own delivery system.
The Relationship Edge
The third advantage Alibaba has over other e-tailers is the solid working relationships they've built with all their partners and vendors. For example, when Alibaba created Cainiao Logistics in 2013, it was a wholly-owned subsidiary of a joint venture between five express delivery companies in China. Talk about convincing enemies to be friends and work together so everyone benefits in the end! I'd almost say it was the Tao of business building!
At the other end of the spectrum is the typical e-tail model, which pits vendors against each other for the cheapest price and ends up hurting the relationship in the process. Most e-commerce companies have a love-hate relationship with their vendors and partners; case in point is Amazon's pseudo-symbiotic relationship with UPS (NYSE:UPS) - despite being their biggest customer, Amazon does not have the relationship with UPS that Alibaba enjoys with its logistics partners.
This positioning of Alibaba as a great friend of all businesses has been helping the company to no end. I only wish Amazon and just about every other retailer - online or offline - could take a leaf out of their book and let go of their obsession about controlling everything they touch.
Investor-Speak: The BABA Opportunity
There is a huge amount of variance in market size growth estimates for the Chinese retail e-commerce segment. Techcrunch says it's growing at 19.9% per annum and will hit $1 trillion by 2019; AT Kearney puts that at $1.5 trillion after crossing $718 billion in 2017; emarketer says it will hit $1.5 billion a year earlier, in 2018.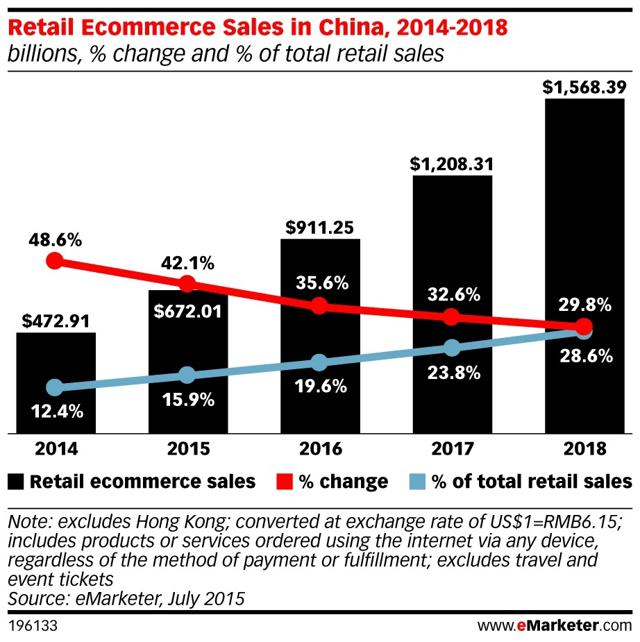 Click to enlarge
All the estimates, however, agree that there will be double-digit growth over the next four to five years. As the Alpha e-tailer in China, Alibaba's revenues will grow in proportion to that figure. We've already seen them growing their top line by double-digit percentages quarter over quarter over the past couple of years.
The company is still in growth phase and will be for several years to come. With their careful foray across the border, they're not going to be making the mistakes eBay or even Amazon did, for that matter. Their profit margins give them the leverage they need to experiment outside the country, but I believe they'll follow the same course of action they did when expanding their China business. That is, evaluate possible synergies, keep risks low and build a backbone on which to overlay their business model.
Even at this seemingly high price point, there's still a safety net if you're keen on adding BABA to your portfolio.
If you enjoyed reading this article, I invite you to follow me and comment on my other work on retail, e-commerce, sportswear, automobile, technology and other consumer industries.
Disclosure: I/we have no positions in any stocks mentioned, and no plans to initiate any positions within the next 72 hours.
I wrote this article myself, and it expresses my own opinions. I am not receiving compensation for it (other than from Seeking Alpha). I have no business relationship with any company whose stock is mentioned in this article.