With fears of a British exit from the European Union plaguing the markets, the British pound has descended sharply to a seven-year low of 1.41 against the dollar.
I take the view that the pound could continue to take a hammering, and could even go to a low of 1.35 against the dollar - a level not tested since 2009.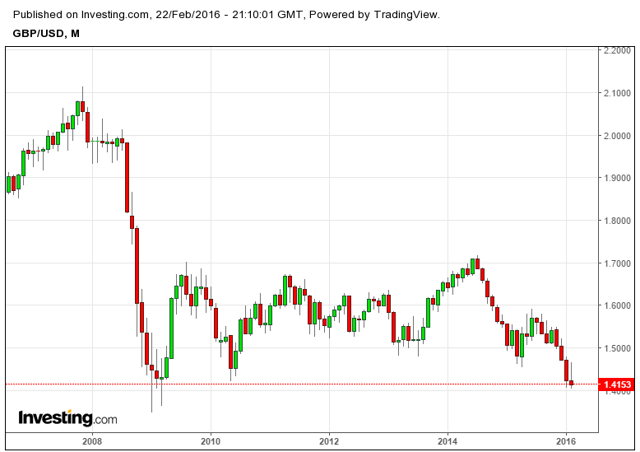 Click to enlarge
I had previously remarked that whether the UK actually exits from the euro come mid-2016 is of little consequence as far as the currency markets are concerned. The fact that an exit is on the table means that the pound stands to fall further, and in all likelihood an exit will already be priced in by the time the referendum comes around.
Moreover, there is very little that the Bank of England can do at this point in order to influence the currency. We have already seen that a rise in interest rates in the United States has already prompted concerns of a global economic slowdown. The Bank of England was never in a position to raise rates until 2017 at the earliest. With the current slowdown in growth, this prospect now looks even more unlikely.
Such a vote is not without precedent. In 1975, Britain partook in a referendum to decide whether to remain in the European Economic Community. Fears of an exit prompted the central bank to raise interest rates, along with closing London's foreign exchange market to prevent a cash outflow. However, growth concerns mean that the Bank of England does not necessarily have an option to raise interest rates without causing significant contagion economically. Even if rates were raised, the resulting inflation from a falling pound would effectively cancel out the effects of a higher rate and sterling would continue to fall. To quote John Gieve, a former Bank of England deputy governor, "You could get the impact before you get the vote". As indeed we are.
To conclude, I see further depreciation ahead for the pound, and expect that lows of 1.35 could potentially be on the cards in the coming months.
Disclosure: I/we have no positions in any stocks mentioned, and no plans to initiate any positions within the next 72 hours.
I wrote this article myself, and it expresses my own opinions. I am not receiving compensation for it (other than from Seeking Alpha). I have no business relationship with any company whose stock is mentioned in this article.