Now could be a great time to invest in copper. China just announced that it will cut taxes on home transactions to support the property market - a move that comes a few weeks after the central government eased mortgage down payment requirements. These two moves are expected to help China reduce its inventory of unsold homes and serves as a stimulus for its economy, which grew at the slowest pace in 25 years in 2015.
The move, of course, is seen as a positive for copper, as a weak Chinese real estate market is also bad news for the industrial metal and vice versa. The market has reacted positively to the news, as prices rose 2% to $2.11 per pound on Monday.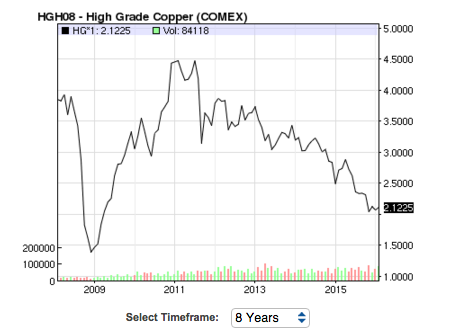 (Credit: Nasdaq)
So, why invest in copper and in the three miners mentioned below? Well, for one, prices are still well below the 5-year highs we saw in 2011, when prices reached $4.50 per pound and copper stocks were trading at several times their current price. Second, and more importantly, copper is the most important metal on the planet and is an excellent conductor of heat and electricity; as a result, the metal is used for many industrial applications, including electrical wiring and plumbing, automobiles and construction. That fact hasn't changed.
As the world economy continues to grow, its demand for copper should also continue to grow. The copper market is expected to grow by 28% over the next 10 years, assuming 2.5% global annual growth, according to a Freeport McMoRan (NYSE:FCX) presentation.
Meanwhile, production from existing copper mines should decline by 17% during that time frame, according to the presentation. More Chinese stimulus programs should help increase demand.
Copper prices may very well have further downside here (forecasting prices is really a difficult task in the short-term). But investors should understand that commodities move in cycles - eventually copper, just like oil and other commodities, will bottom out if it hasn't already. So if you believe in the growth of China and other emerging markets, or you think that industrial demand for copper will pick up at some point over the coming years, then investing in producers of the metal could be a wise move right now as prices are still really depressed.
Here are three of my top copper stocks investors should target in 2016 (with a long-term investment horizon in mind). Investors that prefer ETFs over individual stocks can target the Global X Copper Miners Index (NYSEARCA:COPX), which contains a basket of mining stocks focused on copper.
#3 Freeport McMoRan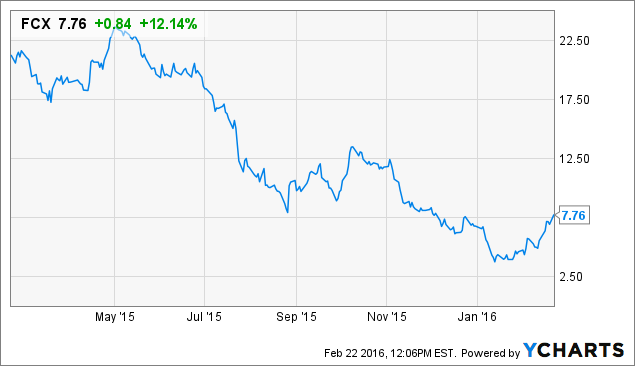 FCX data by YCharts
Freeport McMoRan offers a great way to play the copper market as this is the world's largest publicly traded copper producer; Freeport is expected to produce more than 5 billion pounds of the metal in 2016, but also produces some oil, gold and molybdenum.
The company's portfolio includes the Grasberg mine in Indonesia, which is the world's largest gold mine and the third largest copper mine in the world, the 85%-owned Morenci minerals district in North America, and the Cerro Verde operation in South America.
The pullback in copper and oil prices has not been kind to Freeport's stock, as shares fell from $22.50 in May of 2015 to under $4 in January of 2016. The current bear market in commodities has obviously had a negative effect on Freeport's earnings: in the fourth quarter of 2015, the company reported a net loss of $4.1 billion and operating cash flows of $612 million, which was a 50% drop from last year.
However, the company is adjusting to market conditions and has taken numerous steps to clean up its balance sheet and reduce its capital expenditures and cash costs.
For one, Freeport says it plans on cutting total capital expenditures to $3.4 billion in 2016 and $2.3 billion in 2017, down from $6.35 billion in 2015. Next, the company is reducing its copper and molybdenum production to improve cash flow, and now forecasts a 28% reduction in cash costs to $1.10 per pound of copper, down from $1.53 in 2015. With copper above $2 per pound, this leaves the company with strong operating margins.
Based on copper prices of $2 per pound, Freeport should earn $3.4 billion in operating cash flows in 2016, compared to similar capex spending, according to company estimates. It's clear that Freeport is highly leveraged to copper prices: a $.10 per pound change in copper prices would increase its cash flows by $440 million, according to the presentation.
The biggest risk to investing in Freeport is its debt: the company ended the last quarter with total debt of $20.42 billion after spending billions to bring copper mines to production over the past few years.
On the bright side, Freeport just sold 13% of its Morenci mine for $1 billion in cash, and as mentioned above, the company expects lower cash costs and higher cash flows in 2016. Another downside: Freeport does not pay a dividend... so investors are unable to dollar-cost average positions with dividends, which hurts on a downturn.
While there certainly is still some bankruptcy risk if copper prices happen to plunge in 2016, I think Freeport has its costs under control and the stock should outperform peers on a copper rebound. Just know that it's not a stock for the faint of heart.
#2 Southern Copper (NYSE:SCCO)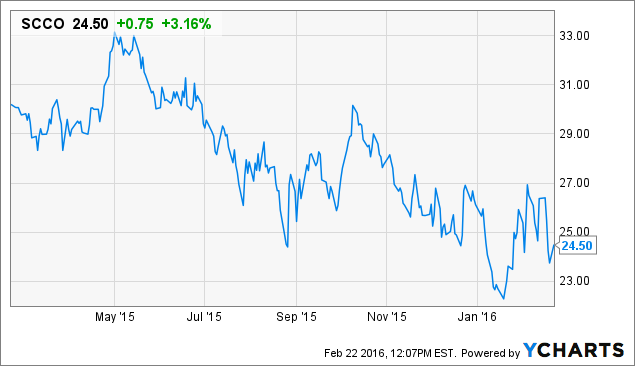 SCCO data by YCharts
Southern Copper Corporation takes the second spot on this list for a few reasons. For one, this is one of the largest copper producers in the world (with growing production), but also one of the lowest cost producers.
In 2015, the company produced $1.94 million in EBITDA and $736 million in net income, with 742,993 tons of copper produced at $1.12 operating cash costs per pound net of by-product credits.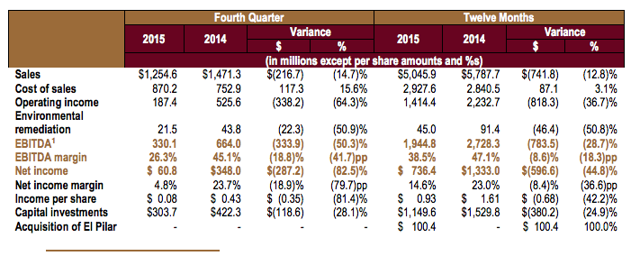 Click to enlarge
(Credit: Southern Copper Press Release)
Next, Southern Copper has just completed an expansion at its Buenavista mine, which is expected to result in a significant 21% jump in copper production in 2016.
Out of the $3.5 billion required investment, $3 billion has been spent, and the expansion is expected to be completed under budget, which is really positive news. Production at Buenavista should increase to 460,000 tons in 2016 and 500,000 tons in 2017. This gives the company leverage to rising copper prices.
Southern Copper also happens to have a pretty strong balance sheet. The company has $274.5 million in cash and equivalents, $603.5 million in short-term investments and $5.91 million in long-term debt (much lower than Freeport's $20 billion), with no principal debt repayments due until 2035. The company's positive free cash flow and strong balance sheet should allow it to maintain its $.03 quarterly dividend (shares yield .51%).
With low cash costs, a strong balance sheet, a large copper reserve base, growing production and a small dividend, Southern Copper is well deserving of the #2 spot on this list.
#1 Nevsun Resources (NYSEMKT:NSU)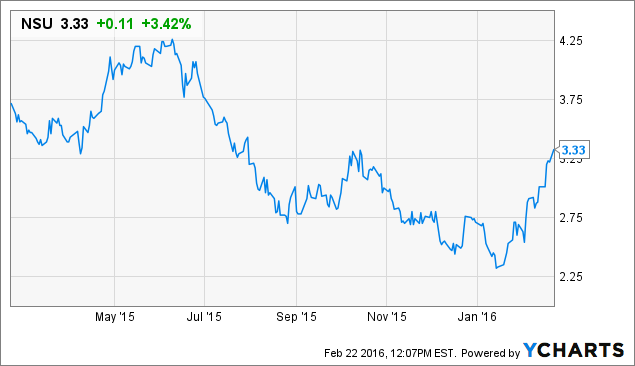 NSU data by YCharts
Nevsun is just a no-brainer at these prices and hands-down my favorite copper stock to own in 2016. It's a profitable copper producer with a rock-solid balance sheet and strong growth prospects.
For those unaware, Nevsun owns 60% of the Bisha mine in Eritrea, which is one of the highest grade open pit copper mines in the world, with copper equivalent grades higher than 4% and 25.3 million tons of proven and probable open pit reserves. Since the completion of a feasibility study in 2010, reserves have grown nearly 50% and increased the mine life to over 10 years, while resources have grown from 30 million tonnes to nearly 50 million tonnes as of December 2014, according to the company's corporate presentation.
The company is a very low cost producer of copper when you factor in all of the byproduct credits, as it produced at $1.56 per pound cash costs last quarter and $1.24 per pound for the first nine months of 2015.
For 2016, the company is aiming to produce over 100 million pounds of copper and 70-100 million pounds of zinc at cash costs of $1.20 to $1.40 per payable pound of copper (And, this does not include the 80,000 to 100,000 gold equivalent ounces the company plans on monetizing from stockpiles in 2016, worth around $100 million at current spot prices). With cash costs under $1.40 per copper pound, Nevsun should be profitable in 2016. Production is then expected to grow to 140 million copper equivalent pounds by 2022 based on the current mine plan.
The story gets even better: Nevsun ended last quarter with a massive $434 million in cash and cash equivalents, and zero long-term debt. So the company is debt-free and sitting on a mountain of cash. Yet, with a market cap of $651.29 million, $434 million in cash and no debt, the market is giving Nevsun an enterprise value of just $209.20 million; with $187 million in trailing 12 months EBITDA, the stock has an EV/EBITDA ratio of 1.12, and the stock carries a book value of $3.39 per share, just above the current stock price.
Meanwhile, Nevsun continues to pay a $.04 quarterly dividend, giving shares a 4.97% at the current stock price. With 199.78 million shares outstanding, the dividend costs the company just $32 million annually, which is certainly sustainable given Nevsun's profitability and huge net cash position.
On the downside, Nevsun is a single-mine operator, so if anything goes wrong at the Bisha mine, it would have no source of cash flow. In addition, Eritrea is considered a high-risk mining jurisdiction. However, I would argue that these risks have already been priced into the stock here, and I feel the current valuation is just too cheap.
In conclusion, Nevsun, Southern Copper and Freeport McMoRan are my top three copper stocks to buy in 2016. Do you agree or disagree with this list? What are your favorite picks?
Disclosure: I am/we are long NSU.
I wrote this article myself, and it expresses my own opinions. I am not receiving compensation for it (other than from Seeking Alpha). I have no business relationship with any company whose stock is mentioned in this article.