The first time I came across the term "A Paradigm Shift without a Clutch" was dealing with the famous Dilbert comic strip. The term in itself is so dynamic yet so simple, and that is why it has stuck with me for so long. The question was; if this term could be used in the investing world? Before answering that question it would be prudent to define the term as to understand its true meaning. The basic definition of a paradigm shift is; a revolutionary change of thinking from one way to another. It is the "without a clutch" part that truly makes the statement dynamic. A clutch is a device which provides for the transfer of power from one component to another in a controlled manner. Lose the clutch and you get a very disorderly transfer, making for a bumpy, if not violent, ride. Put these two together and you get an incredibly disruptive chain of events that ends in a revolutionary change of thinking.
The question is; how does this apply to the investing world? There are countless companies that have ushered in paradigm shifts with their products and ideas. Companies like Microsoft (NASDAQ:MSFT) and Apple (NASDAQ:AAPL) are prime examples of companies that had this effect within their given markets. That being the case, it is the "without a clutch" part that drastically narrows the field. When one thinks about it, you have to turn to the field of medicine to find companies that fit into the definition. It is here where people's lives are at stake and time is of the essence. Where unmet medical needs and human suffering demand immediate and revolutionary new responses in the way we live. It is here where time is the enemy that costs lives. Within this field, it will be the regenerative medicine group that will lead the way. This is where we will find companies in pursuit of exciting new technologies that will change the way we think and practice medicine. That being the case, let's find some new and exciting companies which may be on the verge of bringing this paradigm shift into our new reality.
StemCells Inc. (STEM)
One interesting company in the field of regenerative medicine is STEM. This is a company engaged in the development and commercialization of novel stem cell therapeutics and tools for use in stem cell-based research and drug discovery. In their therapeutic product development programs, they are targeting diseases of the central nervous system and the liver. In their specialty cell culture products they market stem cell technologies for use in pharmaceutical research, drug discovery and drug development. While the culture products are a viable business segment, it is the therapeutics side of the house where the potential lies. It is STEM's work on therapies for the degenerative conditions of the central nervous system and liver that will be the real diver for the company. STEM estimates that more than 35 million people in the United States are affected by these ailments alone.
The company's central nervous system projects seem to be the furthest along. In this arena the company is focused on development of their lead product candidate, HuCNS-SC human neural stem cells, which are believed to have a broad therapeutic application for many diseases and disorders. Currently the company is trying to address three major components which are the brain, the spinal cord and the eye. Within this group, the HuCNS-SC product is currently in clinical development for spinal cord injury and for Pelizaeus-Merzbacher Disease, a fatal myelination disorder in children. In an attempt to enter the same waters as Advanced Cell Technology, STEM is in preclinical development with their cells for retinal disorders such as age-related macular degeneration. On January 30 STEM announced the publication of preclinical data demonstrating that its proprietary cells protected host photoreceptors and preserve vision in an animal model of retinal disease. In more recent news, STEM just announced that the FDA has authorized the initiation of a Phase I/II clinical trial of the company's product in dry age-related macular degeneration. This is definitely a positive step in the right direction for STEM.
In their Liver program they are focused on the development of their proprietary hLEC human liver engrafting cells as a potential treatment for a variety of liver diseases. Liver disease is one of the top 10 causes of death in the US, and whole organ transplantation is about the only definitive treatment for restoring function in patients with severe liver disease. It is estimated 25 million people in the US, and millions more worldwide, are afflicted with liver-related disease. Unlike STEM's central nervous systems tests, their liver therapies are not quite as far along. There tests in Hepatitis C and metabolic disorders are still in the preclinical stage and more time is needed.
Also like most other stem cell companies, we find STEM in need of more funding. That is why at the end of 2011 the company announced that it has closed its previously announced underwritten offering of an aggregate of 8,000,000 units and 8,000,000 Series B Warrants. The Company received total proceeds, net of underwriting discounts, of approximately $9.5 million. The proceeds will be used for general corporate purposes, including working capital and operational purposes, including product development. It should also be noted that the company affected a 1 for 10 reverse stock split on July 6, 2011. As a result of the reverse stock split, the outstanding shares of common stock issued and outstanding were reduced from 139 million to 13.9 million. Needless to say, reverse splits usually spell trouble, and it is easy to see that STEM did and still does have cash issues.
The company does make a small amount of revenue, but it in no way offsets the current expense rate. The chart below shows the latest filing and how operations are going based upon the latest SEC filings.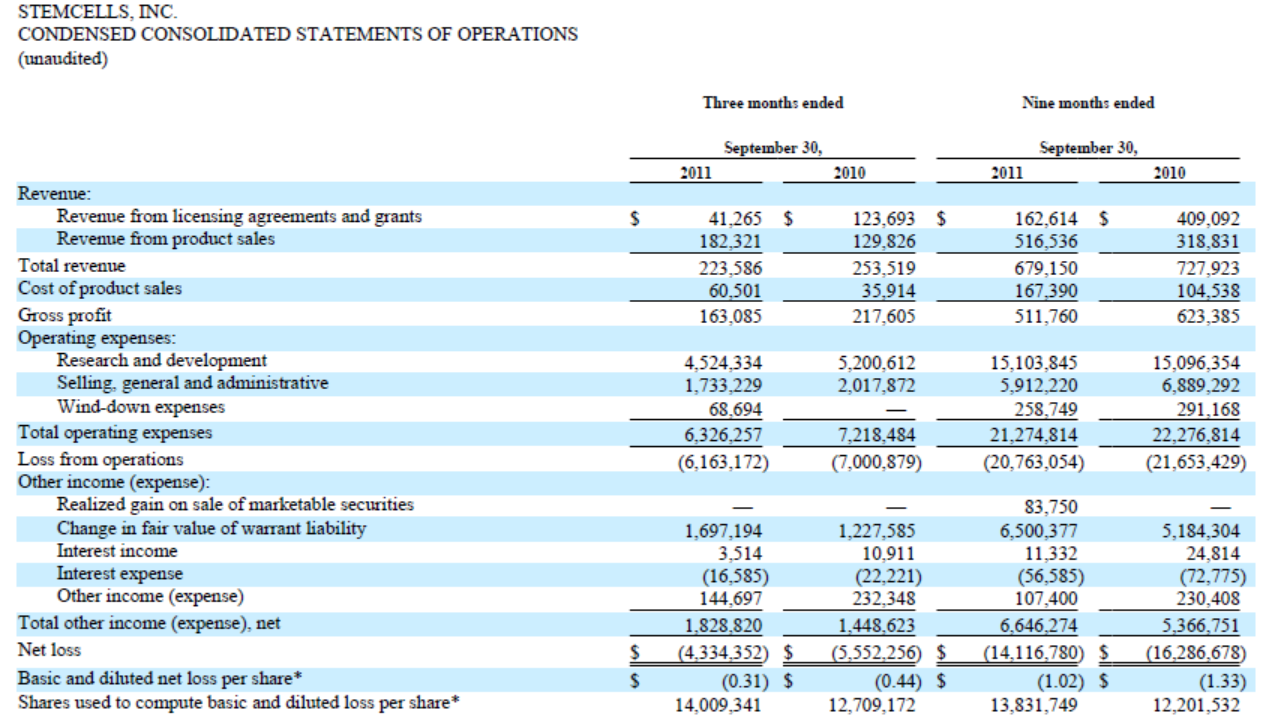 The real issue for all speculative biotech is the expenses. Research and development expenses totaled approximately $15,104,000 in the nine-month period ended September 30, 2011, which was relatively flat as compared with $15,096,000 for the same period in 2010. The problem is that for the same period of time, STEM reported having $12,534,474 of cash, cash equivalents, and marketable securities on hand. At that point in time it was nowhere near enough to cover upcoming costs, which explains the recent offering that was mentioned above.
As the wheels of progress spin, it will be interesting to see where STEM lands. Their liver and central nervous system treatments could offer brand new therapies to address several unmet medical needs. Time will tell, but any success within these studies could easily alter the way medicine is practiced overnight. The question will be if the money can hold out long enough to get a product to market, or a suitable joint venture or partnership to be announced.
Neuralstem (NYSEMKT:CUR)
For our next regenerative company we turn to CUR. CUR is a biopharmaceutical company that focuses on the development and commercialization of treatments for central nervous system diseases based on transplanting human neural stem cells and small molecule drugs. The company uses its neural stem cell technology as a tool for use in the small-molecule drug discovery, as well as to create cell therapy biotherapeutics for the treatment of central nervous system diseases, various neurodegenerative conditions, and for the regenerative repair of acute diseases.
Neuralstem's approach to regenerative medicine revolves around their technology that enables the isolation and expansion of human neural stem cell from specific regions of the brain and spinal cord. Once in hand the company states that they are able to virtually create an unlimited number of these cells from a single donated tissue. CUR's final goal is get their cell therapy to a point where it is able to replace and/or repair dead or diseased cells. If successful then the company could bring to market new and life changing treatments for such aliments as brain cancer, spinal cord injuries, stoke, Huntington's Disease, Ischemic Spastic Paraplegia, and Lou Gehrig's disease ALS.
That is lots of critical unmet medical needs, but CUR had to start somewhere. They picked their first target of ALS as the place to deploy their cells. ALS is a progressive neurodegenerative disease that affects nerve cells in the brain and spinal cord. As the disease advances it leads to complete paralysis, and eventually death of the patient. According to the ALS Association, as many as 30,000 Americans have the disease, and about 5,600 people in the U.S. are diagnosed with ALS each year. If any disease needs to be wiped out, then this is definitely one. Currently there is no cure, but CUR is hoping to end that.
CUR embarked on its first FDA-approved stem cell trial for ALS in January 2010, at Emory University. The Phase I safety trial was to first evaluate the safety of the cells and surgical technique used to apply them. Needless to say, it was ground breaking work and the study was designed to enroll up to 18 patients. The final results were to show that the procedure was indeed safe, and in one case resulted in some positive outcomes for one patient in particular.
Since then CUR has moved the trials up in scale. In October 2011 the company received FDA approval to advance to transplanting patients in the upper back region with spinal cord stem cells after previously only injecting in the lower back region. In late November 2011 CUR announced that the first patient dosing was completed.
In the meantime, CUR has also stated that it has been approved by the Food and Drug Administration to advance to Phase Ib in its ongoing clinical trial to test its novel neuroregenerative compound for the treatment of major depressive disorder. Like most Phase I tests it will revolve around the aspects of safety and tolerability to start. The idea for this treatment is to stimulate new neuron growth in the hippocampus. CUR believes that it is this area that is involved in depressive disorders as well as other diseases and conditions, such as Alzheimer's disease and post-traumatic stress disorder PTSD.
When taking closer look into CUR's financial statements, one starts to observe the same issues as mentioned above with STEM. That issue is one of cash, or the lack of it. In their most recent filing the company stated that their operating expenses totaled $10,531,854 and $11,735,597 for the nine months ended September 30, 2011 and 2010. In the first three quarters of 2011 their monthly cash burn rate was approximately $800,000. At that rate the company would have enough funds to finance their current operations and clinical work into the first quarter of 2012. The total cash and cash equivalents were $4,195,471 at September 30, 2011, compared with $11,588,824 at September 30, 2010. By looking at those two numbers it is easy to see how CUR burned through $7,393,353 or approximately 64% of their cash stockpile.
There are very few ways to raise more cash for operations, and a common method is to sell more stock. This is just that CUR had to do early in 2012. In the most recent company news release they announced that they have closed on a previously announced registered direct placement of 5,200,000 shares of common stock at a price of $1.00 per share, and 5,200,000 warrants each with an exercise price of $1.02 per share and exercisable starting six months from the issuance date for a term of five years. CUR received proceeds of $5,200,000, which will be used for general corporate purposes, including ongoing U.S. clinical trials. That should hold CUR in the black for a while, but more will be needed in the not too distant future.
As we wait for the test to pan out, it is easy for inventors to see how CUR could usher in their own paradigm shift in medicine. They are going after some truly debilitating conditions that have no cure or valid treatments in place. If they can get even a handful of these addressed, then the current stock price will move on a massive scale.
Advanced Cell Technology (ACTC.OB)
This time last year if one spoke of stem cells and regenerative medicine, the focus immediately turned to Geron (NASDAQ:GERN). At that time GERN was the biggest of all the players and had a FDA clinical trial in progress dealing with spinal cord injuries. Fast forward to today and we find GERN has basically left the world of regenerative medicine to focus on other products. As a result ACTC has been thrust into the limelight and now champions the sector with their unique brand of research.
Investors and the medical community are focused on ACTC's phase 1/2 clinical trial for Stargardt's macular dystrophy and dry age-related macular degeneration. There has been much speculation about these trials, and now finally the results have been revealed via the peer review publication, The Lancet Journal. The publication reported that there was clear functional visual improvement in the eyes of both patients. The patient with Stargardt's macular dystrophy showed that the stem cells attached to Bruch's membrane and persisted for the duration of the observation period. In the AMD patient there was a lack of anatomical evidence that the procedure worked, but the patient did have functional improvements that was remarkable. One item that even seemed to stump the experts was that in the AMD patient they detected mild visual function increases in the fellow eye that was not treated. Boil this all down and you have a very good case that the stem cells worked.
As good as these results are having only dosed two patients is not enough to set the world, or the stock price, on fire. As a result ACTC announced on Januray 25th that there was the dosing of an additional patient in its Stargardt's macular dystrophy trial. The patient was treated on Tuesday, Jan. 24 by Steven Schwartz, M.D., Ahmanson Professor of Ophthalmology at the David Geffen School of Medicine at UCLA. This coincided with yet another injection which occurred in Great Britain on another individual as well. If that was not enough, another announcement was also made that the Aberdeen Royal Infirmary, the largest of the Grampian University Hospitals in Scotland, has been confirmed as a site for its own Phase 1/2 human clinical trial for the Stargardt's Macular Dystrophy study.
What it boils down to is this; ACTC will indeed lead the paradigm shift but has yet to pop the clutch. Positive results on just two patients are not enough, but it does prime the pumps. The company now has four very prestigious sites that are very excited to test out this new treatment. As the company doses more and more patients, it is expected that we shall see the same spectacular results. Get enough people with visual improvement and demand for the treatment should be huge. The demand to treat this unmet medical need will be just what it takes to pop the clutch and usher in a new wave of ocular medicine. Of course ACTC will not be able to go it alone. They are a small company and will need to enter into several joint ventures and partnerships to get the ball rolling. This should be easier to do if positive results keep flowing out of the current trials.
If ACTC can get this project off the ground, then waiting in the wings are therapies and untested products that have even more merit. The company has plans to use their patented stem cell therapies to tackle such ailments as chronic heart failure, advanced cardiac disease, cardiovascular disease, and the manufacturing of blood products. Of course working against them is the recent dilution where the company will use the new shares to address financial mistakes that it made in the past. It will be an exciting time for ACTC in the coming year.
With all the excitement that ACTC's brings, one has to be brought back down to earth when looking at their financials. Currently the company has a market cap of $173 million. In November 2011 the company reported their third quarter results. ACTC stated that they reported a loss from operations of $(6.9) million compared to a loss from operations of $(5.4) million in the same period a year ago. Net cash used in operations for the 2011 second quarter was $4.1 million, compared to net cash used in operations of $2.5 million in the same period in 2010. The increase in cash used in operations was a result of the clinical activities related to the company's current Phase I/II trials. ACTC ended the 2011 third quarter with cash and cash equivalents of $13.9 million, compared to $16.1 million as of June 31, 2011.
What is more interesting about ACTC's current financial status is the settlement agreements with 40 holders of warrants and debentures. In the past ACTC had to enter into some questionable financing to survive. As a result, these potential lawsuits and the lack of available stock to settle them caused great financial hardship. With the recent stockholder approval to increase the number of shares, the settlements helped put lots of doubts behind some investor's concern. The downside is that the current number of outstanding shares has swelled t to well over 2 billion. Needless to say this can still play havoc with the current stock price as one waits for more trial results.
In conclusion, the companies mentioned here are just a handful of great companies working hard to bring game changing medical therapies to a needy world. The use of new regenerative medical technologies will easily take the world by storm in order to save lives on a grand scale. Investors lucky enough to pick the right one could easily be rewarded with eye popping returns that are only dreamed about. If there is going to be a paradigm shift without a clutch, it could likely be one of these cutting edge companies involved in the regenerative world of medicine. The risk is high but so is the reward if they can prove successful.
Disclosure: I am long ACTC.OB.