Until recently, I had been quite bearish on the Aussie dollar and had suspected that it would continue to go lower. However, the currency has been climbing against the USD and has also been holding its ground against the euro.
The Aussie dollar has entered somewhat of a limbo territory at this point. On the one hand, oil and iron ore prices have been unexpectedly rising and this stands to benefit Australia's hard commodities market. However, it would appear that the Reserve Bank of Australia wants anything but a stronger Aussie dollar, with board member John Edwards stating that the currency is trending at a higher level than desired.
I expect that a breach of 0.705 to the downside against the US dollar would invalidate a bullish signal on the AUD, as such a level would breach the support we have been seeing since mid-February.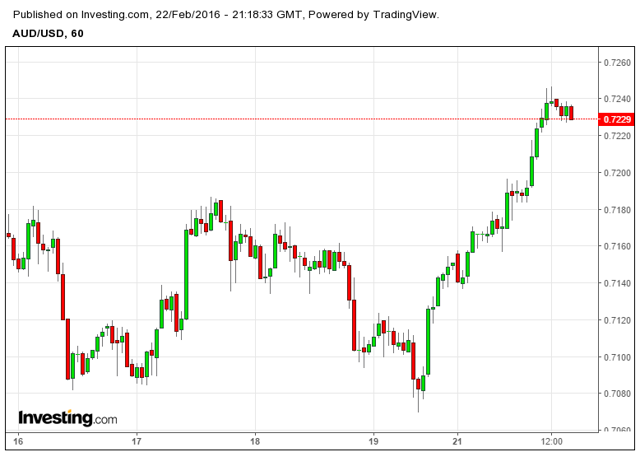 Moreover, a rise in commodity prices (oil and iron ore) is necessary for the bullish trend to continue. Should prices of these commodities start to decline, then I expect that the AUD will decline along with prices.
However, there is an interesting observation that might indicate a false breakout of the AUD; the fact that AUD/CAD is trending lower: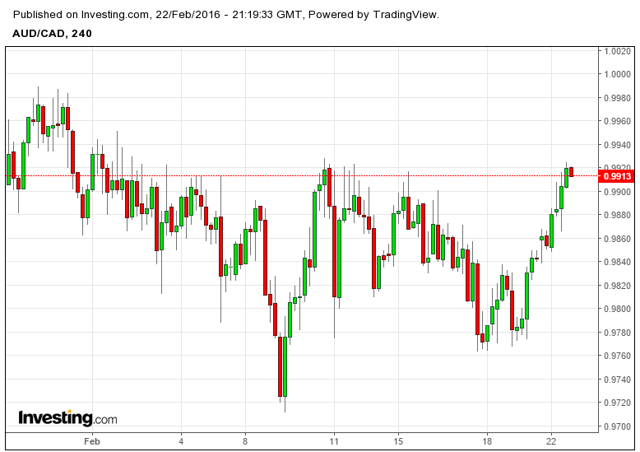 With Canada also being a highly oil-dependent economy, we see that instead of a stationary trend, the Aussie dollar has continued to go lower against the loonie. While there has been a slight rise, the overall trend has been downwards. The reasons for this discrepancy are not so clear cut, as both countries have been attempting to bolster growth and further rate cuts have not been ruled out. However, should this trend continue, then it may indicate that Australian economic growth is on somewhat of a more shaky ground than that of Canada, since the trend would suggest that the AUD is being driven more exclusively by commodity prices.
Ultimately, only time will tell whether the AUD stands to rise further or if this is in fact a false breakout. However, with the prospect of further rate cuts on the horizon, I expect that should the AUD continue to appreciate, the appreciation will be modest.
Disclosure: I/we have no positions in any stocks mentioned, and no plans to initiate any positions within the next 72 hours.
I wrote this article myself, and it expresses my own opinions. I am not receiving compensation for it (other than from Seeking Alpha). I have no business relationship with any company whose stock is mentioned in this article.