Which ETFs offer the best bets?
Here is a comparison of the upside forecast prospects being now made by the market-making [MM] community for over 50 leveraged-long ETFs, with their prior experiences of worst-case price drawdowns on the way to those next-3-month gains.
Figure 1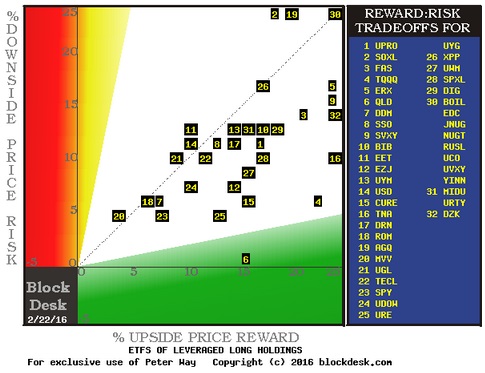 (used with permission)
In this map those down and to the right dominate the reward-to-risk tradeoffs of the ETFs up and to the left. The green area is better than 5 to 1 tradeoffs. Any ETF above the dotted diagonal has had worse price drawdowns than their current upside forecasts.
Not shown in Figure 1 is how frequent these opportunities have been in the last 5 years, and what proportion of those opportunities produced profits. The table in Figure 2 provides both, along with other quality of choice considerations.
Figure 2

Click to enlarge
These 15 ETFs were sorted out of the larger population pictured in Figure 1 by insisting on Win ODDS of at least 3 out of every 4 prior forecasts (counted in column 12), shown in column (8) as 75 or more out of 100. This set of 15 ETFs has an average (first blue row) of just under 7 out of every 8 opportunities.
Their average upside forecast now is +12.5% (column 5), 1.5 times their drawdowns in (6). That's a little better than the reward~risk ratio of the SPDR S&P 500 Trust ETF (NYSEARCA:SPY), at +6.4% vs. -4.8%, and nearly twice as large a potential payoff by the group.
Figure 2 is ranked by column 15, which takes the upside prospect (5) of each ETF times the Win Odds (8) , combined with the risk exposure of (6) times the compliment of (8), and includes the frequency of opportunity in (12) conditioned with the credibility of the current forecast (5) in light of prior return results in (9). All things any odds-player would be concerned with.
Still these qualitative considerations are likely to be of differing interest among many investors. So we lay them out for you to express your preferences and emphasis.
When looking at Figure 1, the obvious preference may be [6], the ProShares Ultra QQQ ETF (NYSEARCA:QLD). Yet in Figure 2 it is ranked last of the 15. The reason? It is so cheaply priced at present that only one prior day of the past 1261 (5 years) has offered the same prospect seen now. To better understand how its recent experience compares, consider Figure 3.
Figure 3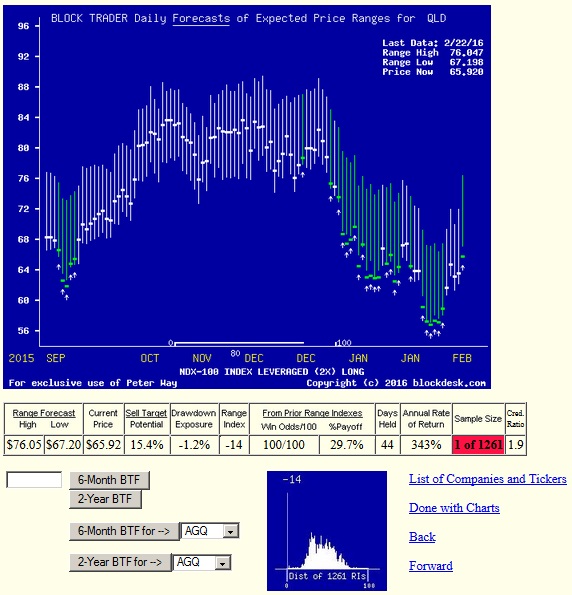 (used with permission)
The vertical lies of Figure 3 are forecasts of coming prices updated daily, not backward-looking history of past price experiences. The heavy dot in each price range forecast is the market quote at the time of the forecast. It splits the prospective range into upside and downside portions... usually.
In the case of QLD, yesterday's price did not gain as much as did the pros' apprehensions of its coming potentials. Their eagerness to have protection against higher prices (when forced to be short the ETF) outran the current market.
We measure the balance between upside and downside prospects by a metric we call the Range Index [RI]. Its value tells what percentage of the forecast price range lies below the current market quote. When the range is entirely above the quote, the RI becomes negative, hence the current -14 RI for QLD.
The blue thumbnail picture at the bottom of Figure 3 shows how the RIs of the last 5 years are arrayed. QLD hasn't gotten any cheaper than it is now. The fact that the pros' expectations are rising makes the situation very different than earlier this year, when their outlooks were usually falling.
Market outlook now
Many Seeking Alpha established contributors have recently expressed their opinion that the market is now taking on an attitude that they, in various ways, find to be a precursor to stronger prices.
We have our own methods, but often look for sensitivity in timing to the daily updated futures market analysis of the VIX index to be found here. When its curve of futures expirations turns to a rising posture, as it recently has, market strengthening often occurs.
Conclusion
The attractiveness of QLD becomes much clearer in Figures 1 and 3 than in the ranking of Figure 2. But Figure 2 provides useful guidance for several other leveraged long ETFs at this point. The first-ranked ProShares Ultra Pro QQQ ETF (NASDAQ:TQQQ) we previously published yesterday, and despite a strong gain, it still remains attractive. So do the several others, particularly in comparison to the market-index ETF, SPY, and in comparison to the lower-odds and poor credibility average of the 2400+ forecast population.
The ProShares UltraPro Dow30 ETF (NYSEARCA:UDOW) is one that has had exceptionally good performance given MM forecasts, probably because market-makers are continually involved in "facilitating" the large-volume block trades ordered by their big-$ fund and institutional clients who tend to be heavy owners of the Dow-30 shares.
Disclosure: I/we have no positions in any stocks mentioned, and no plans to initiate any positions within the next 72 hours.
I wrote this article myself, and it expresses my own opinions. I am not receiving compensation for it (other than from Seeking Alpha). I have no business relationship with any company whose stock is mentioned in this article.