Investors looking for a single fund to provide broad market diversification have many options available, as nearly every major fund company offers some type of balanced option. If we include target date funds, the options are numerous. While these funds are attractive to investors looking for one-stop shopping, in almost all cases, it makes sense to split out equity and bond exposure in order to more precisely control both equity and fixed income exposure. There are a lot of moving parts within a balanced fund and finding one that matches your risk tolerance, income needs and desired growth, in both the equity and bond slice, is difficult to impossible. For those investors looking for a balanced fund, one of the strongest options is the Fidelity Balanced Fund (MUTF:FBALX), but even it cannot provide a portfolio that will satisfy all investors.
FBALX
Established in 1986, the Fidelity Balanced Fund is a five-star Morningstar rated mutual fund with more than $26.6 billion in assets under management (AUM). This classic balanced fund has a 60 percent allocation toward stocks and a 40 percent exposure to fixed income securities. These percentages can deviate based on changes in the fund manager's current investment strategy and market outlook, but at least 25 percent of assets must be in senior fixed income securities. Managers may invest up to 10 percent in high-yield bonds. The fund seeks consistent capital growth as well as current income.
Investment Strategy
Lead manager Robert Stansky heads a 10-person stock-picking team that also draws on Fidelity's large and experienced staff of analysts. Ford O'Neil, co-manager of the Fidelity Strategic Income Fund (MUTF:FSICX), oversees the bond portion of the portfolio. He works closely with Jeff Moore, lead manager for the Fidelity Investment Grade Bond Fund (MUTF:FBNDX), to select bond holdings. The fund currently has large exposure to A and BBB rated credit, to the tune of 45 percent of assets. U.S. government bonds round out the bulk of the portfolio at 38 percent of assets, while high yield comes in near 9 percent. A similar percentage is in highly rated AAA and AA rated bonds. The duration of the fund tracks closely with that of the benchmark Barclays U.S. Aggregate Bond Index.
On the equity side, the fund is not limited in its style and can invest in both growth and value stocks. Stansky leans towards large caps with above-average earnings and cash flow growth. The inclination for faster-growing and higher price-to-earnings stocks distinguishes FBALX from its competition, but it has cost the fund in 2016, when large cap growth stocks have borne the brunt of selling.
A stock does not need to be in the underlying benchmark to be included in the holdings, but sector weightings are similar to the benchmark S&P 500 Index. Managers use a bottom-up fundamental analysis to find new holdings. Currently, equities make up 65 percent of the portfolio after taking a hit from the selling early this year. Due to the focus on growth, the equity portfolio yields less than the S&P 500 Index.
Portfolio Composition and Holdings
As of January 2016, the portfolio has approximately 1,200 individual holdings. They are primarily U.S. issued stocks and bonds. The stock portion of the portfolio is weighted toward consumer discretionary, financial, healthcare and information technology shares. FBALX had a 37 percent exposure to giant cap shares, as well as a 38 percent and 20 percent allocation to large- and medium-cap shares, respectively. The fund has an average market capitalization weighting of nearly $42 billion, which compares to the category average of $46 billion. The stock portfolio had a P/E ratio of 18.75 and a 2.42 price-to-book ratio. Top holdings include shares of Alphabet (NASDAQ:GOOG) (NASDAQ:GOOGL), Apple (NASDAQ:AAPL), Danaher Corp. (NYSE:DHR), Roper Technologies (NYSE:ROP) and Ametek (NYSE:AME) as well as JPMorgan Chase (NYSE:JPM), Capital One Financial (NYSE:COF), Amazon (NASDAQ:AMZN) and Coca-Cola (NYSE:KO).
With over 900 holdings, the fixed-income portion of the portfolio comprises 33 percent of AUM. The fund is concentrated in government bonds and agency mortgage-backed securities (MBS). FBALX also has exposure to government-related debt, non-agency residential MBS and commercial MBS. The portfolio has an effective duration of 5 years as well as an average quality rating of BBB and an average weighted coupon 3.46 percent. The top holding is a U.S. Treasury note with a 0.875 percent coupon maturing in 2017. It was the second largest holding in the fund after Alphabet
Historical Performance and Risk
At the end of January 2016, FBALX had delivered 1-, 3- and 5-year total returns of -2.74 percent, 7.50 percent and 7.63 percent, respectively. These compare to the -0.21 percent, 7.72 percent and 8.10 percent returns of the Fidelity Balanced Hybrid Composite Index. The index is comprised of a 60/40 percent split between the S&P 500 Index and the Barclay's Capital US Aggregate Bond Index. While in line with its hybrid benchmark, FBALX significantly outperformed 90 percent of its Morningstar moderate-allocation category peers on a risk-adjusted basis over the past 3 and 5 years.
Moderate allocation funds have outperformed the S&P 500 Index over the past 15 years, but underperformed in the past 3-, 5-, and 10-year periods due to stronger equity performance. FBALX's overweight position in stocks relative to its benchmark helped it finish ahead of its peers as stocks significantly outperformed investment-grade bonds in recent years. However, this has cost the fund in 2016: shares were down 5.42 percent for the year as of February 19, versus the 5.82 percent loss for the SPDR S&P 500 Trust ETF (NYSEARCA:SPY) and decline of 3.41 percent for the category. The main detractors were the overweighting in growth stocks and the fund's small allocation to high-yield bonds which struggled due to selling pressure in crude and other commodities.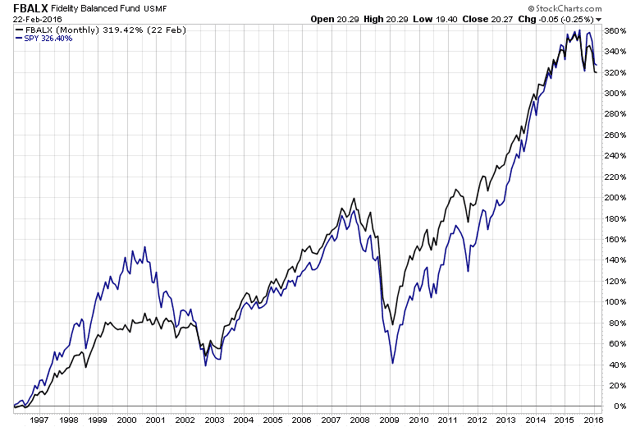 Click to enlarge
FBALX has a high return rating from Morningstar as well as an above average risk rating. The fund has a beta of 1.15 (versus Morningstar Moderate Target Risk) and a standard deviation of 7.95, which compare to the category averages of 1.07 and 7.48, respectively.
Expenses, Fees and Income
With a 0.56 percent expense ratio, FBALX enjoys a significant cost advantage over the category average of 0.92 percent. The fund is in the lowest quintile of no-load, moderate allocation funds.
FBALX has an initial $2,500 investment for taxable and non-taxable accounts with no subsequent investment minimums.
FBALX recently sported a 1.71 percent yield, below the yield of broad market indexes such as the S&P 500.
Outlook
Going forward, FBALX faces the same potential headwinds as the rest of the market. This includes the ongoing concern over a weakening Chinese economy, the selloff in the energy space and the possibility that the Federal Reserve will continue to raise short-term interest rates. The portfolio's more aggressive equity allocation has been a liability in the current market, as dividend paying shares have done better. This does present a buying opportunity when the selling subsides, but it also will weigh on performance in the short term. FBALX will likely underperform expectations for a balanced fund as long as the market decline in 2016 continues, or until the equity holdings are adjusted. Once this period passes, solid performance over the long term has been a staple of the fund.
Conclusion
If an investor wants the balanced approach from a single fund, FBALX has much to recommend it over the long term. The focus on growth stocks over value makes FBALX attractive for younger investors looking for one-stop shopping. The long-term track record is strong and an investor holding FBALX over the past 15 years has outperformed the stock market. Still, the best approach for investors is to forego balanced funds and target equity and fixed income exposure separately.
There are drawbacks to having an all-in-one fund, most glaringly for FBALX is the yield. A higher yield could be achieved by copying FBALX's benchmark. An investor could put 60 percent in SPY and 40 percent in the iShares Core Total U.S. Bond Market ETF (NYSEARCA:AGG). This allocation would generate a yield of 2.16 percent, 45 basis points better than FBALX with substantially similar exposure. Since SPY yields more than AGG, upping equities to FBALX's 65 percent exposure would also lift the yield. The yield could be hiked even further by opting for a dividend growth ETF such as the Vanguard Dividend Appreciation ETF (NYSEARCA:VIG), or with a higher yielding bond fund such as the Vanguard Total Bond Maarket ETF (NYSEARCA:BND).
In sum, FBALX is among the best balanced fund available, but a better approach is to target equity and bond exposure with separate funds, the better to match your individual needs and goals.
Disclosure: I/we have no positions in any stocks mentioned, and no plans to initiate any positions within the next 72 hours.
I wrote this article myself, and it expresses my own opinions. I am not receiving compensation for it (other than from Seeking Alpha). I have no business relationship with any company whose stock is mentioned in this article.