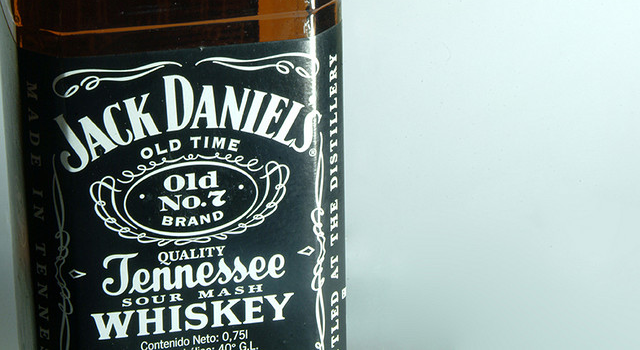 Elsewhere I have noted how much I like Brown-Forman (NYSE:BF.B) as a business. The company operates in a highly attractive sector and is, in itself, a stellar performer within that sector.
One of the criticisms of the business has always been its low yield. Its ordinary quarterly yield is currently around the 1.2% mark. This is around the average it has seen over the last five years.
However, the recent buyback announcement made me wonder whether failing to get past the ordinary dividend yield in assessing shareholder return from this spirited performer is unfair and a missed opportunity.
Let's take a look at what I mean.
The Buyback History
First, let's look at its previous buyback history. Already the business has been extremely generous in recent years with regards to buybacks:
| | | |
| --- | --- | --- |
| $m | Buybacks | Yield |
| 2011 | $136 | 0.91% |
| 2012 | $220 | 1.22% |
| 2013 | $0 | 0.00% |
| 2014 | $49 | 0.26% |
| 2015 | $462 | 2.39% |
| Total | $867 | 4.78% |
Over the last five years, it has returned over $867 million to investors through buybacks. This works out as about a 4.78% return by this means over this time.
These have been a little inconsistent, maybe, year from year. However, this is commonplace. The benefit of share buybacks as a method of shareholder return is that it is flexible. In years in which acquisitions or other investments in growth can be found, they can easily be paused without much criticism in a way dividends cannot.
However, the above record is complicated a little at Brown-Forman due to their mixed diet of buybacks alongside ordinary and special dividends.
Dividend History
Brown-Forman is, of course, a dividend aristocrat with decades of dividend growth under its belt. Indeed, in the last few years its dividend growth has accelerated nicely: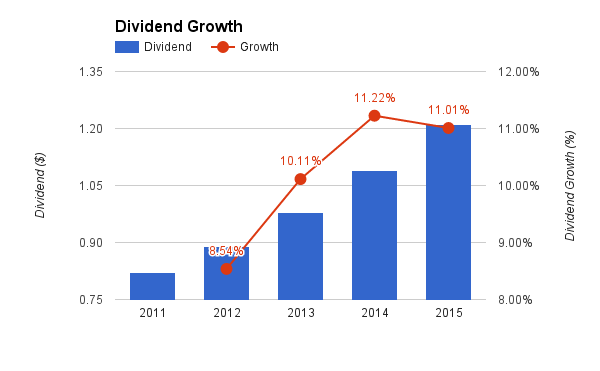 However, the returns go beyond this. Both in FY2011 and FY2013 Brown-Forman passed back to investors significant cash sums through special dividends:
2011: $1 per share (about $0.67 per share, post-2012 split)
2013: $4 per share
As a consequence, shareholders over the last five years (as well as seeing annualized share price returns of about 6%) have seen some fairly generous dividend returns.
The Impact on the Shareholders' Yield
The impact of this combination of capital return methods is quite telling. Over the last five years, in fact, they have returned over 125% of their entire FCF generated during that period.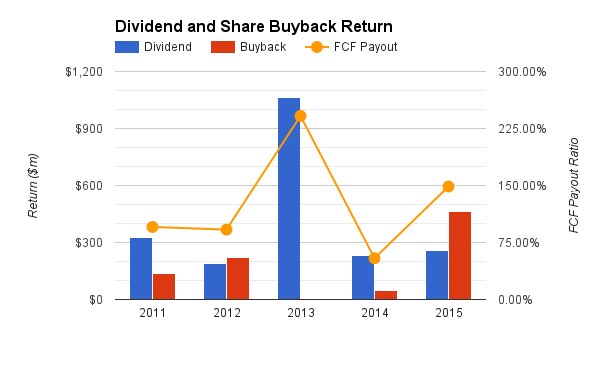 All told this suggests that despite the modest yield it has returned significant amounts of cash to investors: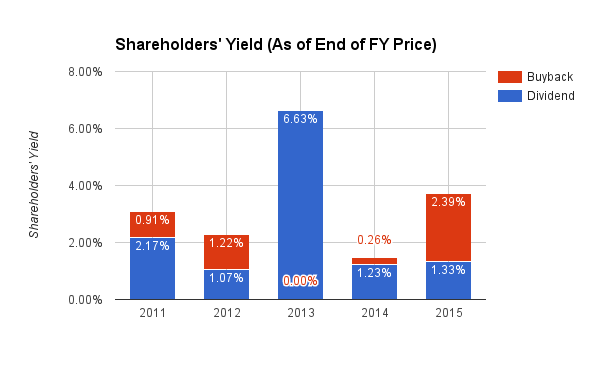 Don't get me wrong. There are still plenty of businesses with much higher shareholder yields around (for instance, my recent article on Accenture (NYSE:ACN)). Nonetheless, this is a consumer defensive business with a strong earnings and dividend growth profile and a compelling looking future.
Although the true value of shareholder returns has been a little spasmodic, it has hardly been small. This brings us to the most recent buyback announcement.
Current Buyback Scheme
So what about this most recent buyback announcement I mentioned? Well, the company announced late in January that they had:
approved a new $1 billion share repurchase authorization, commencing April 1, 2016 through March 31, 2017, subject to market and other conditions. The current buyback expires on March 24, 2016.
The return is fueled in a large part by the recent decision to sell their Southern Comfort and Tuaca brands to Sazerac for $543.5 million, which is expected to close on 1 March 2016. As part of this, they had excess cash they decided to return to investors.
However, as can be seen, Brown-Forman is quite happy and willing to return generous amounts of their impressive FCF to investors. This is very attractive indeed.
But what will the potential impact of the buyback be? Well, as their financial year ends on 30 April of each year, it means that it is likely most of this $1 billion cash return will come in FY2017.
Assuming a Class B share price around current levels ($102), this would see a yield of about 4.3%. This on top of the 1.3% ordinary dividend expected in the same year.
This suggests that the shareholders' yield for 2017 will sit around the 5.6% mark. Quite a return for a business that sits snugly in the consumer defensive sector.
A New Fair Value?
But should we reconsider the fair value for Brown-Forman in light of this? Let's take a look.
I calculate my fair value by taking the consensus EPS predictions for the next two years and averaging them. I then multiply this by the five year average P/E for the company.
In Brown-Forman's case, the average P/E has sat at 25.8. The combination of its strong brands and anticipated growth as well as its defensive nature makes me fairly comfortable with this as my fair value target.
Using it provides me with a:
Basic fair value of $93.10
I then adjust this by the amount of cash held on their books. Doing so provides us with a new:
Cash-adjusted fair value of $94.87
For me, therefore, anything below $95 is a fair value for Brown-Forman. This suggests that, right now, it is a little overvalued despite this being an upward revision on my previous fair value calculation.
Conclusion
There is no doubt that there are plenty of ordinary yields much higher than Brown-Forman's. However, the recent buyback is a reminder that Brown-Forman is more than just a fast-growing dividend aristocrat with a modest yield.
Beneath this is a complex and (admittedly) inconsistent yielding business. It has rewarded long-term investors not only through consistent share-price appreciation and stable dividend growth but often generous special dividends and buybacks.
Many of us (especially dividend investors) often rarely travel much further than the ordinary yield. However, maybe we should. If you are still at the stage of accumulating dividend-growth assets (reinvesting dividends along the way) I think businesses like Brown-Forman with their varied and hearty diet of shareholder returns are even more attractive than we generally accept.
In light of the very shareholder-friendly actions by management over the last few years as well as the stable, growing and modest (but hardly meager) ordinary dividend maybe we should be giving Brown-Forman more credit as a dividend investment.
With a potential shareholder return of 5.6% in the coming FY2017, I certainly plan to give Brown-Forman a little more credit.
Right now, I am happy to wait for a pullback in its share price before opening a position. Nonetheless, I am confident that Brown-Forman will remain a compellingly generous shareholder-friendly business well into the future.
Notes
Unless otherwise stated, all graphs and the calculations contained within them were created by the author. Creative Commons image reproduced from Flickr user elmango80.
Disclosure: I/we have no positions in any stocks mentioned, and no plans to initiate any positions within the next 72 hours.
I wrote this article myself, and it expresses my own opinions. I am not receiving compensation for it (other than from Seeking Alpha). I have no business relationship with any company whose stock is mentioned in this article.