Holiday Season Egg Prices
Cal-Maine Foods, Inc. (NASDAQ:CALM) and the rest of the egg industry generally earn peak profits during the holiday season from about early-November through December.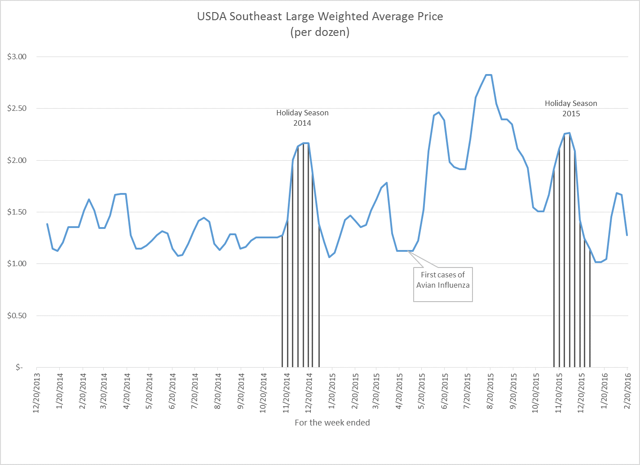 Source: This Chart created using data derived from a custom report on the USDA Agriculture Marketing Services website. Prices represent the weighted average USDA Southeast Large price for each week ended.
2015 holiday season USDA Southeast Large weighted average egg prices were nearly the same as 2014, even as the U.S. layer flock was still recovering from Avian Influenza (AI) losses. However, U.S. consumers had almost as many eggs available for consumption in December 2015 as December 2014, as egg imports for November and December of 2015 increased significantly.
Egg Imports and Exports
Since the May 2015 AI outbreak, the industry has increased egg imports to replace lost supply.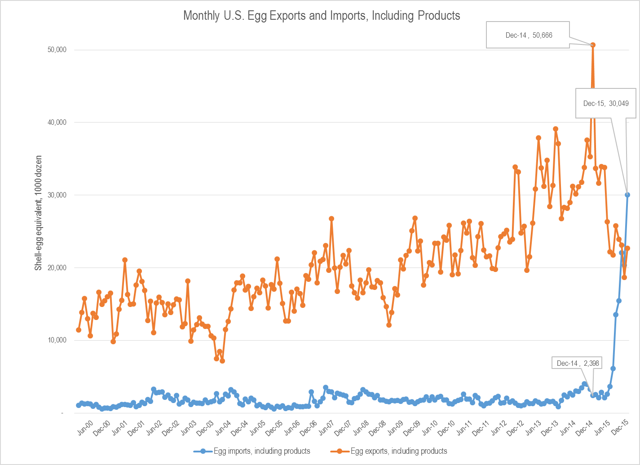 Source: This chart was created using data from the USDA Chickens, turkeys, and eggs: Monthly U.S. trade - All months and countries.
The following table highlights the role increased egg imports and decreased exports played in supplying the U.S. population with eggs during the 2015 holiday season.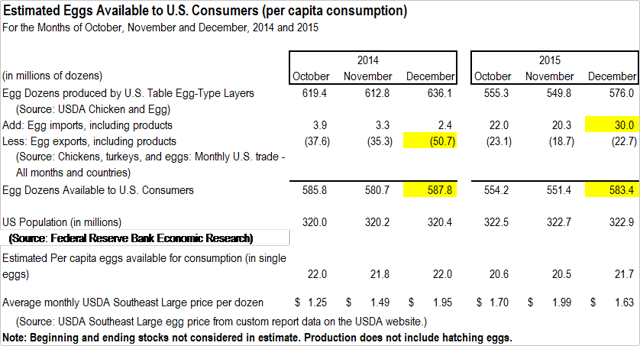 Source: This table was created using data from the: USDA Chicken and Egg report; Chickens, turkeys, and eggs: Monthly U.S. trade - All months and countries; Federal Reserve Bank Economic Research; and USDA Southeast Large weighted average price for each week ended (Friday), custom report then averaged for the month. Certain weekly Southeast Large quotes overlap months. A monthly average using daily egg quotes would produce a different average price for the month.
Egg supply, after net imports, for December 2015 was close to December 2014, which brought egg prices lower from summer-month highs. The following chart illustrates the relationship between the higher egg prices and the lower egg supply after the AI outbreak.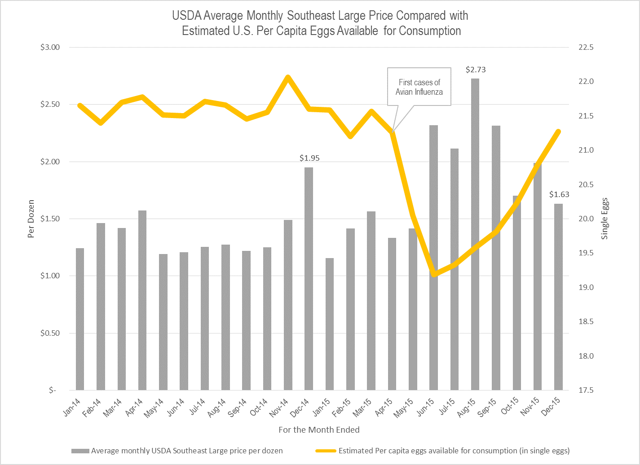 Source: This table was created using data from the: USDA Chicken and Egg report; Chickens, turkeys, and eggs; Monthly U.S. trade - All months and countries; Federal Reserve Bank Economic Research; and USDA Southeast Large weighted average price for each week ended, custom report then averaged for the month.
Note: The per capita eggs available for consumption amounts were "smoothed out" to adjust for the varying days in each month. Estimated per capita amounts do not consider beginning and ending stocks or eggs for hatching use.
Egg imports are projected to decrease and exports to increase in 2016, according to the February 9, 2016 World Agricultural Supply and Demand Estimates WASDE - 550 - 33. Canada and Mexico are the two largest export markets for U.S. egg producers. Egg producers have benefited from AI outbreaks in Mexico in 2012 and 2013. As Mexico rebuilds their flocks, some of this opportunity for export may be diminished. The stronger U.S. dollar may also make it more challenging for egg exporters.
As the U.S. layer flock is rebuilt, it will be important for the industry to reclaim its pre-AI export market positions and to reduce reliance on imports.
Rebuilding the U.S. Table Egg Type Layer Flock after AI
Table egg type laying hens on hand at December 1, 2014 and December 1, 2015 were 310.0 million and 285.2 million, respectively.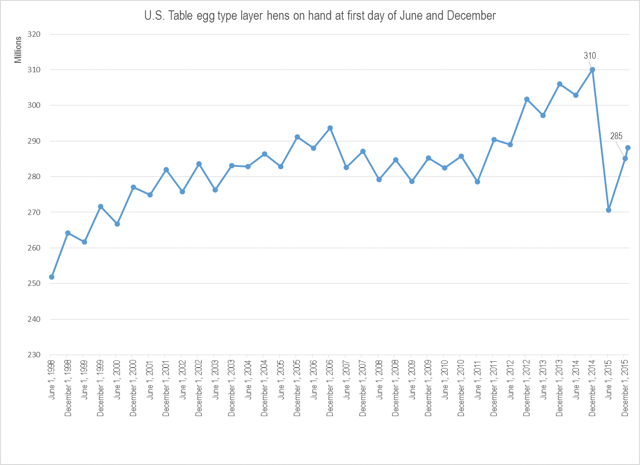 Source: This chart was created using USDA Chicken and Egg - Final Estimates, Annual Summary, and Monthly reports
Average layer hens during December 2015 for certain states with cases of avian influenza were lower than December 2014 as follows: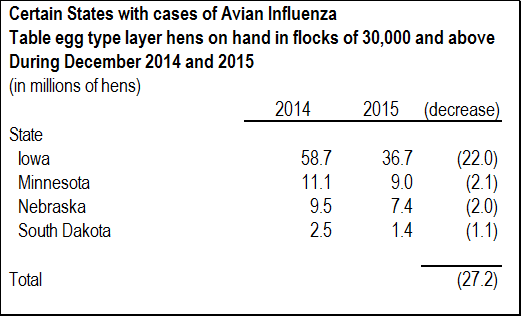 Source: Table created using January 2016 USDA Chicken and Egg report.
Assuming this decrease represents unused capacity due to AI, table egg-type layers on hand at December 31, 2015 might have been about 27 million hens more without AI or about 312.4 to 315.3 million.
Based on the recent increases in chicks hatched from the January 2016 Chicken and Egg report, the pace for replacing hens lost to AI may begin to pick up starting January of 2016. The following is the egg-type straight run hatch by month.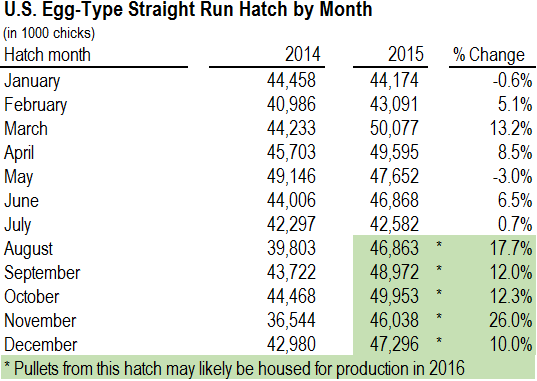 Source: Table created using December 2015 and January 2016 Chicken and Egg report.
Generally, it takes about five months from hatch date to house the pullets for production. To translate the above hatch into future pullets housed, the amounts have to be reduced by half to take out the males. Iowa State's Egg Industry Center had been preparing a monthly U.S. Flock Trends and Projections report that uses the formula of 47.5% five months ago straight run hatch times a livability factor of 95% to estimate table egg type pullets housed in the month five months ahead. Hopefully, Iowa State will resume publishing these excellent reports once the uncertainty from the AI outbreak is resolved and more accurate estimates can be made.
From CALM FY 2015 10-K:
The shell egg industry has traditionally been subject to periods of high profitability followed by periods of significant loss. The periods of high profitability have often reflected increased consumer demand relative to supply while the periods of significant loss have often reflected excess supply for the then prevailing consumer demand.
Lay Rates
In addition to lower hen numbers in December 2015, rate of lay was also lower by about 2%, indicating the hens on hand were producing fewer eggs than December 2014.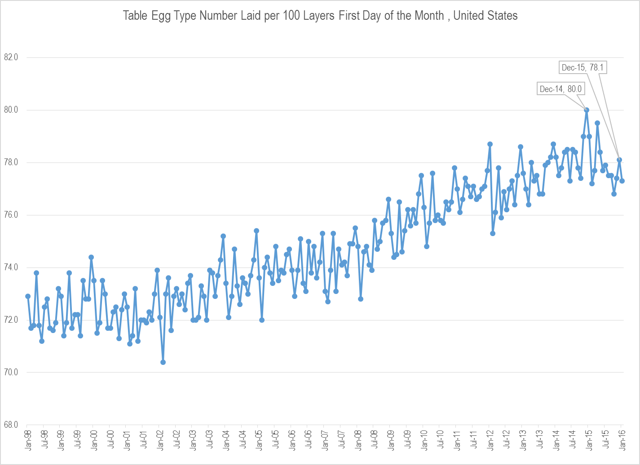 Source for Chart data: USDA Chicken and Egg - Final Estimates, Annual Summary, and Monthly reports.
Notice the lay rate improvement over the last decade. Today's U.S. layer hen is much more efficient at producing eggs.
The percent of hens that had completed a molt were 21.2% at January 1, 2016 compared to 18.1% at January 1, 2015, according to the January Chicken and Egg report. This indicates the age of the layer flock is older and less efficient compared to a year ago. This would make sense as producers who lost hens to AI and did not have replacements scheduled would want to extend their current flocks as long as possible. This may include adding a first, second or even third molt to take advantage of high egg prices.
Looking forward to December of 2016, most hens lost to AI may be replaced, additional capacity has been added by producers, including CALM, and the layer flock may likely be younger and more efficient. This added supply could put pressure on egg prices.
Lower feed costs should improve short-term profitability, but may also be a contributing factor to lower longer-term egg prices.
Feed Costs
The following chart illustrates the relationship between CALM's feed costs and egg prices received.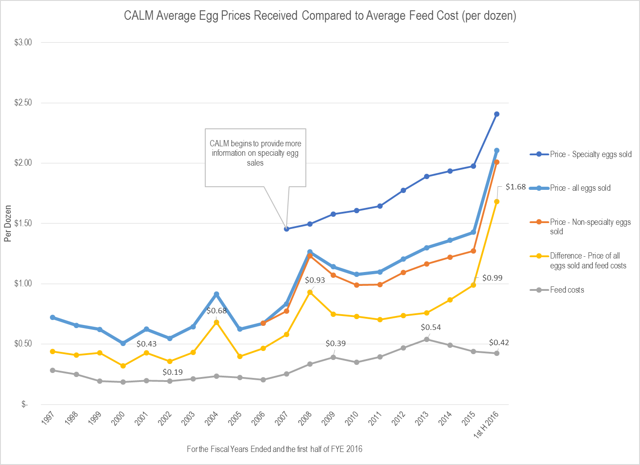 Source: Chart created from information included in CALM's annual 10-K reports and Q2 FY 2016 10-Q report.
In the last ten years, CALM's feed costs per dozen have risen and its average egg price per dozen sold has increased disproportionately more, resulting in a widening difference between average price received and its feed costs. This difference is only important when evaluating CALM's eggs produced and not eggs purchased from third parties. The widening of this difference between egg prices and feed costs has helped improve operating profits per dozen as follows:

Source: Table created from information included in CALM's annual 10-K reports. FY 2013 operating profit adjusted to remove litigation settlement.
To be fair, other factors have contributed to improved CALM's operating profits these last ten years, including economies of scale, an increase in CALM's specialty egg sales, and the industry's movement to reduce hens per cage.
The Cage-Free Movement
In the early 2000s, the United Egg Producers approved guidelines that provided more room for hens. The program was voluntary but the guidelines were followed by most large producers. In 2015, California 2008 Prop 2 to provide more space for hens went into effect. The January 2016 Chicken and Egg report indicates a reduction in the California layer flock from 14.7 million in December 2014 to 11.7 million in December 2015. In 2008, California had a table layer flock of over 20 million, which highlights the devastating effect the regulation has had on California egg producers. California consumers are now more reliant on eggs purchased from other states.
Recently, there have been a number of restaurants that have pledged to transition to cage-free eggs over time. If the industry meets this new demand with new construction, the U.S. layer flock will rise. If older houses with cages are refurbished, it could potentially reduce the U.S. layer flock.
Additional state or federal legislation around space for hens is possible, which makes it more difficult for an egg producer to choose a caged layer hen facility, including an enriched colony system, when expanding capacity. Currently, most consumers do not choose higher priced cage-free eggs over generic eggs at their grocery store but sentiment appears to be shifting.
It is expensive for producers to add or convert to cage-free production. Note 3 to CALM's FY 2015 financial statements in the 10-K indicates CALM entered into the Red River Valley Egg Farm, LLC joint venture to construct a state of the art facility that will house 1.8 million cage-free laying hens. Construction and startup costs are expected to be about $73 million. That is about $40 per layer hen for new cage-free construction. Refurbishing an existing layer house to convert to cage-free production would likely cost less per hen, but would still be quite costly.
In addition, it is more expensive to produce cage-free eggs as the hens are less efficient at converting feed and have a higher mortality rate.
CALM does not provide information on how many of its 34.2 million layer hens are cage-free, but we know about 78% of CALM's egg dozens sold are from caged hens producing non-specialty eggs, and about 22% from hens producing specialty eggs. Eggland's Best represents about 11% of dozens sold, according to CALM's most recent 10-K, and Eggland's Best eggs are nutritionally enhanced but not necessarily cage-free. If 85 to 95% of CALM's layer hens are caged egg producing hens, it would make it expensive to transition all or a portion of those hens and facilities to cage-free production if more consumers continue to choose cage-free eggs as their preference.
The added costs of cage-free production will eventually be passed to the consumer who will likely pay a higher price for those eggs. Egg demand might decrease for those consumers only willing to purchase cage-free eggs as prices for these eggs will likely be higher than generic eggs. As the industry adds more cage-free production, those eggs may become less "special" and the current premium producers like CALM receive for specialty eggs might be reduced. Cage-free eggs may even become subject to commodity pricing as generic eggs currently are, at some point in the distant future.
As costly as a transition to cage-free production would be for CALM, it might be more burdensome for smaller producers that do not have the significant cash position CALM has. Some producers might choose to sell out or just quit instead of making a significant and risky investment in cage-free production.
Since most industry hens are currently in caged facilities, it is a bit of a risk to purchase another producer that has caged hens considering shifting consumer demand and possible future regulation.
Acquisition Prospects
CALM's acquisitions have slowed over the last ten years. CALM's FY 2003 10-K indicates 10 acquisitions were made between 1989 and 2000 adding capacity for 21 million layers. CALM had two acquisitions in 2012 that added capacity for about 5 million layers. There have not been many opportunities for acquisitions in the last few years and some of those who have been willing to sell have asked more than CALM was willing to pay.
Recently, CALM has been adding new facilities and adding capacity to existing facilities. CALM has expressed a desire to reduce its reliance on third-party egg purchases. When the industry is profitable as it has been over the last ten years, CALM makes more on eggs it produces. The CALM FY 2015 10-K indicates the average outside egg purchase was $1.41 per dozen, which was almost as much as CALM's average selling price of $1.43 per dozen. Outside egg purchases are likely weighted towards specialty eggs, which are more expensive, but it certainly appears CALM makes very little on these eggs purchased for resale.
When CALM was able to grow with acquisitions, it did not affect the U.S. layer flock. If acquisition opportunities become limited, CALM may need to add hen capacity with new construction if it wishes to grow and continue to reduce reliance on third-party eggs producers. New construction adds capacity to the existing U.S. layer flock.
Prices for Competing Proteins
The egg industry appears to have benefited from higher beef, pork and chicken prices in their fiscal years 2014 and 2015. Over the last year, prices for these competing proteins have dropped, which may have some effect on egg prices once the layer flock is back to normal.
Avian Influenza
CALM benefited greatly from the 2015 AI outbreak as its company-owned hens were not infected. Some thoughts on potential future AI outbreaks for investors to consider going forward include:
AI could potential harm CALM if its hens become infected.
AI may affect the industry's ability to export eggs.
AI with strains transmittable to humans, although rare, could affect U.S. consumer demand.
Conclusion
The egg industry seems to thrive on uncertainty, and this last decade has had plenty. Over the last ten years, the industry has endured higher grain prices, a devastating outbreak of avian influenza, changing space guidelines for hens, and a shifting consumer demand towards cage-free production. Part of the result of this uncertainty has been a reluctance from egg producers to expand the U.S. layer flock, a balanced egg supply and demand relationship, higher egg prices and great profits.
After this decade of plenty, the egg industry may face a more challenging decade as egg supply rises with an expanding U.S. layer hen flock. CALM seems to thrive not only on uncertainty, but also adversity. CALM made significant acquisitions in the 1990s when egg consumption was in decline due to concerns about the adverse effects eggs may have on health and when egg profit margins were tight. CALM made another great acquisition in 2005 when industry margins appeared to be tightening up.
CALM has accumulated significant cash over the last decade. A more challenging egg industry operating environment may provide CALM with opportunities to put that cash to work and enhance its industry leadership position over the next decade.
Disclosure: I/we have no positions in any stocks mentioned, and no plans to initiate any positions within the next 72 hours.
I wrote this article myself, and it expresses my own opinions. I am not receiving compensation for it (other than from Seeking Alpha). I have no business relationship with any company whose stock is mentioned in this article.
Additional disclosure: This article is for informational purposes only and it should not be taken as an investment recommendation. Investing in stock markets involves a number of risks and readers/investors are encouraged to do their own due diligence and familiarize themselves with the risks involved. All research, facts, data and statistics referenced and contained herein are the opinions of the author of this article. No representation or warranties are made as to the accuracy, completeness or timeliness of the information contained in this presentation and the author of this article disclaims all liability for errors or omissions in, or the misuse or misinterpretation of, any information contained in this presentation.