In my previous article, I introduced Ian's Million Fund (IMF).
The IMF will demonstrate how, using a particularly basic and retail-friendly investing platform, anyone can accumulate a million dollars over the course of a working lifetime by steadily accumulating stocks with regular small purchases.
As a reminder, this is essentially a quasi-index fund, which will eventually own small stakes in hundreds of different stocks. Every month, I'll be buying the 15 to 30 most attractive stocks the market is offering up at that time.
What's Motif?
Let me briefly discuss the broker I'm using for this project. Remember, I'm aiming to approach this like other people in my age group would. Thus, we use a newfangled site that looks sharp and appealing to investing novices. (I primarily trade at Interactive Brokers, whose user interface is about as appealing as the DOS OS was back in the day)
Motif's main selling point is that you can trade baskets of up to 30 stocks at just $9.95 a pop. Thus, if you have $1,200, for example, you can buy $40 each of 30 different stocks (yes, they have fractional shares) and end up with a diversified bucket of stocks for under $10 in commission.
Most of the pre-made baskets on Motif's site seem to be bad ideas based on fads, hype or extremely narrow investing ideas. However, the core idea, buying a large group of stocks in one go at a low commission, is appealing.
You can easily share Motifs with others (the site is very social network friendly). For my friends who want investing ideas, I can now Facebook message them my Motif for the month which they can replicate with ease. (Disclosure: I get $1 every time someone purchases a basket I created, such as the basket of stocks I bought in January).
The site lacks basic functionality (no foreign markets, no options, etc.), but it works great as a platform for introducing new people to investing. It is easy to learn and has a pleasing user interface. And it is sufficient for my purposes of running this side account.
My January Buys
Like with any new endeavor, it's always nice to set off on the right foot. In this case, the IMF more than succeeded, with January's vintage of purchases already up more than 8% versus a 0% return for the S&P 500 (NYSEARCA:SPY) (prices updated through Friday's close):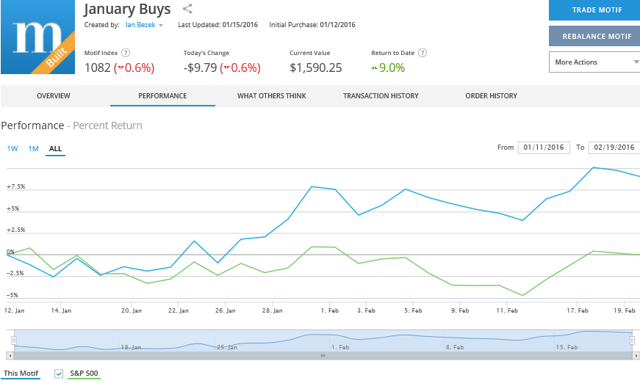 Click to enlarge
Of course, this is an unusually lucky stretch, the IMF aims to beat the market by 1 to 2% per year. It's a quasi-index fund after all, not an active high turnover fund.
That said, getting out of the gates with a 9% head start on the market is nice. What did I buy to generate this return?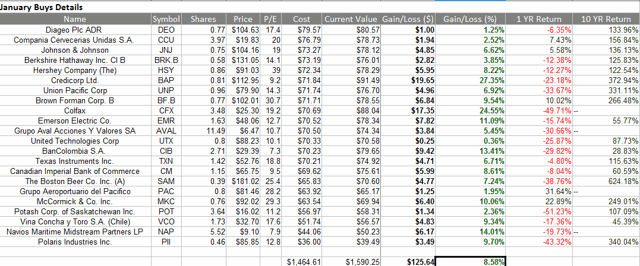 Click to enlarge
Important note: cost is the dollars I outlaid for the purchase, not my cost basis per share.
These shares were purchased in two orders, first on January 12th, and then with a top-up purchase of the same basket of stocks on January 15th as the market continued to tumble.
In a remarkable turn of good fortune, each of the 22 stocks I bought is in the green after a month while the broader market was only flat. Before getting into the details, I'd like to make note of two things about this basket of stocks.
First, look at the P/E ratios of what I bought. With a few exceptions (I'll cover them), everything is fairly valued or better, despite this being a generally overvalued market. Unlike, say, last year, there's a lot of value in the market if you look in the right spots.
Also, please compare the 1-year performance and 10-year performance of these stocks. Almost without exception, these stocks have all put in strong to outstanding 10-year performances.
And yet the median 1-year performance of these shares was -17%! And that's at today's price, at the lows where I bought them, they were down even more on average. For a long-term investor, that's what you want to see, strong stocks that are going through a rough patch to buy with valuations at attractive levels.
The 22 Stocks: Why did I Pick Them?
First up, as I've said on many occasions, I love beer and liquor stocks. After cigarettes, they're the second best industry performer (out of 30) over the past 82 years. They beat the market as a whole by more than 3% a year as a group.
Aside from potential moral concerns, there's no reason whatsoever not to own the sector heavily. The IMF is only trying to beat the market by 1-2% a year - anything I own in this sector by default is likely to more than meet that metric.
With the initial batch of stocks, I wanted to get my alcohol allocation going quickly, so I imbibed heavily in the sector.
Diageo (NYSE:DEO) is a large British spirits producer. Unlike the rest of the spirits sector which trades with 30 or higher P/E ratios, Diageo is on offer at 17x earnings. It's shockingly cheap for such a high-quality stream of earnings from rock-solid brands. For anyone building a portfolio from scratch today, this should be a cornerstone position.
I also bought Brown-Forman (NYSE:BF.B), maker of Jack Daniels and direct competitor to Diageo. Brown-Forman trades at a 31 P/E. I paid 28, and the stock has risen 10% since I bought.
Brown-Forman is a difficult stock. It is perpetually overvalued; its valuation tends to trade in a range between "really expensive" and "astronomical". I knew I was overpaying when I bought at $93 a share.
However, the business is so dependable - EBITDA has and is likely to continue compounding at 7% a year indefinitely - that you can hardly go wrong buying after any meaningful dip.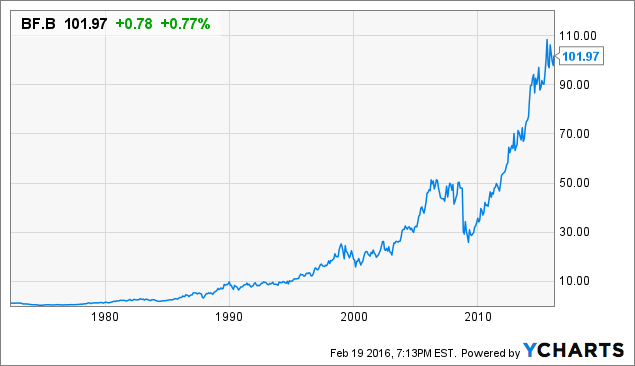 BF.B data by YCharts
To buy at $93 was to take advantage of the biggest selloff in the stock since 2009. Yes, I know the stock is expensive (and more so after the recent 9 point rally).
But when a company has impeccable fundamentals and is recession-proof, it's possible to hold your nose and overpay. Keep in mind that if you're trying to beat the market, you need to either own a stock like this if it's in the index, or find something that will outperform it over the span of your investing time horizon. Good luck with the later proposition. To me, this is the sort of stock you buy on dips and hold forever.
Also in alcohol, I bought a Chilean winery, Vina Concha y Toro (NYSE:VCO). Please see my article Undervalued Vineyards: Buy Concha y Toro Before The Market Does The Math.
Moving to beer, but staying in Chile, I bought Compania Cerveceria Unidas (NYSE:CCU), Chile's dominant brewer. It also produces wine and pisco, along with bottling Pepsi soft drinks in Chile.
The beer industry is consolidating; anyone that has a dominant position in a wealthy emerging economy will eventually be bought out. In the meantime, I'll collect a nice dividend on a fairly priced stock until Big Beer turns my CCU shares into equity of a larger company at a favorable exchange rate.
Also in beer, I purchased Boston Beer (NYSE:SAM), maker of Sam Adams. The valuation is reasonable (though not great), as the share price has collapsed recently on overblown fears regarding the outlook for cider.
Moving out of the liquor aisle, let's get the two other overvalued stocks I bought out of the way. I like to buy quality at a fair or cheap price, but sometimes I'll overpay for something particularly spicy.
With that in mind, let's discuss McCormick (NYSE:MKC). The dominant seasonings vendor is another stock that, like Brown-Forman, is always overpriced. I couldn't tell you the last time McCormick appeared to be cheap. And yet the stock illustrates the same stairway to heaven stock pattern: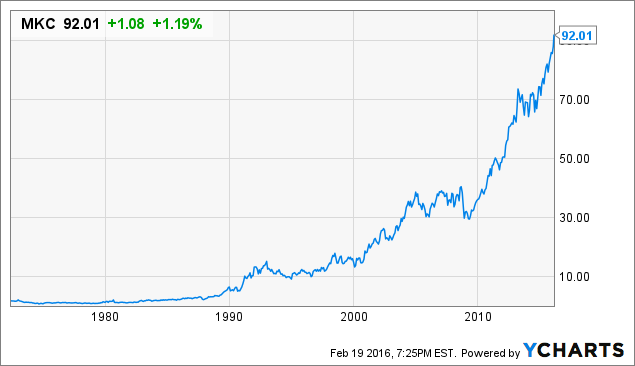 MKC data by YCharts
There's never been a bad time to buy McCormick, it's just a question of how good your entry is. I bought at a 27 P/E ratio and 18 EV/EBITDA ratio. That's not exactly value investing. I bought at $83/share, which is quite overpriced. Didn't stop them from getting 10% more overpriced within a month of my purchase.
When a stock is perpetually overpriced, buying dips is a sound approach. These are the sorts of stocks that clobber the index over the long run, I need them in the IMF.
Finally, in this category of stock I bought Grupo Aeroportuario del Pacifico (NYSE:PAC). PAC owns a bunch of Mexican airports. Notable holdings include the airports of Guadalajara, Puerto Vallarta, and Tijuana.
If you're a subscriber to SA Pro or my premium service, please see my article on the Auckland International Airport which discusses the specific reasons why the airport industry is so profoundly good. At the time, I said I had "overpaid" for Auckland shares. They trade 30% higher less than two quarters later.
Airports are an indispensable piece of infrastructure for the modern economy, and emerging market airports get a special growth kicker, as airports take increasing market share from inter-city buses. PAC wasn't a great buy on a valuation basis at $80 where I bought, but compared to the $97 recent high, it's about as good of an entry point as you could reasonably hope for: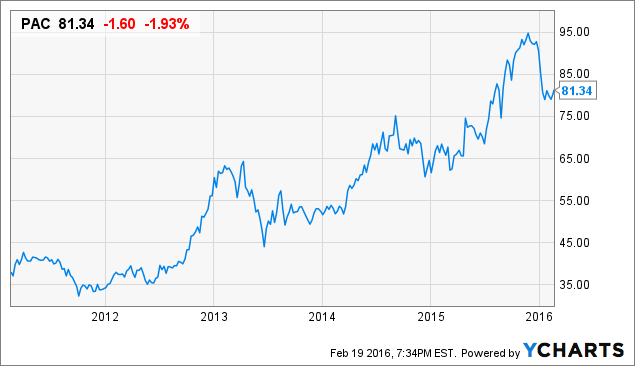 PAC data by YCharts
Now that we've got my sinful liquor and overvalued stocks out of the way, let's get to the easier to stomach stocks.
Johnson & Johnson (NYSE:JNJ) requires no explanation. Any time you can buy this firm at a decent multiple and selling at a discount to the broader market, there's no reason not to get some. I doubt you'll get many more chances to buy this under $100.
In the big industrials category, I went bargain-hunting, picking up both United Technologies (NYSE:UTX) and Emerson Electric (NYSE:EMR). United's selloff is harder to explain since it doesn't have a big energy exposure like Emerson. As far as long-term investments go, this seems like a reasonable entry point for both firms.
Texas Instruments (NASDAQ:TXN) is here to give me a token tech position in the IMF. I don't like tech stocks as long-term investments, so this is a logical holding for me in that it is about as wide moat and not consumer facing as you could hope for in the sector.
TXN is an unremarkable company selling at the broader market multiple and paying a completely reasonable 3% yield. This is the sort of boring holding that will quietly but nicely compound - a far cry from most of the tech sector with its drastic booms and busts.
Hershey (NYSE:HSY) is the sort of Buffett-type wide moat holding with an impeccable brand that you love to buy at a fair price. At the roughly 22x P/E I bought at (ignore the one-time charge and normalize earnings), Hershey is a great business at a decent price. Easy decision to buy. Another buy and hold forever stock: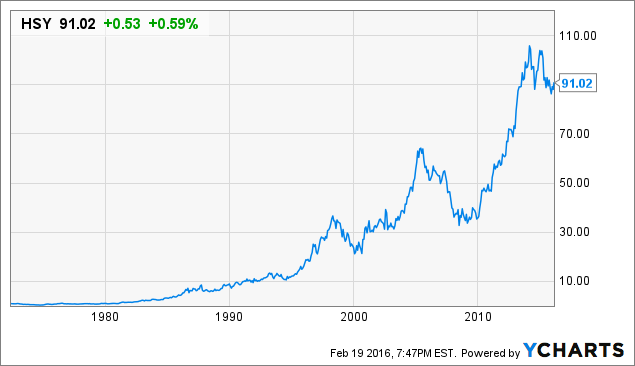 HSY data by YCharts
Keep in mind that Hershey wasn't exactly an unknown company in 1970, it was already a dominant player in its industry. And yet it still 50xed your money (not even including dividends) over a less than 50-year run.
If you're a 20-something, imagine the possibilities. Mock me if you wish for buying very small quantities of stock, but keep in mind with my 40+ year time horizon, even small purchases have ample time to compound massively.
Next up is Union Pacific (NYSE:UNP). I'm unsure if the past decade burst in railroad shares is a one-off event or a reflection of the improving economics of the railroad industry. Railroads aren't nearly as good as airports in terms of an infrastructure investment, but after a big selloff, I can still make space for Union Pacific in my index fund.
Berkshire (NYSE:BRK.B) (NYSE:BRK.A) is easy to explain. I'm a potential buyer whenever it's under 1.3x book value.
Colfax (NYSE:CFX) is a potential outsider company with a great capital allocation. See Protagonist's excellent write-up.
Polaris (NYSE:PII) sold off too hard on the bad 2015-16 winter and turned into an ugly momentum stock falls too hard while trying to convert to a value stock ownership base sort of play.
Potash (NYSE:POT) is arguably the riskiest stock of this 22-stock basket. It's a highly cyclical fertilizer play. It's the sort of stock that can go up 500% and down 80% repeatedly. At current levels, it seems to be reasonably valued, offers a decent dividend (even after the cut), and offers potentially explosive upside when crop prices rebound.
You can argue that companies like Potash don't belong in a DGI-type long-term investment portfolio. I don't disagree. But with a tiny portion of your funds, sock away a few shares of these industry-leading companies after their sectors collapse, and you'll earn strong returns on average despite the occasional wipeout. Just don't forget to take profits on the next cyclical boom!
Navios Maritime Midstream (NYSE:NAP) is the other contender for riskiest stock of the basket. The risk comes not from its underlying business, as oil tankers are a great place to be when oil prices are super-low.
However, the market has been treating the stock as though it were radioactive, likely since the mothership company Navios (NYSE:NM) is in trouble. I don't think this is fair, but there may be danger lurking that I don't see.
Shipping expert J Mintzmyer argues that NAP is safe and the 20% yield is not in danger. I trust his judgment and threw a few shares in my basket. It already paid a dividend in February, returning 5% of my cost basis in the first month of ownership. Not bad.
Finally, we finish up with the basket of Latin American emerging market banks, two from Colombia, one from Canada, and one from Peru. (Yes Canada, you've officially been downgraded from maple syrup to bananas.)
Of these, the Colombian banks are the best. Their non-performing loan ratios are falling despite the economy there slowing moderately. You know you have good risk control when your loan book fails to take note of significant economic stress. Colombia still sports an investment grade rating, a conservative government, and is less oil-dependent than is perhaps thought by foreigners.
As for her banks, both Grupo Aval (NYSE:AVAL) and Bancolombia (NYSE:CIB) have minimal oil exposure, stable balance sheets, and are continuing to grow nicely despite the soft Colombian economy. These firms are also the #1 and #2 largest banks in Central America, respectively, diminishing their Colombia and oil-specific exposure (Central America doesn't produce meaningful quantities of oil).
It's up now, but at the time of my purchase, Bancolombia was at 8x earnings and trading under book. It is a deep value play. Aval, with its higher valuation ratio and 6% dividend yield (paid monthly), is more appropriate for people who can take more risk and like a name that offers more income and slightly stronger growth prospects.
Credicorp (NYSE:BAP) owns Peru's largest bank. Peru is in many ways a less attractive economy than Colombia. I see less upside here long term, and the political situation isn't as attractive as Colombia's.
That said, with a debt/GDP ratio of under 20%, Peru is about as creditworthy as any emerging market nation could be. The economy has strongly rebounded after the weakness a year ago.
Credicorp's shares got clobbered during the January selloff for no apparent reason, setting them up for a 27% gain in a month since my purchase. To the unfortunate soul who sold to me at $88, you have my sincere condolences. Even at $113, the 10 P/E still is perfectly reasonable, though the valuation has moved from "fire sale" to "pretty cheap" over the past month: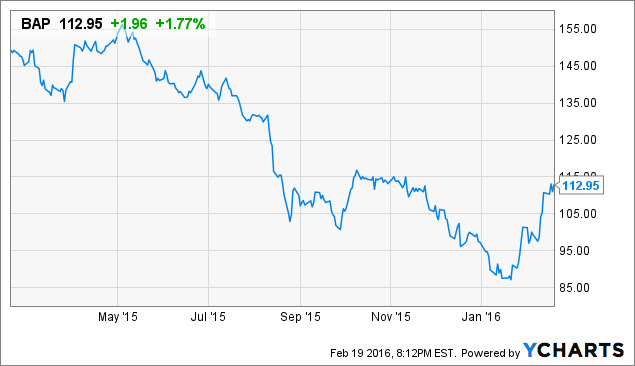 BAP data by YCharts
Finally, we have our honorary banana republic bank, CIBC (NYSE:CM). Brazil aside, Canada is quite possibly the biggest economic wreck in the Americas at the moment. The country's heavy bet on oil has gone tragically wrong.
The currency may soon be renamed the Canadian Peso, as it has fallen from parity to 1.40 in recent years. And the country's legendary housing bubble is rapidly deflating now. The flood of Chinese money that propped the Canadian economy up has slowed to a trickle.
So why buy CIBC? I'm probably quite early, and I intend to repeatedly average down. Despite its egregiously bad current situation, Canada has an enviable long-run track record. And its banking system has endured past crises well. These are the sorts of banks you want to own, and I'm willing to buy the falling knife in this case.
Disclosure: I am/we are long AVAL, BAP, BF.B, BRK.B, CFX, CIB, CCU, CM, DEO, EMR, HSY, JNJ, MKC, NAP, PAC, PII, POT, SAM, TXN, UNP, UTX, VCO.
I wrote this article myself, and it expresses my own opinions. I am not receiving compensation for it (other than from Seeking Alpha). I have no business relationship with any company whose stock is mentioned in this article.
Additional disclosure: I have no affiliation with Motif other than the referral policy discussed in the article.
Editor's Note: This article covers one or more stocks trading at less than $1 per share and/or with less than a $100 million market cap. Please be aware of the risks associated with these stocks.