When Lender Processing Services (NYSE:LPS) reported fourth quarter and full 2011 earnings on February 13, the company provided downside guidance on earnings and revenues. When the stock opened 6% lower, it sure seemed like a solid run from a steep one-day sell-off in December had finally come to an end. Instead, buyers stepped right in and took the stock HIGHER for the day. LPS closed UP 3.2% in a major reversal and is now an amazing 16.0% higher since reporting earnings.
click to enlarge image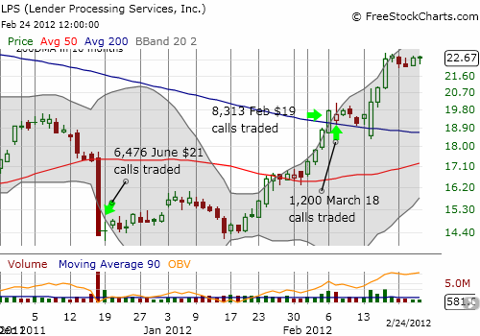 LPS has soared since December lows and responded surprising well to Feb earnings. Rally has now stalled on very low volume.
Source: FreeStockCharts.com
The labels in the chart indicate where heavy call-buying occurred since the December sell-off. I considered the first two major bullish signals, and interpreted the third one as potentially covered call selling as a pre-earnings hedge (see archives on LPS posts). In each case, the call buying translated into a similar increase in open interest. The buyers of the February calls did not close out their positions until the day before the calls expired, collecting a nice-sized profit along the way. The prescient buyers of the June 21 calls are sitting on a significant gain of over four times the purchase price. I am surprised these call holders have not locked in some profit and purchased some out-of-the money calls instead. Indeed, I have already sold my June 21 calls.
The LPS earnings conference call provides some clues revealing why investors and traders decided to buy the brief post-earnings dip. I read through the transcripts provided by Seeking Alpha and basically concluded that the company has put most of its legal and operational troubles behind it. LPS has a new management team with deep experience in the mortgage industry. It is fully cooperating with regulatory authorities and implementing required changes. The company is retaining key customers who may provide more business now that top banks have reached a foreclosure settlement with state attorney generals. New CEO Hugh Harris claims that "at the conclusion of the consent order process LPS will be the only provider of technology and services to the mortgage industry that has undergone such a thorough examination and risk review. This rigorous review sets us apart from other service providers and demonstrates that we are aspiring to achieve the gold standard, which represents our commitment to compliance, operating with integrity, and continuous review and improvement in all we do."
CEO Hugh indicated that LPS has finished its strategic view of the business and completed all related adjustments except for the sale of one last non-core business. Moreover, LPS is taking a charge of $78M which the company states covers costs related to the consent order, legal actions taken by state attorney generals and others: "…It is comprehensively what we believe at this point is [estimable] to resolve these issues."
In other words, LPS is positioning itself for a relatively fresh start going forward.
CFO Thomas Schilling, a frequent buyer of his own company's stock, summarized the challenges for LPS last year:
"…first, delays caused by regulatory and legal challenges resulted in sharp decline in industry-wide foreclosure activity; second, mortgage refinancing volume declined significantly in spite of record low interest rates for much of the year as many homeowners are forced to remain in higher interest rate loans because they cannot qualify for refinancing."
These challenges will carry over into 2012. The low guidance for Q1 of $470 to $490M in revenue and an adjusted EPS $0.50 to $0.55. reflects "…expected declines in both refinance originations and foreclosure activity…" The current run-up in LPS's stock is starting to reflect good outcomes for the company in 2012. So, I cannot recommend buying LPS as a severely undervalued and under-appreciated company. However, based on a forward P/E of 9.1, a price-to-sales ratio of 0.9, and healthy free cash flows, one can argue that LPS could still experience some valuation-based upside.
In the meantime, I am holding my shares with a partial hedge from covered calls. I will likely be looking to increase upside exposure on any future dips in the stock (depending on the catalyst of course).
Be careful out there!
Disclosure: I am long LPS.