Shares of Philip Morris International (NYSE:PM) have rallied by more than 6.5% over the past month despite the global economic woes, which could suggest lower shipment. Conversely, the U.S. dollar, which adversely affected its earnings in 2015, has devalued against leading currencies. This has helped persuade investors that earnings, at least in the first quarter, will record a lower adverse impact than previously expected on its earnings.
A weaker dollar, for now
Over the past year, the company suffered from the appreciation of the U.S. dollar against major currencies. But since the start of 2016, the U.S. dollar has depreciated mainly against the euro and Japanese yen. And since a substantial share of PM's revenue comes from EU and Japan, investors may consider that a weaker U.S. dollar could help improve the company's bottom line at least for the first quarter.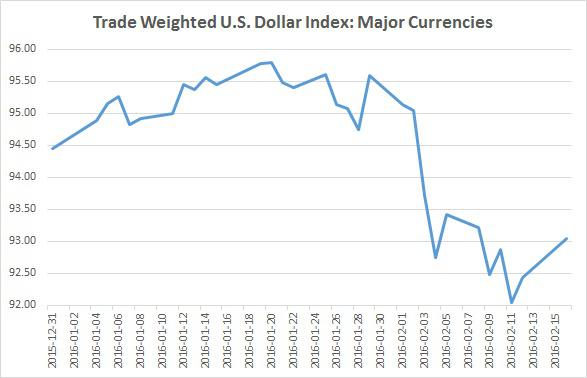 Source: FRED
The recent devaluation of the U.S. dollar was despite the latest news from Bank of Japan to slash its deposit rates to -0.1%, which should have brought down the yen. But instead the U.S. dollar continued to lose ground against it. The ECB may also introduce additional expansionary monetary policy as early as March - another development that should depreciate the euro. Alas, this hasn't been the case over the past few weeks. Also, the markets revised down their outlook about the Fed's cash rate and now tend to believe there might be, at most, a single rate hike this year, which also helped devalue the U.S. dollar. And a weaker U.S. dollar - even if it's just in the EU and Japan - will improve PM's profit margins. The management already raised its outlook regarding the adverse effect the unfavorable changes in currencies will have on PM's earnings: From $0.27 per share back in November to $0.6 as of the recent Q4 earnings report. Its total earnings per share are still expected to range between $4.25 and $4.35 per share or a mid-point of $4.3. This brings its forward P/E to 21.52. In comparison, Altria (NYSE:MO), which doesn't face currency risks, has a forward P/E of 20.2.
Unless the Fed were to reverse its decision from December and cut rates again, which doesn't seem likely for now (albeit remains a plausible scenario), the U.S. dollar is still likely to resume its upward trend as lower rates in Europe and Japan pressure down their respective currencies. And this, in turn, will hinder again on PM's profits.
Low interest rates also helped PM secure its $2 billion new issued debt at low coupon rate. But for a company with nearly $28.5 billion in debt against total assets of $34 billion as of the end of 2015, it may not seem as a prudent move - especially, if in the coming months, the company will use these funds to finance its dividend or buyback shares. Currently, the management hasn't decided yet if a share repurchase program will go underway this year. And it will depend on the "currency environment". Thus, if the U.S. dollar doesn't start to pick up, this could raise the chance of another buyback. A share repurchase program will save up on the hefty dividend it pays, which compared to the rates it pays on its debt seems even much higher, and return some cash to its investors. But debt isn't going away. And it raises the financial risk of the company. So a share repurchase program, which isn't financed with the company's operating cash flow, in the current market environment - we could still be heading towards a recession making it harder to raise cash in the markets if it does materialize - might not be a prudent decision down the line.
Philip Morris remains a solid company with strong business, but it does face several challenges mainly when it comes to the direction of the U.S. dollar. So far, the dollar lost some ground, which could help alleviate its adverse impact on PM's earnings in Q1. But this could change as central banks, including BOJ and ECB, keep finding ways to devalue their currencies. Finally, the company will have to decide whether buying back shares in the current market environment is the right move. As it seems now, this may not be the right move for the company over the long run. For more please see: Is it Time to Buy Altria?
Disclosure: I am/we are long MO.
I wrote this article myself, and it expresses my own opinions. I am not receiving compensation for it (other than from Seeking Alpha). I have no business relationship with any company whose stock is mentioned in this article.