The Canadian banking system has for a long time been deemed to be the most stable in the world: properly regulated, well managed, profitable Canadian banks have never suffered a systemic crisis.
Of the five main Canadian banks, Bank of Nova Scotia (Scotiabank) (NYSE:BNS) is the third largest, and in many ways, the most international, as it states consistently in its corporate presentations.
The Canadian banking industry is mature. Faced with the dilemma of reinvesting profits made in its home market at a lower rate of return or fully distributing them to shareholders via dividend, Scotiabank has chosen a third option: international diversification with a particular focus on emerging markets.
Thus, the bank paints itself as "Canada's international bank and a leading financial services provider in North America, Latin America, the Caribbean and Central America, and parts of Asia". The bank's business model embodies the classical main street bank design: the mix of retail banking, business banking and wealth management at home, in this case combined with an extensive network of subsidiaries in Latin American and Asian countries, many of them commodities exporters.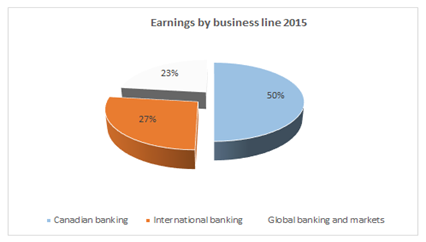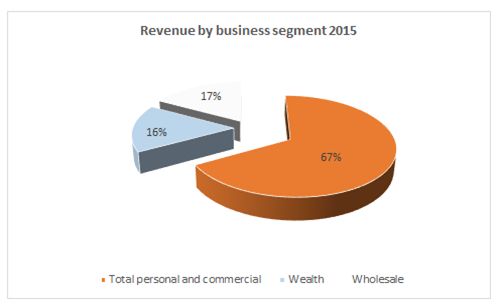 From its humble origins in 1906 when the bank opened a branch in Havana, Cuba, the international reach of Scotiabank has expanded significantly; at the start of 2016, the Canadian bank was present in more than 25 countries, mainly in developing Asia and Latin America.
Scotiabank has been prudent in its lending outside Canada, with a limited percent of its loan book - slightly more than 21% - lent abroad through its International Banking division. Nevertheless, overall exposure - loans, trade, interbank deposits, investment in subsidiaries and other claims - to non-Canadian held assets is far higher in relation to Scotiabank's equity.
Many of the geographic areas in which Scotiabank is invested are certain to be hit by the Chinese slowdown during the next 2-4 years, including China, Thailand, South Korea, Hong Kong, Malaysia and Taiwan in Asia, and Chile, Brazil, Peru and Colombia in Latin America.
Exposure of Scotiabank to these troubled geographic areas comes from two sources: 1) revenues and 2) loan book and ancillary exposure (equity stakes at subsidiaries, trade finance, interbank deposits, and similar assets).
In terms of loan book exposure to Asian and Latin American countries, most of them within China's production chain, it does not seem Scotiabank will be heavily impacted by the Chinese slowdown: combined loan book to the area is C$33.5B, compared with an overall loan book of C$458B, which is barely 7.3% of the total.
But if we take into account the overall exposure of Scotiabank to these markets - loans, trade finance, equity investments and other assets - the picture changes substantially: C$62.7B total exposure to these markets, compared with C$53.2B total equity for the bank and C$7.2B profits for 2015.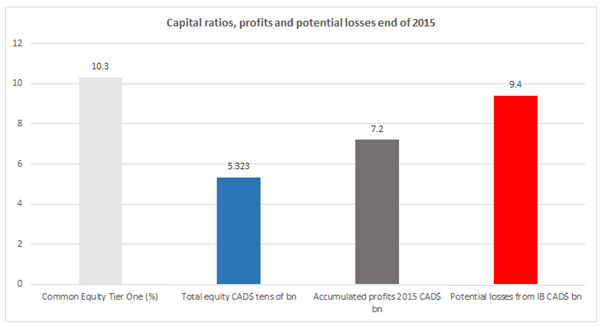 Thus, in a hypothetical case in which banking asset values in these countries reduce 15% on average due to spill overs from China's slow down, the impact on equity would be C$9.4B, or 17%, if marked to market; this would wipe out the bank's profits for more than a year.
We believe important systemic risks are hidden in the Scotiabank balance sheet and they will come to the fore during the next two-three years.
The bank's senior management said in 2014 that Scotiabank had tried to focus on Latin America instead of Asia and would do so even more in the future; this looks like a wise decision given how things are developing in the East Asian region. However, this will not negate the problem, both areas are linked by the commodities prices transmission chain and, in the case of South Korea and Japan, machinery exports to China. Finally, Scotiabank has its main issue at home: a decline in Canadian commodities export prices.
In terms of pricing, Scotiabank is not cheap. Current P/E is 9.7 and estimated P/E for 2016 is 9.5, according to Bloomberg. These figures are very similar to Royal Bank of Canada (NYSE:RY), which holds a safer balance sheet more extended in the US and Europe and is not exposed to emerging markets risk (P/E for 2015 was 10.5 and P/E for 2016 is 10.3 expected), and Bank of Montreal (NYSE:BMO), with P/E of 10.7 in 2015 and 10.4 expected for 2016.
Scotiabank is not cheap either, compared with international competitors in the US (Bank of America (NYSE:BAC) P/E 8.5, JPMorgan (NYSE:JPM) P/E 9.7, Wells Fargo (NYSE:WFC) P/E 11.6) and Europe (Barclays (NYSE:BCS) P/E expected 2016 7.5, BNP Paribas (OTCQX:BNPQF) 8.1).
Finally, by book value, Scotiabank is priced at 1.36 times, compared with 1.8 at Royal Bank of Canada and 1.25 at Bank of Montreal. US and European banks are even cheaper, at prices on average under 1 times books value.
Assuming an emerging market shock and further problems in Canada due to the fall of commodities export prices, price paid by earnings at Scotiabank could go to a very high level, or even disappear if losses do arise; consequently, price to book value would fall significantly.
What is the impact of all this on stock prices? It looks like a small part of this trend, but by no means all, has been already priced in the stock; further declines should follow.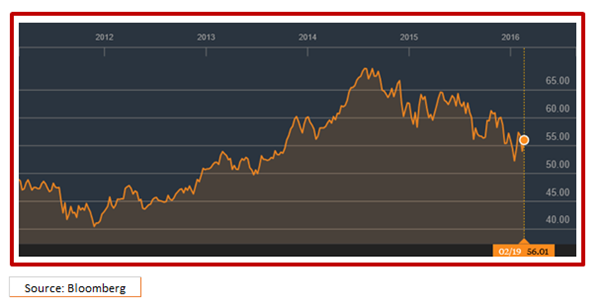 The stock price chart is very interesting; it follows the classical recovery patterns from the crisis in 2012 in the banking sector in America and Europe: strong recovery in 2012, 2013 and steeper increase of stock price in 2014 till a maximum of circa C$68.
From there, evolution is divergent with peers in intensity, with a very clear breach of the upside trend and the development of a downward trend in several phases.
It is noticeable that the fall is steeper and more constant than that of any other Canadian bank during the period.
Taking all this into account, it looks like what is impacting on Scotiabank's stock price more than on others is the fragile balance sheet situation driven by negative events in Asian and Latin American markets to which Scotiabank is exposed. Thus, the stock price trend downwards should continue and become steeper, pricing increasing financial risk in Asian and Latin American subsidiaries.
Disclosure: I/we have no positions in any stocks mentioned, and no plans to initiate any positions within the next 72 hours.
I wrote this article myself, and it expresses my own opinions. I am not receiving compensation for it (other than from Seeking Alpha). I have no business relationship with any company whose stock is mentioned in this article.