This week it will be another piece focusing on rate movements with a side of share price movements for a few of the mREITs that I spent more time tracking.
The mREITs
The table is demonstrated below:
| | | |
| --- | --- | --- |
| Annaly Capital Management | (NYSE:NLY) | |
| American Capital Agency Corp | (NASDAQ:AGNC) | |
| ARMOUR Residential REIT | (NYSE:ARR) | |
| Capstead Mortgage Corporation | (NYSE:CMO) | |
| CYS Investments | (NYSE:CYS) | |
| Dynex Capital | (NYSE:DX) | |
| Javelin Mortgage Investment | (NYSE:JMI) | |
| New York Mortgage Trust | (NASDAQ:NYMT) | |
| Orchid Island Capital | (NYSE:ORC) | |
| Two Harbors Investment Corp | (NYSE:TWO) | |
| Western Asset Mortgage Capital Corp. | (NYSE:WMC) | |
| MFA Financial | (NYSE:MFA) | |
| Ellington Residential Mortgage REIT | (NYSE:EARN) | |
| Arlington Asset Investment Corporation | (NYSE:AI) | Technically Corporation |
| ZAIS Financial | (NYSE:ZFC) | |
| Apollo Residential Mortgage | (NYSE:AMTG) | |
| Anworth Mortgage Asset Corporation | (NYSE:ANH) | |
| American Capital Mortgage Investment | (NASDAQ:MTGE) | |
| Cherry Hill Mortgage Investment | (NYSE:CHMI) | |
| Starwood Property Trust | (NYSE:STWD) | |
| Blackstone Mortgage Trust | (NYSE:BXMT) | |
| Chimera Investment Corporation | (NYSE:CIM) | |
| New Residential Investment Corp. | (NYSE:NRZ) | |
Rates
The following table demonstrates movements through February 18, 2016.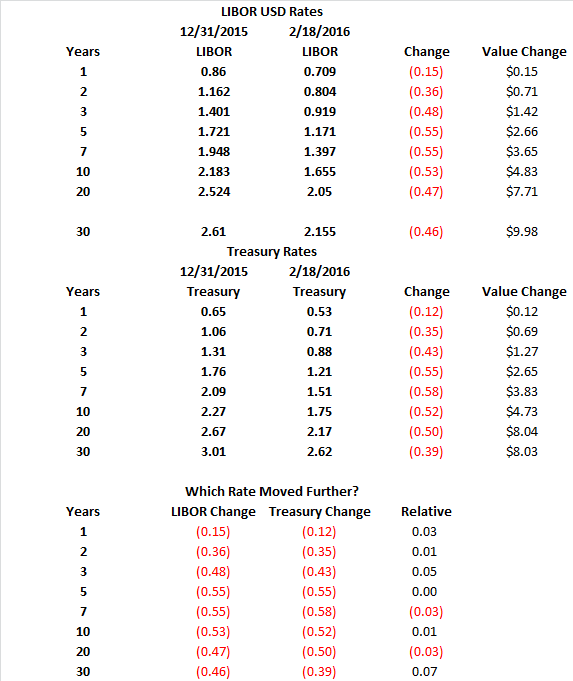 The part I want to emphasize here is the bottom part of the chart. The relative movements between LIBOR swaps and treasury rates are now mixed. It would be unfair to say either substantially outperformed without specifying the exact period.
When I ran the same numbers for week 18, the LIBOR rates had moved farther across every single maturity. Remember that the first quarter is one of declining rates so the MBS assets are increasing in price and the hedges are creating unrealized losses. The simple point here is that we just saw LIBOR swaps have a better week relative to treasuries which brings them into roughly a tie so far this quarter.
At the same time, we saw mREIT prices move significantly higher in some cases and moderately higher in others. I set up the following chart to establish price movements starting with prices near the end of trading on Friday of last week: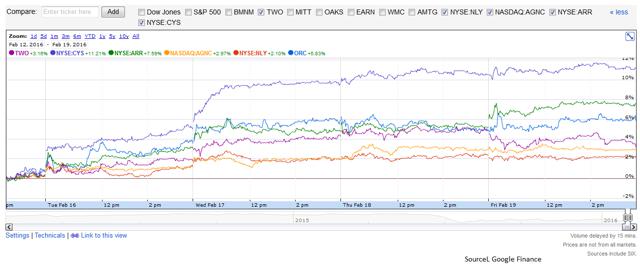 Click to enlarge
The size of the rally varies quite significantly, but it is reasonable to say that prices were advancing.
Pancakes
Investors often state that the point of an mREIT is to take advantage of the difference between short-term rates and long-term rates. That opportunity is disappearing as the curve flattens. Look at the change in the steepness of the curve:
| | | | |
| --- | --- | --- | --- |
| | End of Q3 2015 | End of Q4 2015 | Feb 18, 2016 |
| 7-Year Minus 1-Year | 1.42 | 1.44 | 0.98 |
| 10-Year Minus 2-Year | 1.42 | 1.21 | 1.04 |
Those measurements are made based on the treasury yields.
Discounts to Book Value
The reason for a substantial discount to book value in the sector is the logical expectation for weaker earnings performance. The kind of situation that would back up that assessment is a much flatter yield curve. The mREITs are benefiting from an expectation that short term rates will remain lower for longer, but the weak longer-term rates are creating a problem for future earnings and should incentivize a substantial amount of prepayments.
Ironically
The flattening of the yield curve is problematic for agency mREITs. It can be a worrying sign for non-agency mREITs also because they may hold some agency MBS assets and because it may indicate a recession on the horizon. Despite all that, I find it interesting that junk bonds rallied significantly last week and Two Harbors Investment Corp. had one of the weaker showings. I'm not referring to their non-agency MBS as junk, but I do think the impact of credit spreads should apply. A flatter yield curve should be less damaging for TWO and the decrease in credit spreads should reflect lower default expectations.
Conclusion
My stance on the sector overall at current prices has turned to bearish. There are some individual names where I'm sitting on a neutral stance such as TWO and CYS. I published my neutral stance on CYS this morning. Otherwise, my general stance is bearish. I think the mREITs have simply been rallying too much lately and most prices are no longer attractive. I also went firmly bearish on ORC.
At the time of my writing (Sunday, February 21, 2016) I was still long DX, but I was strongly considering selling out of my position. Monday morning shares opened relatively strong and I closed my position. The further price advances on Monday morning served to solidify my views that broad sector prices had moved too high relative to the fundamentals and I have eliminated my sector exposure. I will be watching for shares of any of the mREITs I frequently cover to fall to exceptionally cheap levels. Currently I have zero positions in the mREIT sector.
Disclosure: I/we have no positions in any stocks mentioned, and no plans to initiate any positions within the next 72 hours.
I wrote this article myself, and it expresses my own opinions. I am not receiving compensation for it (other than from Seeking Alpha). I have no business relationship with any company whose stock is mentioned in this article.
Additional disclosure: Information in this article represents the opinion of the analyst. All statements are represented as opinions, rather than facts, and should not be construed as advice to buy or sell a security. Ratings of "outperform" and "underperform" reflect the analyst's estimation of a divergence between the market value for a security and the price that would be appropriate given the potential for risks and returns relative to other securities. The analyst does not know your particular objectives for returns or constraints upon investing. All investors are encouraged to do their own research before making any investment decision. Information is regularly obtained from Yahoo Finance, Google Finance, and SEC Database. If Yahoo, Google, or the SEC database contained faulty or old information it could be incorporated into my analysis.