With the price of oil at $105 per barrel and gasoline prices at $3.59 per gallon, investors may want to consider owning oil and gasoline ETFs as a hedge against prices paid at the pump. Many experts are predicting that the price of gas in the U.S. will pass the $4 mark soon and have the possibility of reaching $4.25 per gallon by the end of April.
The reason for the price rise is a matter of supply and demand. On the demand side, emerging economies such as China and India are using increasing quantities of oil. The supply side has a few factors contributing to the rising prices. One supply factor is the fear of supply disruptions as a result of the conflict over Iran's nuclear program. Iran is the second largest OPEC oil producer behind Saudi Arabia.
The supply side shuttering of east coast refineries is also a contributing factor to the rise in gasoline prices. Thus far, two east coast refineries are no longer operating and a third, owned by Sunoco, is up for sale and in danger of closing. The east coast refineries are losing money, so naturally the owners are looking to sell them off.
What constructive things can frustrated drivers do from an investment standpoint to combat the rising oil and gasoline prices? There are a number of ETFs that follow the price of oil and gasoline. Investors can hedge their pain at the pump by buying one of these ETFs.
United States Gasoline Fund (NYSEARCA:UGA)
UGA tracks the changes in percentage terms of the price of gasoline. It invests in the near month futures contract on unleaded gasoline delivered to New York harbor which is traded on the New York Mercantile Exchange. The actual UGA units are sold on the NYSE Arca.
UGA is treated as a partnership for U.S. income tax purposes; therefore gains or losses are required to be reported on a Schedule K-1 as opposed to Form 1099.
It is currently trading at $56.68 and has a management expense ratio of 0.60%.
click to enlarge images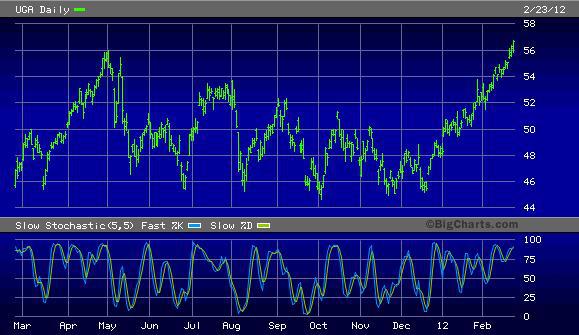 Click to enlarge
United States Oil Fund (NYSEARCA:USO)
USO is a domestic exchange traded security designed to track the movement of light sweet crude. USO units are also traded on the NYSE Arca. It is designed to change in percentage terms of its unit's net asset value to reflect changes in percentage terms of the spot price of light sweet crude oil delivered to Cushing, Oklahoma. This is measured by changes in the price of futures contract for light sweet crude oil traded on the NYMEX minus USO's expenses.
Gains or losses from an investment in USO are also reported on Schedule K-1 for tax purposes.
USO is trading at $41.37 and has a management fee of 0.45%.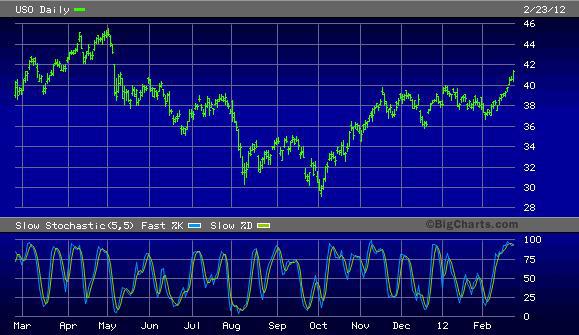 Click to enlarge
Powershares DB Oil Fund (NYSEARCA:DBO)
This fund aims to track the price and yield performance of the Deutsche Bank Liquid Commodity index Excess Return. It is a rules based index composed of futures contracts on light sweet crude oil and is intended to reflect the price of crude oil.
DBO has a current price of $31.40 and has a management fee of 0.75%.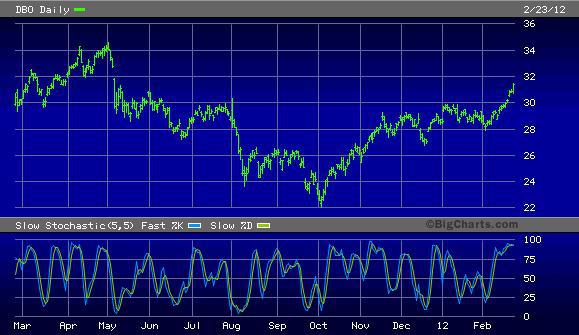 Click to enlarge
Barclays Bank plc iPath Exchange (NYSEARCA:OIL)
This investment is linked to the performance of the Goldman Sachs Crude Oil Return index. It reflects returns through an unleveraged investment in the West Texas Intermediate crude oil futures contract plus the Treasury Bill rate of interest that could be earned on funds committed to the trading of the underlying contracts.
Its current price is $26.89 and its annual fee is 0.75%.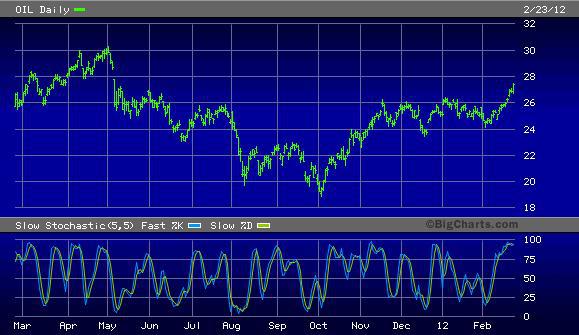 Click to enlarge
Conclusion
Keep in mind that investments in these ETFs can be highly volatile and risky. However, with high risk, comes high reward if the timing is right. Although these ETFs look temporarily overbought, this condition may last for a while due to the current actual supply and demand issues combined with the fear of potential supply issues. Investors can trade these strategically as a hedge to offset the price at the pump.
Disclosure: I have no positions in any stocks mentioned, and no plans to initiate any positions within the next 72 hours.