STORE Capital (NYSE:STOR) reported its fourth-quarter figures on February 23rd before the market opened. Due to the exceptional volatility in share prices over the first hour, it may be very easy for investors to be entirely misled about what happened. I want to quickly address both the earnings and the share price movements. STORE Capital is a fairly significant holding in my portfolio, so it merits close watching.
Q4 Results
The fourth-quarter results were solid. STOR reported FFO of $.38 per share and AFFO of $.40 per share. The results beat analyst expectations of $.36 for FFO. Some reports indicated that FFO (rather than AFFO) was $.40. That would've been a fairly substantial beat. The results were solid, but they shouldn't have been much of a surprise. STORE Capital does quite a few things that I find very appealing as an analyst. One of those things is providing preliminary estimates on its performance. Back in January, management went over the books and estimated where the figures would end for the year. This is a solid technique, because it reduces the uncertainty. Remember that risk demands returns, and it is critical for REITs to achieve the lowest cost of capital possible. By providing more timely information and updated guidance, STORE is reducing the necessary risk premium.
In the preliminary estimates, from late January, STOR indicated expected FFO to be in the range of $.36-.38 for the fourth quarter. It also guided for AFFO to be in the range of $.38-.40. In both cases, they hit the top end of management guidance.
Guidance
In the earnings release, management guided for AFFO of $1.59-1.63 per share. To put that in perspective, AFFO for full-year 2015 was $1.49. The middle point of the range indicates growth of 8% year over year. If management hits this estimate, and I believe their guidance is realistic, it will be very solid growth.
Acquisitions
The following section from the earnings release indicates how STOR was doing with regard to acquiring properties at attractive rates:
"The Company originated $272.6 million of gross investments representing 86 property locations during the fourth quarter of 2015. These investments had an initial weighted average cap rate of 7.9%. Total investment activity for the year was $1.2 billion representing 394 property locations and an initial weighted average cap rate of 8.1%. The Company defines initial cap rate for property acquisitions as the initial annual cash rent divided by the purchase price of the property."
The weighted average cap rate is solid, and the description specifically stating the initial annual cash rent is another high-quality disclosure. The abundance of information supplied to shareholders makes this REIT easier to analyze, which brings investors back to the theory that management should seek to minimize the weighted average cost of capital.
There are several REITs, even triple net lease REITs, that trade at much lower valuations. You can find a stronger AFFO yield, FFO yield, or dividend yield in other names. The "best-of-breed" REITs, a category which also includes perennial champions like Realty Income Corp. (NYSE:O) and National Retail Properties (NYSE:NNN), have performed exceptionally well during the decline across most of the equity markets. In a flight to quality, these high-quality REITs see their prices soar.
AFFO Yield
If you want to analyze STORE Capital using its trailing AFFO yield, it would be 6.01%, based on a recent price of $24.78. If you want to use forward AFFO yield with the middle of the range, it would be 6.49%. Either way, the cost of equity capital is higher than the cost of debt capital. When new properties are acquired at 7.9-8.1% capitalization rates, they should be immediately accretive.
Acquisitions during 2015 are a substantial source of growth for the AFFO estimates for 2016.
Price Movements
The following chart demonstrates the price movements over the last three days: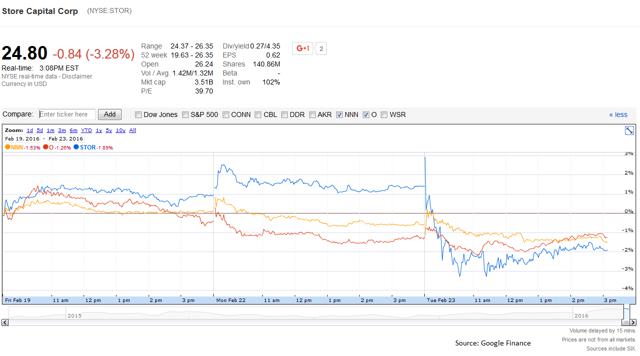 Click to enlarge
Over the time period, the total returns on each of these top-quality triple net lease REITs was fairly similar. When I saw the movements yesterday, I contemplated making a short-term trade, since STOR was looking especially strong for the end of Monday, based on very short-term relative movements. I didn't pull the trigger because that is more technical analysis than I care to use.
Investors concerned that perhaps shares opened high and then sold off because of something dastardly in the earnings release can relax. Shares opened high because STOR was beating expectations by coming in at the top end of guidance. I believe the subsequent decline was based on shares being high relative to recent comparable figures.
Conclusion
I'm already long STOR, and I'm debating making a small addition to the position. Both the results and guidance were solid, and my fundamental reasons for liking the business have not changed. The top-quality names are all fairly expensive, but my expectation of "lower for longer" for interest rates would suggest prices remaining relatively elevated.
Disclosure: I am/we are long STOR, NNN.
I wrote this article myself, and it expresses my own opinions. I am not receiving compensation for it (other than from Seeking Alpha). I have no business relationship with any company whose stock is mentioned in this article.
Additional disclosure: Information in this article represents the opinion of the analyst. All statements are represented as opinions, rather than facts, and should not be construed as advice to buy or sell a security. Ratings of "outperform" and "underperform" reflect the analyst's estimation of a divergence between the market value for a security and the price that would be appropriate given the potential for risks and returns relative to other securities. The analyst does not know your particular objectives for returns or constraints upon investing. All investors are encouraged to do their own research before making any investment decision. Information is regularly obtained from Yahoo Finance, Google Finance, and SEC Database. If Yahoo, Google, or the SEC database contained faulty or old information, it could be incorporated into my analysis.