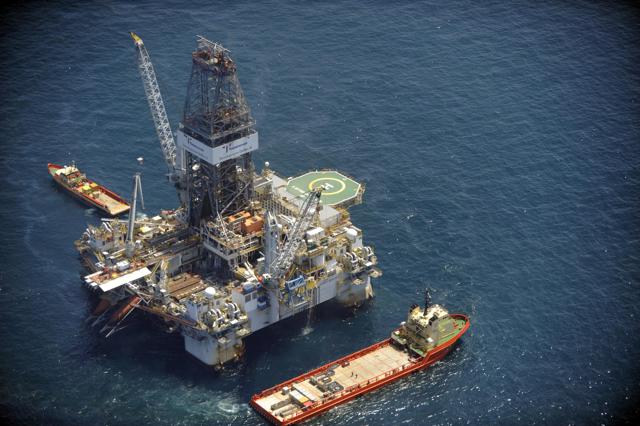 Image: GSF Development Driller I
This article is an update to my preceding article on Transocean (NYSE:RIG), published on February 13, 2015, regarding the February fleet status.
Today, Transocean announced the following:
The company has received a notice of early termination from Esso Exploration Angola (Block 15) Limited for the ultra-deepwater semisubmersible GSF Development Driller I. The rig`s drilling contract is expected to end in May 2016 with the demobilization completed in June 2016. In accordance with the terms of this contract, the company will not receive a payment compensating it for the remaining contract term.

The company does not have other contracts in its backlog that permit uncompensated cancellation for convenience
Here is what the FSR indicated as February 28 for this particular semi-submersible.
2005

Semi

6/16

6/16-6/17

367

370

(Exxon Mobil)

Angola

(90d)1Q'16 (78d)2Q'16
Transocean indicated today that it will be no compensation for the Esso termination for convenience, and it is the last rig with such dangerous clause, which is a relief for shareholders.
Now, let's calculate roughly the loss in backlog.
1 - The rig was expected to roll off contract in May 2016 with demobilization completed in June 2016.
I assume that demobilization will be done by June 20, 2016, and is paid at the same rate. It is a total of 120-day or $44 million. However, 114-day at 0-rate remaining were scheduled in 1Q'16 and 2Q'16 (total 168-day) -- assuming that the 5-year survey started the 1/1/16 -- which means a real backlog loss of nearly nothing or a few million dollars, in my opinion. Thus, it is not a huge loss at first glance.
2 - However, looking at the contract, my attention has been particularly attracted to the operator name in the last press release.
Transocean said that it is ESSO Exploration Angola (subsidiary of XOM) who terminated the rig early, which was contracted until June 2016. But, the semi-submersible GSF Development Driller I, is contracted to Exxon Mobil and a one-year contract is supposed to follow in June 2016 to June 2017 at $370k/d? I assume that this contract is still valid and could eventually start earlier?
I see that the rig has a total of 168-day off-rate, and I assume again that it is the 5-year survey which should come about now. The Rig has was delivered in 2005 and the second 5-year survey is now.
In some cases, the 5-year survey can be conducted while drilling and the rig owner can still be paid. I am guessing that this situation has been the trigger for the early termination.
The oil market has deteriorated significantly since the start of 2016, and many oil operators have decided to terminate their drilling contracts early, without any compensation, if possible. It is particularly strong in West Africa, where costs are higher. Recently, Ocean Rig announced that the Ocean Rig Apollo was terminated early by Total in Congo (compensated) and earlier ENI terminated earlier the Ocean Rig Olympia (may not be compensated?).
On the other hand, Vantage drilling got a 2-year extension in Congo for the Tungsten Explorer until 2Q'18 with Total, which is puzzling, and I wonder what has been the day-rate agreed, in this case?
This is a new concerning trend that shows how desperate big oil operators feel right now, with a depressed oil price well below breakeven prices for any exploration onshore or offshore.
I expect this trend to continue until oil prices firm up again.
Transocean is supposed to report tomorrow and I am sure we will know more about this situation and the overall market.
Disclosure: I am/we are long RIG.
I wrote this article myself, and it expresses my own opinions. I am not receiving compensation for it (other than from Seeking Alpha). I have no business relationship with any company whose stock is mentioned in this article.