Sometimes I stare at the various portfolios I have and wonder what regular retirees would do if there was no need for income from dividends to live perfectly fine! Let me just hypothesize one simple scenario:
The retired couple has expenses totaling $4,000 per month.
Combined Social Security for the couple is roughly $3,500 per month, which is right about the average for a couple over the age of 66.
Each also has a pension from being teachers for the last 40 years, of about $5,000 combined (in New York City, that number could be double or triple by the way).
A combined total of $8,500 per month, versus total expenses of $4,000 per month gives this couple a cash surplus of $4,500 each and every month.
On top of that, this couple has amassed retirement savings of $500,000 by simply saving a decent percentage of their income over the last 40 years.
I would take a wild guess that the folks reading this are wishing this little scenario applied to THEM! Wow, having a pot filled with $500k PLUS being able to add another $4,500 month to it seems like financial security to me.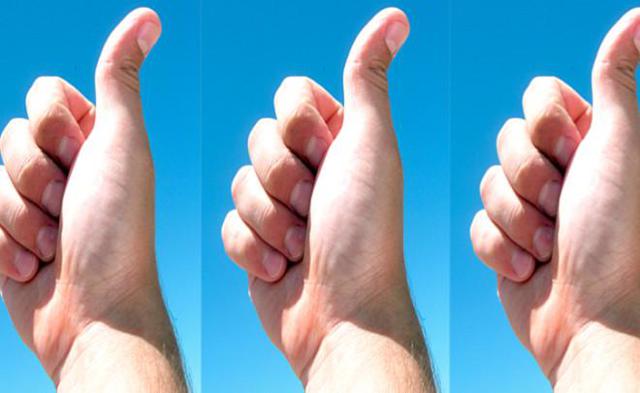 Why Am I Even Thinking About This On An Investment Website?
While I overhaul the Team Alpha Retirement Portfolio to a more defensive mix of stocks, it hits me that I am reducing the number of stocks within the portfolio, which will obviously increase the individual allocation for each position.
As a matter of fact here are the recent trades I made, and I actually announced them right here on Seeking Alpha in real time by the use of "StockTalks," which comes in handy for real time announcements. I suggest you look at those whenever you are here, to stay current and updated in real time.
I sold TARP positions in General Motors (NYSE:GM), Ford (NYSE:F), Annaly Capital (NYSE:NLY), PetMed Express (NASDAQ:PETS), and yes I bit the bullet on HCP, Inc. (NYSE:HCP) somewhat reluctantly.
Here is the small chart of these trades: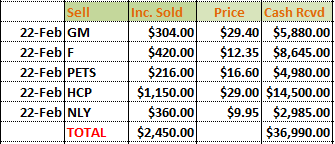 TARP now has about $48k in cash reserves and an income stream of more than $13k annually. My job will be to allocate the cash into the remaining positions within TARP, and perhaps add a new one or two. By the end of the month, I will do a complete update for everyone to see, and while the income stream has dipped for the time being, the value of the portfolio remains rather strong, and I am confident that I can grab most of that income back with the cash reserves.
While all of that is well and good, what would our hypothetical couple noted above, who didn't need one penny from a dividend income stream, do? Actually 52% of our population has NOTHING in the stock market, and while most of that is made up of folks that have no money, there are plenty of folks who fall into that pleasant scenario I outlined above.
While everyone is different, I can tell you what I would do, which might be the easy-peasy way, but if I am being honest with myself, I come up with a very simple answer.
I would keep the money as liquid as possible, and never purchase another stock (or individual bond) again!
Why would I put any of the savings I had (in the hypothetical case, $500k) at risk? To me, it simply makes no sense.
Expenses of $4k per month are covered by a lifetime income of $8.5k per month from Social Security and teachers' pensions!
Here is what I would possibly do:
Capital preservation is my number one rule.
I would stay as far away from the stock market as I can.
I would probably play poker or blackjack with a few bucks if I wanted the "thrill" of gambling, and you know as well as I do that investing in stocks is basically gambling, at different levels of course, and with a tie on.
I would not want to pay very much in taxes, so I would probably look for an intermediate municipal bond fund that is not subject to Federal taxes. One that I personally like is the Fidelity Intermediate Municipal Bond Fund (MUTF:FLTMX).
FLTMX has a current TAX FREE yield of about 1.26% paid monthly.
The cost of the fund is a tad over .25% and is very liquid.
Keeping a chunk of money in a fund of this kind will, at the very least, keep your savings up with inflation.
Every month, I would take a chunk of the extra $4.5k of income right into that fund (actually I would wait till I had $10k, which is the minimum investment required for this fund).
I would then focus on making certain my long-term care is taken care of, whether self funded or via LTC insurance.
I would make certain my supplemental insurance besides Medicare is a platinum plan. (Sure, I want to live forever in this scenario.)
I would make certain that we have an updated will for the benefit of our children and grandchildren, and probably fund their college educations as much as possible.
To further reduce taxes, I probably would explore the world of charitable trusts to fully fund for the sole purpose of philanthropy and, of course, giving the government less in taxes.
Once I had all of our assets insured, I would kick back and live my life without a care (of money) in the world!
The stock market? I wouldn't need no stinkin' dividends!
Sounds good to me. What would YOU do?
Why "Follow" Me?
The main reason for a subscriber to "Follow" me, especially for the model portfolios (TARP or otherwise), is to glean some knowledge to become a better investor and not simply place bets.
Money management is every bit as important as any other aspect of investing, and by following a portfolio and the actions taken, you can gain some insight into a somewhat higher level of investing acumen. There are no requirements, and this is not "rocket science" -- it is simply a powerful way for you to put the money you have worked hard for to work even harder for you.
My message will be consistent, and my hope by doing this is to share my own experiences, illustrated in the model portfolios I build exclusively for Seeking Alpha.
Knowledge is power, and many folks shy away from the investing world because that very world makes it more confusing each and every day in an effort to sell you something: stock picks, technical strategies, books, videos, subscriptions with "secret ideas," gadgets, and even snake oil.
My promise to you is that my work here will remain free to all of my followers, with the hope of giving to you some of the things that took years for me to learn myself. That being said, let me reach out to you with my usual ending:
**One final note: The only favor I ask is that you click the "Follow" button so I can grow my Seeking Alpha friendships. That is my personal blessing in doing this, and how I can offer my experiences to as many regular folks as possible, who might not otherwise receive it.
Plus, it is free (and will continue to be) and does not cost one penny for anyone who reads me.
Disclaimer: The opinions and the strategies of the author are not intended to ever be a recommendation to buy or sell a security. The strategy the author uses has worked for him and it is for you to decide if it could benefit your financial future. Please remember to do your own research and know your risk tolerance.
Disclosure: I am/we are long FLTMX.
I wrote this article myself, and it expresses my own opinions. I am not receiving compensation for it (other than from Seeking Alpha). I have no business relationship with any company whose stock is mentioned in this article.