Japan's February flash manufacturing PMI fell 2.1 pts from 52.3 to 50.2, surprising many. In fact, PMI levels have not been this low since April 2014 when a consumption tax hike dampened business sentiment. Prior months had seen solid readings within the 52 and 53 range. The sudden drop in PMI indicated business pessimism about the Japanese manufacturing outlook. Job creation and input as well as output prices also fell.
The decline was broad based with all five components contributing to the 2.1pt headline index decline. New export orders, a leading indicator, also deteriorated, registering at 47.9 (from 53.1). However, finished goods inventories rose to 1.3pts to 48.8 from 47.5. Purchasing price index meanwhile, rose 0.1pt to 48.1 while the product price index fell 0.4pts to 48.5.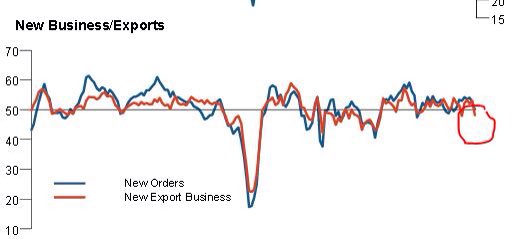 Source: Markit
While it is certainly true that the latest PMI reading remains above 50 and indicates expansion, the trend in PMI reading is cause for pessimism. It indicates that the downward spiral is likely to continue and feed into coming industrial production (NYSE:IP) data. Slower IP should in turn, weigh on GDP growth if the later data releases confirm this trend.
Both input and output prices also came in lower. On the producer side, lower oil and the yen appreciation resulted in lower input costs. This did not however result in margin gains as lower costs filtered through to selling prices to support volume.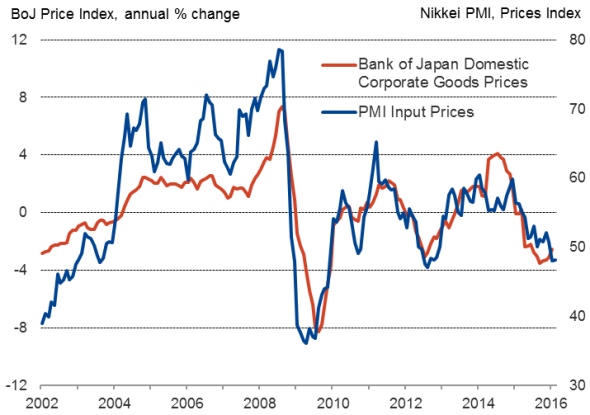 Source: Markit
The PMI release suggests producers are cutting back on output growth in light of inventory buildup.
Japanese manufacturers had actually signaled strong production plans for the month (+7.6% YoY) in the METI's survey of production forecasts. Yet, latest PMI figures have fallen. It should be noted as well that Japanese economic data is affected by seasonal distortions in January and February. Therefore, the reliability of readings during these two months may be compromised somewhat. Production disruptions may also have contributed to the weaker PMI.
This does not bode well for Abenomics as we know it. On the one hand, weak manufacturing prospects indicate that Japan's expansionary policies have not been working as effectively as intended. On the other hand, the weak PMI print could be reflective of the weak global external demand. The recent yen appreciation has likely weighed down manufacturing as producers begin to lose competitiveness. The BoJ's recent move to cut rates below zero should help boost export competitiveness but it is hard to say if the move will have long lasting effects especially since everyone else is following suit.
PMIs generally overpredict global manufacturing output growth. Thus, Japan's weak PMI reading might mean one of two things - 1) manufacturing output is set to trend further downwards or 2) the historical tracking error associated with PMIs will be eliminated.
The weak flash PMI has poor implications for Japanese growth, as a manufacturing slowdown will weigh on growth and raise the possibility of recession. For more color on how manufacturing pans out going forward, all eyes will be on next Monday's January IP report.
Disclosure: I/we have no positions in any stocks mentioned, and no plans to initiate any positions within the next 72 hours.
I wrote this article myself, and it expresses my own opinions. I am not receiving compensation for it (other than from Seeking Alpha). I have no business relationship with any company whose stock is mentioned in this article.