As Dunkin' Brands (NASDAQ:DNKN) creeps ever closer to the price target we set out in January, we continue to hold onto the shares despite an almost 18% return after a rapid ascent in the last 30 days.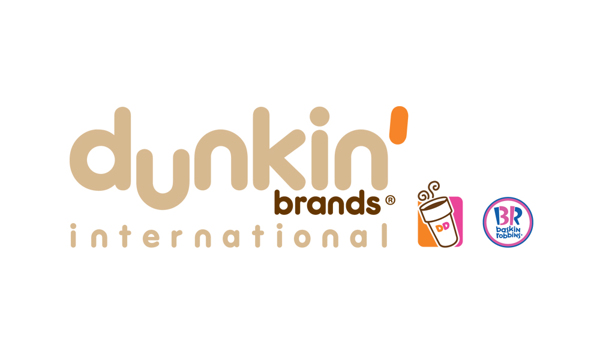 We are undoubtedly over the moon with the performance of Dunkin's Brands since we invested in it. But as we laid out in our thesis, this was not a short term investment. We could take our 18% return and run, but we still hold true our belief in there being long-term gains over the next five years or so.
Like many, we were a little perplexed by the decline in same-store sales in the most recent fourth quarter. It is of course a slight concern, but the fourth quarter is notoriously a slow one and the weather was warmer than usual let's not forget. On the graphic below you can see the fourth quarter trend which shows much lower levels of comps growth.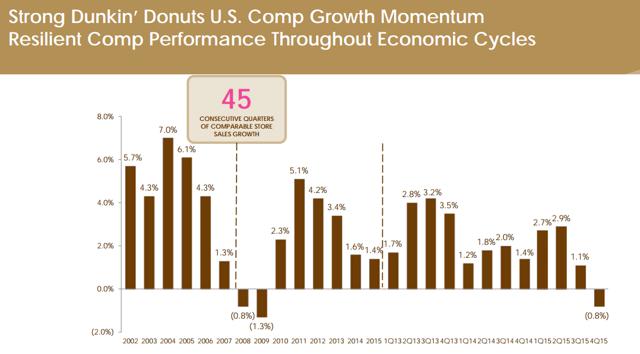 Source: Company Presentation
On its fourth quarter earnings call the company advised the decline was made up of around 20 basis points increase in ticket, with around 100 basis points of decline in traffic. The good news is that during the fourth quarter the company was aware of the trend and has reacted accordingly, believing that "Dunkin' Donuts needs to have more value offerings to drive more traffic into our stores." It also acknowledged that the absolute opposite side of the spectrum exists too, and that is the demand for premium offerings too. We agree with this, and feel management is onto something here. By having offerings at value, normal, and premium price points, we feel the company is in a position to maximise its traffic. We believe the company will return to positive comps in the quarters ahead through these initiatives and the fact its mobile ordering app goes from strength to strength. At last count there were 16 million users of the app, which is fantastic. We think consumers have come to expect this sort of service, as it can go some way to enhancing the customer experience.
Furthermore, it wasn't that long ago when the company's K-Cups were struggling. But the segment appears to have found its legs and things are looking very promising for its K-Cups in our opinion. The only negative is that it could be playing a part in the lower traffic. We have a wonderful Nespresso machine and must admit to finding it hard to justify buying a coffee when we know we will be back within touching distance of our caffeine-giver soon after. So, we can fully understand how the growing popularity of its K-Cups could cause a few basis points worth of declines on its comps. According to management, Dunkin' Original Blend was the number one item in the grocery K­-Cup category in December, with the brand holding six out of the top 45 offerings in the K­-Cup category. The main takeaway with this is that although comps may be drawn down because of its K-Cups increased availability, the consumer is still buying coffee from Dunkin' Brands indirectly, and the lack of traffic is certainly being covered by its K-Cups sales. We all like to see positive comps, but sometimes we have to acknowledge that changes to the business model can result in negative comps, even though it is actually a positive change for the whole business.
Although there has been a slight rally in coffee prices recently, it still continues to remain favorably on the low side, as demonstrated below.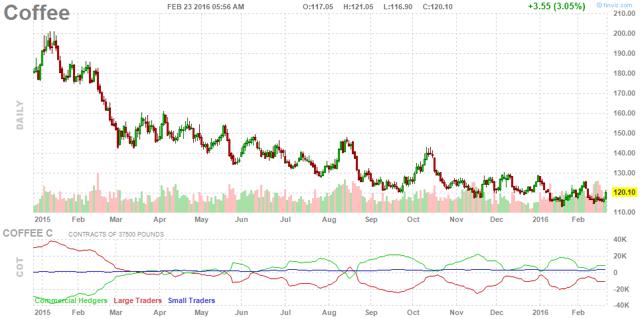 Source: Finviz
We are sure that eventually the coffee price will rise again in the next few years, but until then Dunkin' Brands will have the luxury of a higher gross margin which has risen 300 basis points in the last three of years to just over 80%. We see this as being a great way to offset any potential minimum wage headwinds which the company could face down the road.
The main reason we invested in Dunkin' Brands was its growth plans. We still believe the company has the potential to more than double its revenue in the future through the expansion of its store network to a massive 30,000 stores worldwide. Last year the company opened up 430 net new stores and is targeting 460 net new stores in 2016. We are excited by the prospect of succeeding in the West Coast. Currently there is one Dunkin' store to 350,000 people, compared with one to 8,850 in its core region, and one to 71,300 in its emerging market. The competition is going to be incredibly fierce in the saturated West market, with Starbucks (NASDAQ:SBUX) and McDonald's (NYSE:MCD) having an extremely strong presence. Finding locations which are not swamped by Starbucks stores will be a big challenge, but we have high hopes for the brand in the region.
It's not just the West Coast where Dunkin' is growing. It is also growing its presence internationally. The West Coast is the gamble in our eyes. We feel there is a strong chance it will be very successful, but there is also a small chance it will just get closed out by the existing players. But internationally, it's a very different story. Firstly, although California is a big state, the rest of the world is somewhat bigger. We feel the company has massive potential for expansion internationally. China, the Middle East, and Europe all offer significant opportunities for Dunkin' Brands.
The company's balance sheet has become a touch weaker since we last spoke about it, but it is still in a reasonably strong place with a current ratio of 1.332 and a quick ratio of 0.928. Should the decline continue then it could start to concern us, but for now we are satisfied with its level of liquidity.
The company beat our fiscal 2015 earnings estimate by three cents and our revenue estimate by $6 million when it reported full year earnings of $1.90 and revenue of $811 million. This performance has caused us to revise our previous fiscal 2016 earnings forecast of $2.09 per share upwards to $2.20 per share. As we mentioned last time, we feel the shares could trade in the same range as Starbucks and Krispy Kreme Donuts (NYSE:KKD) which trade at 34 and 30 times earnings, but for now we are being conservative and pricing them at 24 times earnings. This translates as a price target of $52.80, or upside of 21%, and the key reason we are clinging onto our investment for the foreseeable future.
Disclosure: I am/we are long DNKN.
I wrote this article myself, and it expresses my own opinions. I am not receiving compensation for it (other than from Seeking Alpha). I have no business relationship with any company whose stock is mentioned in this article.